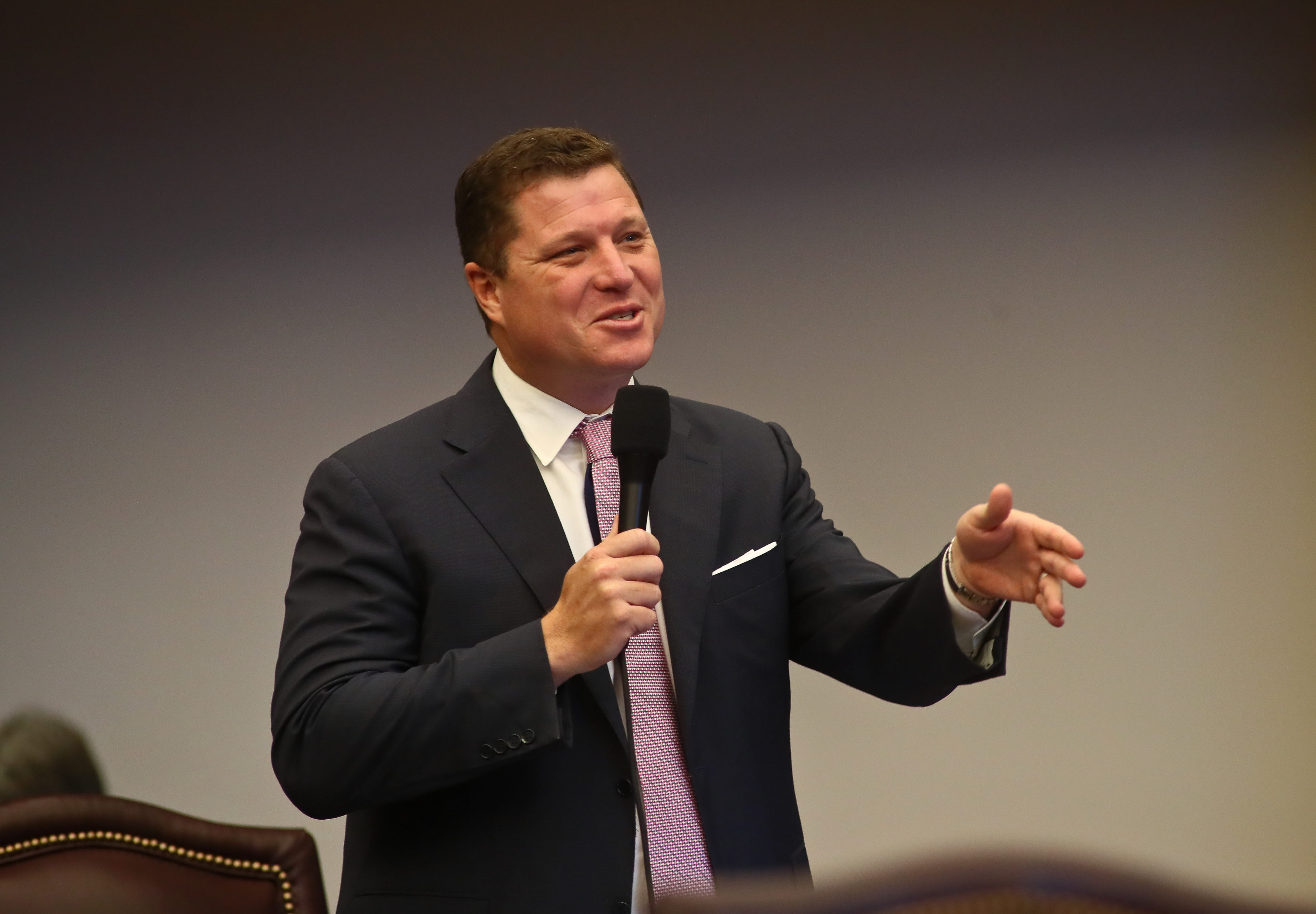 Knocking off St. Pete Republican Sen. Jeff Brandes was always a long shot, and the first measure of the race since Lindsay Cross subbed in for Carrie Pilon shows those slim chances dwindling further.
According to a new survey from St. Pete Polls, Brandes has the support of nearly 39 percent of Senate District 24 voters, giving him a better than 2-to-1 lead over Cross, who was the pick for an even 19 percent of those polled. With 42 percent of voters undecided, there's room for growth for both candidates.
Cross entered the race at the end of last month, a few weeks after the prior Democratic nominee, trial lawyer Carrie Pilon, withdrew from the contest due to the unexpected health problems of a close family member.
During her brief tenure in the race, Pilon worked up from a 9-point deficit in late May to within striking distance by early July. Cross will certainly see major gains in her poll numbers as Election Day approaches, though her poor showing in this inaugural measure is a bitter reminder that just because one candidate made headway by putting in some elbow grease, doesn't mean another can swoop in and reap the benefits.
When it comes to name ID, she's got a lot of work to do.
Brandes is a known quantity to 59 percent of SD 24 voters, and they find him favorable by a margin of 39-20. Cross, meanwhile, is known by just 27 percent of the district and those who offered their opinion gave her a somewhat lukewarm 21-16 favorability rating.
In addition to playing catchup on the name ID front, Cross needs to bring in some cold hard cash, pronto. Brandes, through Aug. 3, had nearly $863,000 in the bank between his campaign and political committee, Liberty Florida, and that's after more than $807,000 in spending since the 2018 campaign cycle began.
As it stands, it's unclear whether Cross is hunkering down to put in the work needed to put SD 24 in play.
According to her first campaign finance report, which to be fair only covered a partial week, she's brought in just $3,000 in monetary contributions. One would expect Cross and her family, close friends, longtime co-workers and acquaintances to pitch in and jumpstart the campaign to build some buzz.
A typical candidate would have made the calls and had the checks ready for day 1 — Pilon did as much when she pulled together $100K for her inaugural reports.

The problem may be a bit deeper, however, as sources familiar with the Cross campaign say she is fresh off a European vacation and hasn't quite returned to the day-to-day grind — If true, she better return from the clouds tout suite, or the conversation will quickly shift to the degree of electoral embarrassment she can expect come Election Day.
Of the cash she did bring in, two-thirds came from the Florida Democratic Legislative Campaign Committee, stretched-thin pot of money overseen by Senate Minority Leader Audrey Gibson. The other $1,000 came from self-employed property manager Sidney Smith Wilson.
Gibson's fund also threw in another $25,000 to kickstart research efforts, as well as buy a campaign computer and cell phone. While fronting that cash would be a no-brainer for the ever-flush Florida Republican Senatorial Campaign Committee, it is a much more significant investment for the FDLCC, which had $400,000 in the bank at last check in.
SD 24 covers most of southern Pinellas County except for the tip of the peninsula, which is included in neighboring SD 19. According to the most recent bookclosing report published by the Florida Division of Elections, Republicans hold a 4-point advantage in voter registrations within the district, which voted in favor of Barack Obama twice before going plus-7 for Donald Trump in 2016.
The St. Pete Polls survey was conducted Aug. 11-12 and received responses from 757 likely general election voters. It has a margin of error of plus or minus 3.7 percentage points at a 95 percent confidence level.
___
Jeff Brandes is a client of Extensive Enterprises Media, the holding company that owns FloridaPolitics.com.