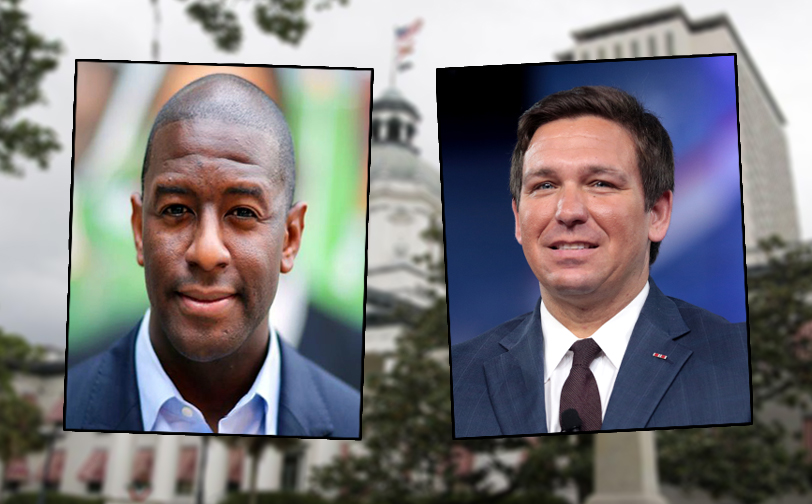 FOX News announced that Democratic gubernatorial nominee Andrew Gillum would appear on the network later Wednesday as it distanced itself from a controversial statement made by Republican candidate Ron DeSantis on an earlier program.
After that appearance, host Sandra Smith did a follow-up segment on "America's Newsroom."
"A little while ago we had Ron DeSantis, the Republican nominee for governor in Florida, on for an interview to discuss the Florida election," she said.
"During the interview, he made what some are calling an inappropriate comment about his Democratic opponent, Andrew Gillum."
DeSantis, a Congressman from Ponte Vedra Beach, had said, "To make sure that we continue Florida going in a good direction, let's build off the success we've had (with) Gov. (Rick) Scott.
"The last thing we need to do is to monkey this up by trying to embrace a socialist agenda with huge tax increases, and bankrupting the state. That's not going to work; that's not going to be good for Florida." (A previous story is here.)
DeSantis is white; Gillum is black. Comparing African Americans to apes or monkeys usually is considered disparaging.
Sandra Smith went on, saying a DeSantis campaign spokesman "has since clarified his comment."
In a statement, Stephen Lawson said DeSantis "was obviously talking about Florida not making the wrong decision to embrace the socialist policies that Andrew Gillum espouses.
"To characterize it as anything else is absurd. Florida's economy has been on the move for the last eight years and the last thing we need is a far-left Democrat trying to stop our success."
Sandra Smith then added: "We do not condone this language and wanted to make our viewers aware that he has since clarified his statement."
She also announced that Gillum is scheduled to be interviewed by host Shepard Smith at 3 p.m.