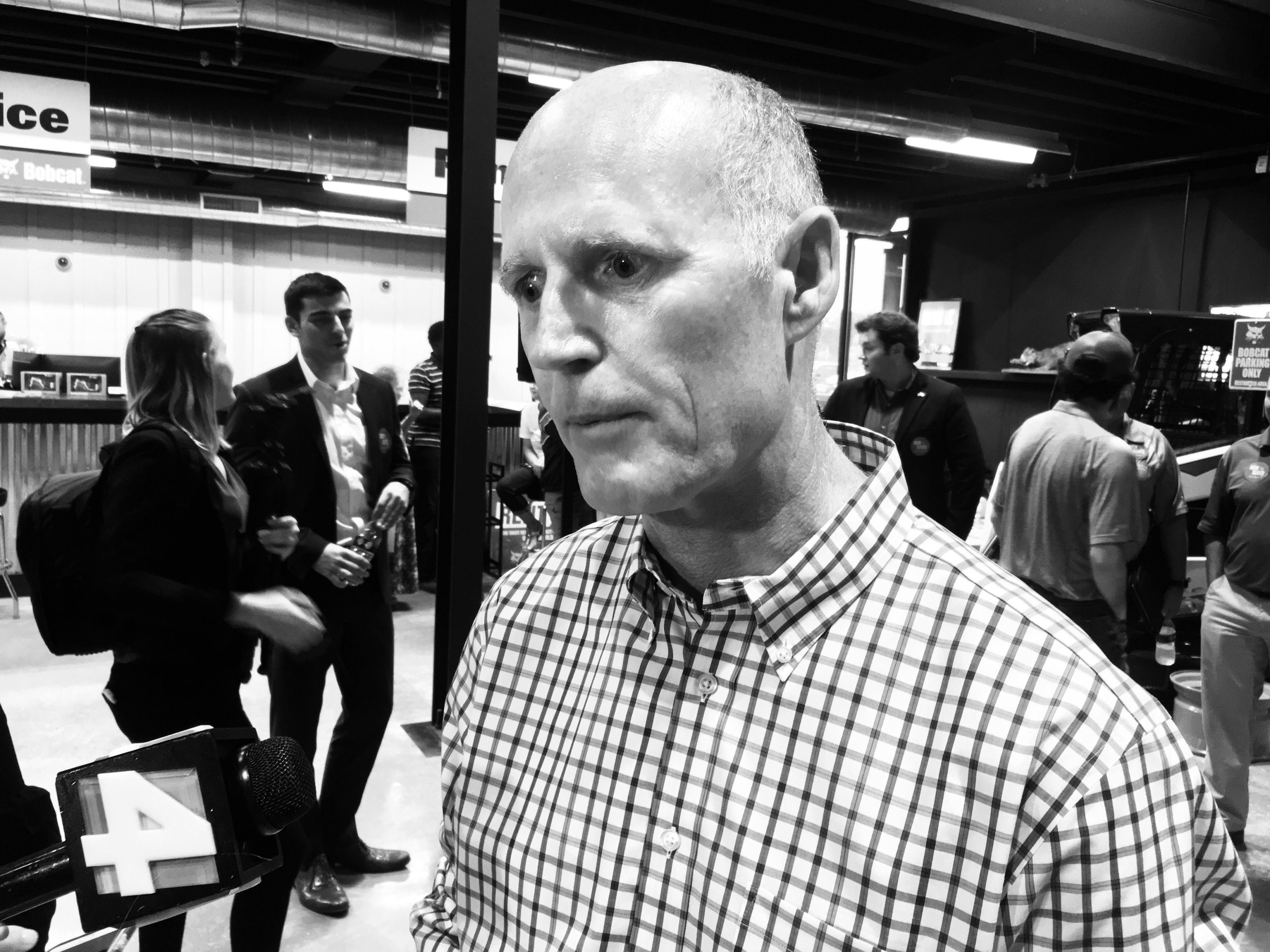 A television commercial released this week seeking to address the 1990s Medicare fraud scandal has the Republican U.S. Senate campaign of Gov. Rick Scott declaring, "he took responsibility … That's what strong leaders do; they take responsibility."
But news reports from the time of the scandal say Scott took responsibility only by resigning, and he did that under pressure from corporate board members unhappy with his defiant policy toward an FBI investigation.
That investigation would later result in criminal guilty pleas to corporate fraud from parts of the company Scott left, and $1.7 billion in settlement fines, penalties, and damages agreed to by Scott's successors at the corporation.
Scott's campaign is characterizing the notion of responsibility more broadly, contending he has, at least in part, taken responsibility since the scandal: "The Governor has taken responsibility for his company's actions in countless public statements," said a spokeswoman.
Scott was never charged with any wrongdoing. Columbia/HCA Healthcare Corp. board members, including some who had helped Scott build the company into the nation's largest and most profitable for-profit hospital corporation in the 1980s and '90s, had painted him in news reports of the time as possibly being ignorant of the massive Medicare and Medicaid fraud allegations that federal officials were investigating in 1997. The reports also said some board members were frustrated that Scott was sticking to a defiant stance toward the FBI, insisting the company had nothing to worry about, as board members grew concerned that was the wrong approach.
Federal investigators eventually accused Columbia/HCA of criminal Medicare and Medicaid fraud. In 2000, the company's board and the executive leadership who succeeded Scott agreed to the first of several deals with the government in which the company's subsidiaries pleaded guilty to criminal conduct, and the corporation paid several nine-figure fine settlements. The corporation ultimately paid $1.7 billion in fines, then the largest sum of civil penalties and damages ever arising from a federal health care criminal case.
The corporate scandal came up as a political issue in Scott's 2010 campaign for Governor of Florida and again in 2014. Scott overcame the reports and won both elections.
The issue emerged again this past week when a Democratic political action committee, Majority Forward, launched a television commercial that briefly mentioned the case, stating, "His company was found guilty of massive Medicare fraud, but Rick Scott walked away with millions." The commercial didn't go into any more detail.
Scott's campaign retaliated with its own commercial to rebut the Majority Forward ad and to pivot attention instead to his opponent in the Senate race, Democratic U.S. Sen. Bill Nelson.
Scott's ad reopened the questions about what he did in 1997 and beyond in the Medicare fraud case.
"When Rick Scott's company was fined, 20 years ago, he took responsibility, and the company paid every penny," the new commercial states. "That's what strong leaders do; they take responsibility."
"Every word of that is true," Scott's campaign spokeswoman Kerri Wyland said in a written response. "Yes, the process was not completed until a few years after Gov. Scott left the company, but that does not negate anything we have said in this ad. And the Governor has taken responsibility for his company's actions in countless public statements every time that [Bill] McCollum, [Alex] Sink, and [Charlie] Crist attacked him over the past eight years."
Among those, he told the St. Petersburg Times in 2010, "There's no question that mistakes were made, and as CEO, I have to accept responsibility for those mistakes. I was focused on lowering costs and making the hospitals more efficient. I could have had more internal and external controls. I learned hard lessons, and I've taken that lesson, and it's helped me become a better business person and a better leader."
"Let's remember," Wyland charged, "Sen. Nelson never takes responsibility for voting to cut Medicare, failing to stand up to Obama on NASA cuts that impacted the Space Coast, or for his irresponsible, confusing — and still unexplained — statements regarding Russian interference in Florida's election systems.
In news reports from the late 1990s, Scott's role was frequently described as a CEO who discounted the FBI investigation and disputed the allegations until his board forced him out of office. He was long gone by the time the FBI probe finished, and the plea deals were discussed.
In a lengthy article on business couple Darla Moore and Richard Rainwater in Fortune magazine in September 1997, the writer Patricia Sellars offers an explanation of Scott's departure from Moore's point of view. She was one of the Columbia/HCA board members.
"It was she who forced out Columbia/HCA CEO Richard Scott after the health care giant got slammed with a massive criminal investigation," the article declares.
Moore's husband, Rainwater, was one of Scott's original business partners in founding and building the company.
"Moore and Rainwater say they clashed over whether Scott should stay or go as CEO. She won," the article states, narrating a period in mid-1997. "As federal agents canvassed Columbia, Scott defiantly refused to acknowledge the trouble, and Moore campaigned for his departure. 'Darla was a responsible shareholder who did what had to be done,' says Columbia's new CEO, Dr. Thomas Frist Jr., who was Moore's anxious ally."
On July 16, 1997, the FBI raided a number of the company's properties and seized records in seven states, actions that brought the investigation into the news nationally. The article says Moore called Scott that morning: "'Rick,' she said, 'it's over.'" He resigned, the article then says.
That narrative — that board members ousted Scott over his handling of the FBI probe — showed up in other news reports of the era.
"Richard L. Scott, once celebrated as a visionary reformer of the hospital industry but more recently criticized for his aggressive tactics, resigned under pressure as chairman and chief executive, as did his top lieutenant, David Vandewater," New York Times reporter Kurt Eichenwald reported in a July 26, 1997 story on the Columbia/HCA case.
"In the first hours after Mr. Scott's departure, Columbia began to undo some of his legacies. For example, it has vowed to be more cooperative with Federal authorities in their investigation," the Times piece continued.
The Wall Street Journal reported that the company gave severances to its "ousted" leaders.
"Columbia/HCA Healthcare Corp. disclosed that it had paid ousted executives Richard Scott and David Vandewater approximately $16 million in severance deals that also require the company to pay their legal costs," stated a Nov. 15, 1997, Journal story by Lucette Lagnado. Another story by Lagnado set Scott's severance package, based on corporate documents, at "almost $10 million."
In March 1998, the industry journal Health Affairs published an in-depth article by Denver-based medical economist J.D. Kleinke stating, "The investigation has resulted in the ouster of the company's founder, Richard Scott.
"Now, one year later, the dreams of Columbia/HCA's founder, Richard Scott, lie in tatters," Kleinke's article continues. "The company has become the focus of multiple federal investigations, Scott has long since been forced to resign by the board of directors of Columbia/HCA, and the whole health system is waiting for the government's other prosecutorial shoe to drop."
The shoe took several years to drop. In fact, several shoes dropped:
— On May 26, 2000, Columbia/HCA changed its name to HCA Inc., dropping the "Columbia" part of the name that the combined company had worn since the Scott-led Columbia Healthcare Corporation bought HCA Hospital Corporation of America Inc., in 1994. The Columbia name dated to when Scott and Rainwater founded their company in 1987.
— On Dec. 14, 2000, several of the corporation's subsidiaries pleaded guilty to criminal conduct and the corporation agreed to pay $840 million in criminal fees, civil restitution, and penalties. The criminal charges included that the company had filed false Medicare and Medicaid reimbursement claims, administered complex physician kickbacks for ordering services that would be charged to Medicare, passed along marketing and advertising costs through reimbursement claims, and committed other actions not allowed through federal laws.
— On June 26, 2003, the U.S. Department of Justice announced that HCA Inc. agreed to pay $631 million in additional civil penalties and damages arising from whistleblower lawsuits filed by at least eight former employees and other claims, which the federal government had joined.
— On that same day, the Justice Department announced that the corporation also agreed to pay, in a separate agreement, an additional $250 million to resolve overpayment claims to the U.S. Centers for Medicare and Medicaid Services.