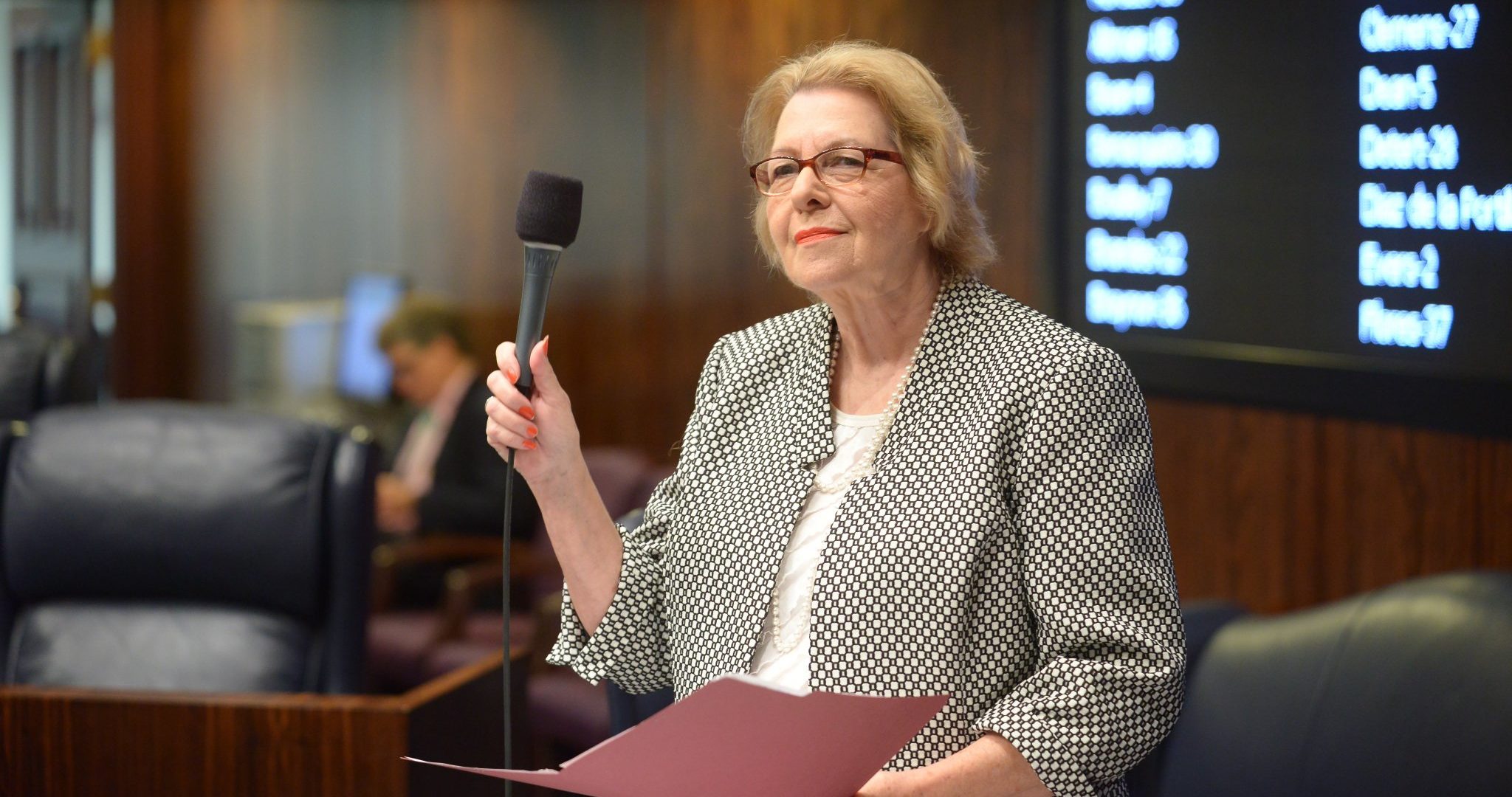 State Sen. Dorothy Hukill died on Tuesday, less than a week after announcing on Facebook that she "recently experienced an aggressive recurrence" of her cancer and decided to enter hospice. She was 72.
In November 2016, the Port Orange Republican disclosed that she had been diagnosed with cervical cancer. She missed the 2017 Legislative Session while she was undergoing treatment.
Last March, Hukill told Senate President Joe Negron that she was on the mend and she returned to Tallahassee this past Session. The attorney, chair of the Senate's Education Committee, has long been interested in education, legal and technology issues. She is a former public elementary school teacher.
A private, invitation-only family service will be held, while public services will be announced at a later date. In lieu of flowers, her family asks for donations to the Halifax Health Hospice facility in Port Orange, where "dedicated and caring staff took such wonderful care of her in these last days."
"Dorothy was a strong and passionate advocate for her community, serving in several positions in local government and also for eight years in the Florida House before her election to the Senate in 2012," Negron said in a statement.
"I personally admired her passion for education and was proud to have Dorothy serve as Chair of the Committee on Education during my service as Senate President," the Stuart Republican said. "She worked closely with Senator Galvano, myself, and many others on the Senate's legislation to expand the Bright Futures Scholarship. We all remember her commitment and dedication to teaching financial literacy in Florida schools.
"Whenever I was in District 14 with Senator Hukill, I could literally feel the affection and admiration of her community," Negron said. "Even after her election to the Florida House and Senate, many constituents still warmly called her "Mayor," in fond recognition of her term as Mayor of Port Orange from 2000 to 2004.
"… She will be greatly missed by all who knew her. The prayers of the entire Senate family are with Senator Hukill's family and friends, and we join in their grief over this terrible loss."
Added Senate President-designate Bill Galvano: "Dorothy was an amazingly charismatic and passionate person. I will always remember her quick wit and tremendous sense of humor. She was as fierce as she was loving. You could see Dorothy across the room and know in an instant whether she approved or disapproved of the issue at hand.
"In recent years, Dorothy served as a role model for all of us as she battled her illness with optimism and bravery. She demonstrated grace and beauty in suffering and maintained her fighting spirit until the very end," the Bradenton Republican said.
"I first met Dorothy when she was running for the Florida House in 2004. We developed a strong friendship that I will miss terribly. From her early work as a teacher, to her career practicing law, to her many years of dedicated service in local and state government, Dorothy was a strong and tireless advocate for children and education. The Senate will miss her dedication and enthusiasm for these and so many other important issues.
"I will personally never forget the words of her prayer at my designation ceremony, one year ago this month. Dorothy eloquently spoke of the honor and privilege of public service, the sacrifice made by the families of those who serve, and the aspirational goal of servant leadership.
"She prayed fervently for blessings and protection for our families and that God would instill wisdom, understanding, and grace on all who serve the Florida Senate. While those words were so meaningful at the time, they are even more special now and serve as a lasting memory of Dorothy's love for those she served with here in the Senate.
"To say that Dorothy was a welcoming person would be an understatement. She was known around the Capitol, and particularly in the Senate Graphics Office, for her penchant for 'Welcome' signs. It is hard to remember a session day that passed by without a new sign outside Senator Hukill's office welcoming a group or organization to the Senate.
"The plethora of signs became such a running joke among the Senators that one year Senator Hukill left many of us personalized signs welcoming us to our spaces in the Senate Parking Garage and to our desks in the Senate Chamber. I have no doubt that as we grieve her loss today, the gates of heaven are adorned with a huge sign welcoming Dorothy to her eternal home.
"Julie and I join with Senator Hukill's family and friends as they grieve this tremendous loss. We pray that fond memories of a life well-lived will bring comfort to all who knew and loved her."
In other reaction from social media and elsewhere Tuesday:
Incoming House Democratic Leader Kionne McGhee: "My thoughts and prayers are with state Sen. Dorothy Hukill's loved ones. She fought hard for what she believed and for the people of her district. May she rest in peace."
State Sen. Dana Young, a Tampa Republican: "The Florida Senate will not be the same without Sen. Dorothy Hukill. She was never afraid to ask tough questions and stand up for her constituents. Rest in peace, my friend."
Republican former House Speaker Steve Crisafulli: "So sad to hear of the news of the passing of my friend, Senator Dorothy Hukill. While cancer may have taken her away from us today, the memories of her smile, her fight and her wit will never be taken away. RIP Dorothy."
State Sen. Lizbeth Benacquisto, a Fort Myers Republican: "So heartbroken for the loss of our beloved @DorothyHukill. She was the epitome of strength, courage, and determination, both in her service to her community and in her fight against cancer. How fortunate we all were to serve alongside her and call her friend. #Hukillforever"
Former state Sen. and current Democratic CFO candidate Jeremy Ring: "So sad to learn of the passing of Senator @DorothyHukill. Dorothy was a remarkable public servant whose work on education issues, including her passion for requiring all students being taught financial literacy, will continue forever."
Matt Surrency, Mayor of Hawthorne (Alachua County): "Sad to report that Senator @DorothyHukill has passed away this morning. Our prayers for her family and community. Senator Hukill was a friend to our 412 Cities, Towns and Villages as well as those that reside in them. Thank you for your public service!"
GOP gubernatorial candidate Ron DeSantis: "Dorothy Hukill was a great lady and tremendous public servant. Casey and I are saddened to hear of her passing and send our condolences to her family, friends and community."
Chief Financial Officer Jimmy Patronis: "Katie and I are saddened to hear of the passing of Sen. Hukill. She was one of the most passionate and honest legislators I had the opportunity to work with during my time as a state representative and as CFO. Her kind heart and positive attitude was a guiding light, a north star for all of us. I met Dorothy when I first was elected in 2006. She was a huge advocate for consumer rights and she fought for Florida families. Whether it was keeping the cost of living low or ensuring access to affordable insurance, Dorothy was a force to be reckoned with. My heart aches for her family, loved ones, and friends. Florida has lost a truly incredible and dedicated woman, a woman who loved her community and her state."
Incoming Senate Democratic Leader Audrey Gibson of Jacksonville: "My heart is aching. Senator Hukill was not only a colleague, she was a good friend. We shared our thoughts, our passions on issues, and never-ending conversations. From passing little trinkets to each other, to our love of Chinese food, her loss is profound and I will miss her dearly."
Gov. Rick Scott: "My wife Ann and I are with heavy heart to learn of Senator Dorothy Hukill's passing today. Senator Hukill was a true leader in the Florida Senate and served the public with distinction. She worked to make our state a better place to live and leaves an incredible legacy. We are all grateful for her commitment to Florida families. Our prayers are with Dorothy's family today and to those closest to her. We are also praying for our friends and colleagues in the Florida Senate who loved and admired Senator Hukill so much. To honor her memory, I will be lowering the state flags at the appropriate time."