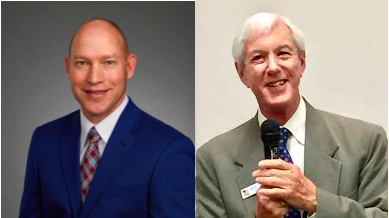 Republican Spencer Roach continues to out-raise Democrat Mark Lipton in race to succeed Matt Caldwell in the state House.
Roach now leads in cash, but Lipton just spent thousands to broadcast his message.
Roach, a North Fort Myers attorney, brought in $7,800 in the last half of September, most of that in a four-day period as groups like the Realtor PAC chipped in big donations.
In addition to $1,000 from Realtors, Roach also raked in $1,000 from the Thomas Piccolo-led Building A Brighter Future For Florida and state Rep. Daniel Perez's Conservatives for a Better Florida committees.
Lipton, meanwhile, continues to raise small donations and pulled in $472 in the same period, the biggest chunk being $100 from the Democratic Club of Cape Coral.
But Lipton, an attorney and local columnist, has chipped in more than $50,000 toward the campaign, a little more than the $41,883 in monetary contributions over the course of the campaign.
Lipton as of Sept. 28 held $38,349 in cash on hand, compared to $48,198 in cash for Roach.
That's a turnaround from two weeks ago, when Lipton still held a cash lead even as Roach outraised the Democrat.
Roach has also been spending his money aggressively. Roach spend $2.378 in the last two weeks of September, most of it with campaign shop Supernova Digital Communications.
"We recognize we need to get out message out in every form, not just one-on-one but mail, and we realize the digital aspect is of increasing importance," Roach said.
Lipton meanwhile, has spent $5,000 with Fort Myers-based Red Sneakers Mobile Marketing & Communications, then more than $8,000 on broadcasting within the Fort Myers market, where he's running ads in English and Spanish.
He hopes work in civic groups within North Fort Myers and Lehigh Acres bring some community capital, and he hopes a federal lawsuit seeking to stop the Attorney General's Office from involving Florida in an anti-ObamaCare lawsuit generates some free media.
Lipton's overall strategy, he says? "To win," he said.
Caldwell, now the Republican nominee for Agriculture Commissioner, won in this district with 51 percent of the vote over Democrat John Scott's 38 percent and independent Matt Miller's 11 percent.
This year, Roach defeated Miller in the Republican primary.