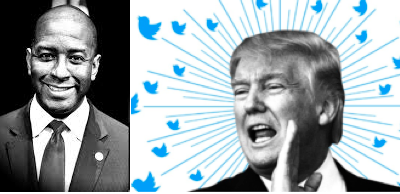 Donald Trump makes a lot of news on Twitter, but Democratic gubernatorial candidate Andrew Gillum says the president still won't tweet to him directly.
Gillum pushed back at a presidential tweet that didn't reference the Tallahassee mayor by name but clearly called his record into question.
Trump today tweeted: "Ron @RonDeSantisFL DeSantis is working hard. A great Congressman and top student at Harvard & Yale, Ron will be a record-setting governor for Florida. Rick Scott gave him tremendous foundations to further build on. His opponent runs one of the worst & most corrupt cities in USA!"
Twenty minutes after the missive hit the web, Gillum while campaigning in Pahokee took to social media himself.
"When you lie about me from the most powerful office in the world and still don't have the courage to @ me," Gillum tweeted.
Trump's original tweet, of course, did use Republican gubernatorial candidate Ron DeSantis' Twitter handle, a move which sends a user a notification immediately. Expectedly, DeSantis retweeted the message to his own followers — 24 minutes after the post was sent.
"Thank you, Mr. President. What an honor to have your support! Florida is a great state. We will do great things together — see you soon!," DeSantis commented himself.
That actually happened after Gillum retweeted the post with his rebuke of the Commander in Chief.
Of course, Gillum didn't use Trump's handle either, so who knows if Trump got the word.
But this isn't the first time Gillum called the social media courtesies of the White House's most prominent occupant into question. At Gillum's general election campaign launch in Orlando, Gillum asserted from the podium Trump was "unfortunately a little cowardly. He won't @ me y'all."
As for Trump's most recent swipe, it swings back to a regular theme of contrast on the part of the DeSantis campaign, which regularly spotlights the crime rate in Tallahassee and an ongoing corruption investigation at City Hall.
Behold, the collective tweets, below:
https://twitter.com/realDonaldTrump/status/1053661248217202688
When you lie about me from the most powerful office in the world and still don't have the courage to @ me… https://t.co/ESxXG5j6eH

— Andrew Gillum (@AndrewGillum) October 20, 2018
👍🏼👍🏼 Thank you, Mr. President. What an honor to have your support! Florida is a great state. We will do great things together— see you soon! #MAGA #Florida @ScottforFlorida https://t.co/a3ZmLaX4lE

— Ron DeSantis (@RonDeSantisFL) October 20, 2018