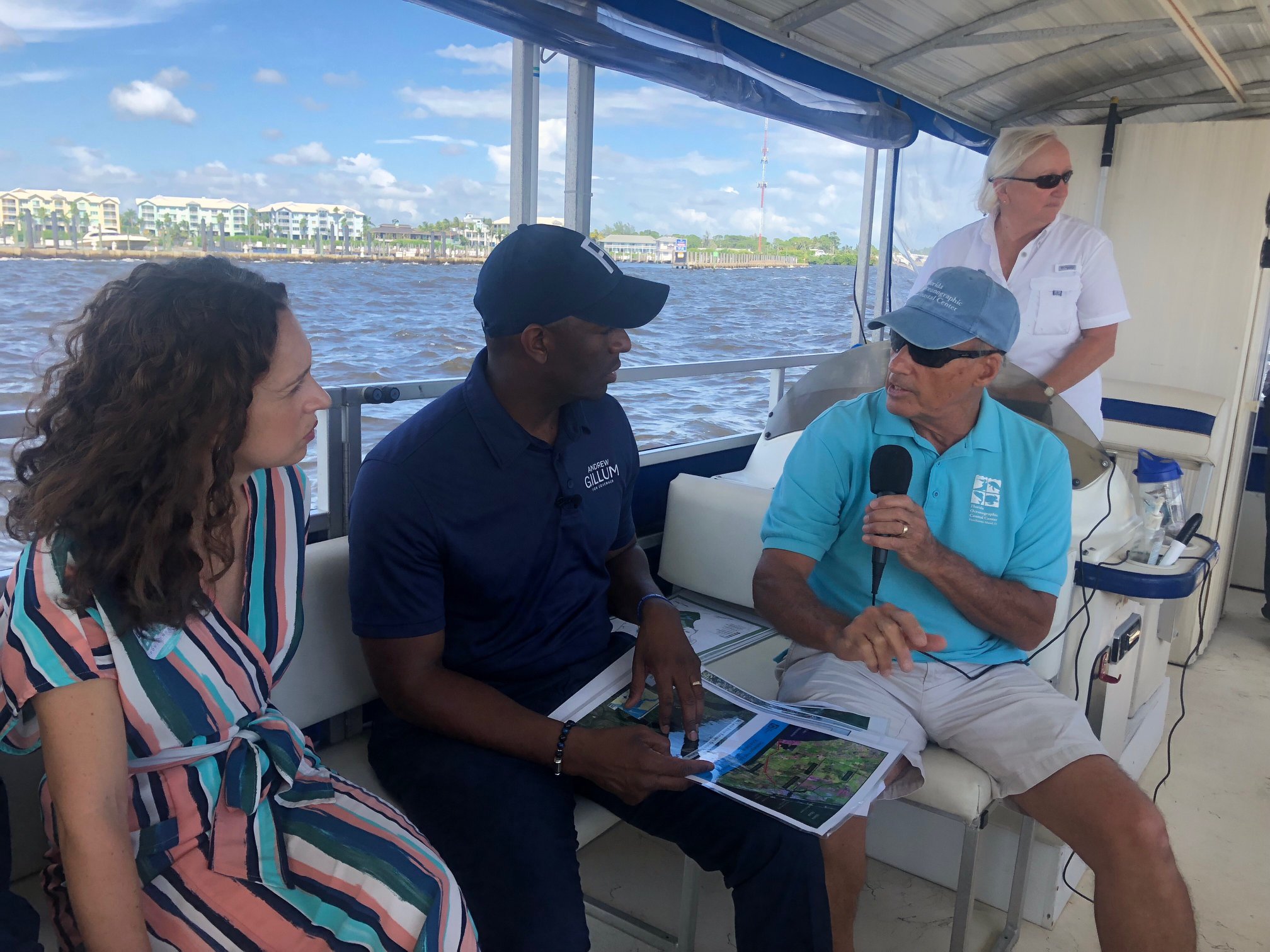 The political arm of Florida Conservation Voters is spending nearly $500,000 on digital advertising to back Andrew Gillum, the Democratic option for Governor this fall.
The news comes a week after Gillum's Republican opponent Ron DeSantis scored a coveted endorsement from the Everglades Trust — support that could convince undecided voters that DeSantis is the better candidate for Florida's environment.
The 30-second spot from Florida Conservation Voters — which had lashed out against DeSantis shortly after news of the Everglades Trust endorsement — begs otherwise.
The digital ad suggests DeSantis would "let things get worse," while Gillum would roll "up his sleeves to fix the problem."
That problem, according to FCV, is climate change — and by extension "red tide, algae blooms, sunny day flooding, stronger and larger hurricanes," according to the organization's deputy director, Jonathan Webber.
The ad repurposes a story published in August by the Sarasota Herald Tribune. In quotes referencing the article: "Climate change isn't really a problem." But DeSantis isn't quoted saying that. 
The story was published two days after Gov. Rick Scott declared a state of emergency over the red tide algae outbreak in Sarasota and six nearby counties. DeSantis had acknowledged to the Herald-Tribune that climate change "may be a factor" fueling stronger red tide blooms. 
The quote in the ad likely references DeSantis' remarks about dealing with climate change at the state level. The former congressman suggested to the Herald-Tribune that the state is an inappropriate venue.
"I certainly don't think in Tallahassee, you know, we're going to be able at the state level to do things that are really global in nature so that's something that I think is more of a national and international issue," DeSantis had told the Herald-Tribune. 
Gillum, at least publicly, disagrees. The Tallahassee Mayor's environmental policy plan reads: "Sea level rise poses a catastrophic threat to our state — and one we're wholly unprepared to face." It also proposes that the state reconvene climate change summits started under former Gov. Charlie Crist, and "transition our energy production towards clean, renewable sources like solar and wave/tidal."
The climate change contrast between Gillum and DeSantis also played out on stage Sunday night during the CNN debate.
Asked about climate change, DeSantis said he didn't "want to be an alarmist." But he conceded that resiliency projects are needed around the state in places like South Florida, where there is "more water" and "flooding." Gillum, however, retaliated by suggesting DeSantis does not believe in climate change science.
To watch the ad, click on the image below.