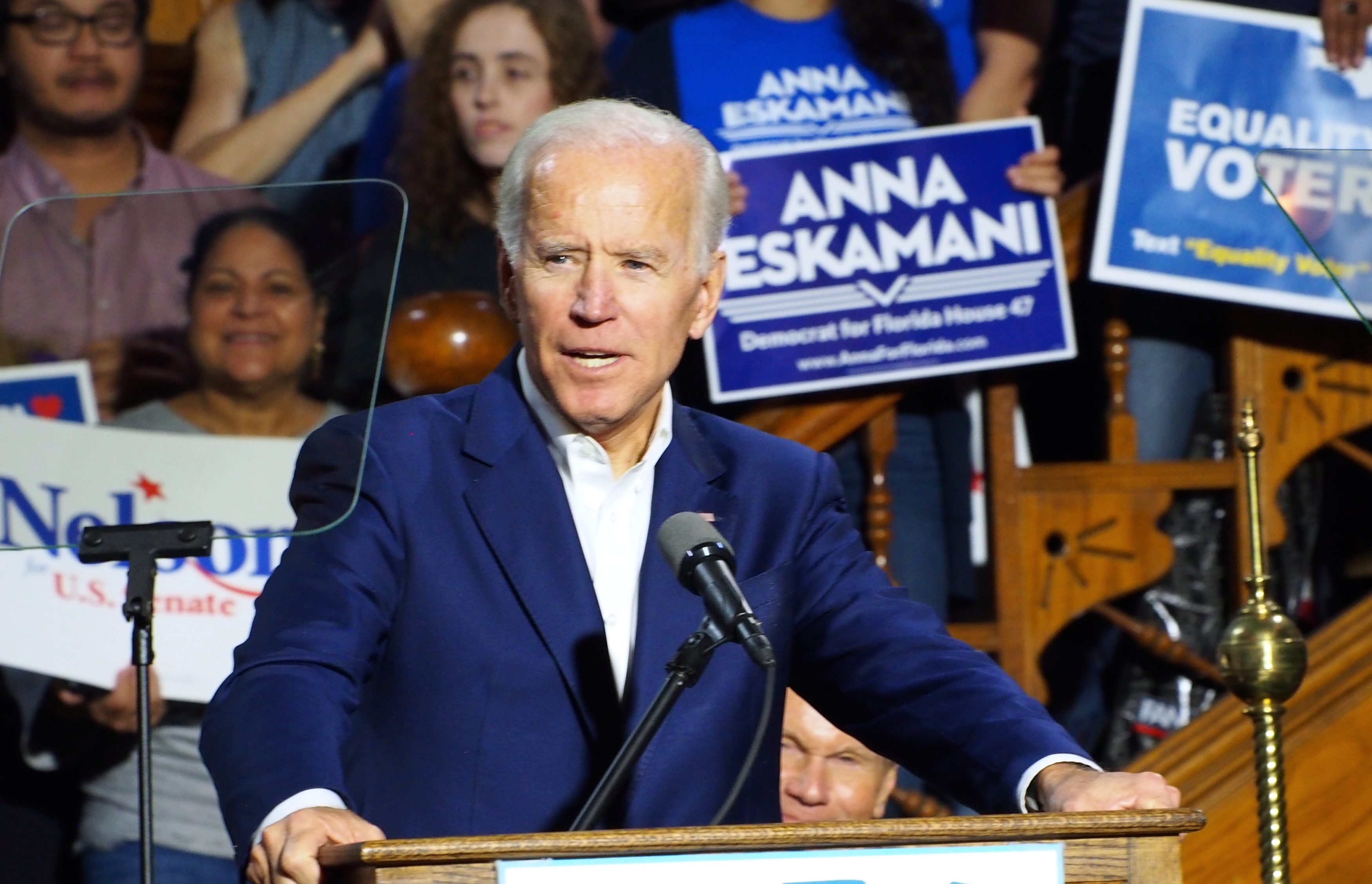 Former Vice President Joe Biden declared the nation's two major parties are in a "battle for the soul of America" and left no doubt that he believes the Democrats are the ones offering character, moral leadership, trustworthiness, and Republicans inspired by President Donald Trump are "preying on hopelessness and despair."
In front of several hundred people packing a downtown Orlando show venue, Biden laid out his attacks in sometimes thundering oratory, while also reserving much of his speech for soft and contemplative thoughts on the issues dividing the parties: health care, climate change, the future of Social Security and Medicare, foreign affairs alliances, and reactions to waves of alt-right white nationalism.
"I'm afraid that this is not your father's Republican Party," Biden said, adding that he had vowed to give Trump time, until the Charlottesville demonstrations. "I couldn't remain silent anymore. I wrote an article for Atlantic magazine saying, we're in a battle for the soul of America."
Biden also was there at Orlando's Church Street Cheyenne Saloon and Opera House, as he was earlier in the day in Tallahassee and Jacksonville, to boost the election campaigns of Democrats U.S. Sen. Bill Nelson, gubernatorial nominee Andrew Gillum, and other candidates, including U.S. Rep. Stephanie Murphy. In doing so, he took shots at Nelson's opponent, Gov. Rick Scott, and Gillum's, former U.S. Rep. Ron DeSantis.
"You have a Governor of this state who would be the hand-maiden of the president of the United States," Biden said of Scott.
Nelson and Murphy had their own chances, as did U.S. Rep. Val Demings, who already has won re-election by winning her primary against her only opponent.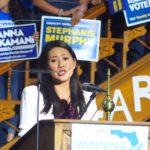 Murphy showed unusual partisan fire for someone who has carefully crafted a centrist image of someone who strives to work in bipartisan efforts.
"This Republican-led Congress has tried to dismantle our health care and cut protections for people with pre-existing conditions. This Republican-led Congress refused to take up even the basic gun safety bills. This Republican Congress has ruled out women's rights and environmental protection," Murphy declared.
"This Republican Congress passed a tax law that gives Wall Street a boost while the middle class gets the boot," she added. "Not to mention this Republican Congress paid for their tax scheme by blowing a hole in our debt and mortgaging our children's futures."
Demings has had plenty of practice for such attacks, but she turned instead to offer her own speech about her dream for America, bringing the Democratic crowd to delirium for several minutes.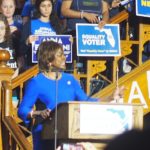 "I dream of an America where every man, every woman, every boy and every girl has the opportunity to succeed! Is that the America you dream of?" Demings bellowed, and the crowd's response began to drown her out. "I dream of an America where a quality education is guaranteed, no matter the school, so that every child has an advantage and can live up to their God-given potential. I dream of an America where public education really matters.
"I dream of an America where if you get sick you are covered. I dream of an America where no one is allowed to discriminate against you… I dream of an America where Social Security and Medicare … (are) protected for you. I dream of America where people who are in charge believe in science, where environmental protection is not a last-minute campaign talking point," she continued.
"I dream of an America where your safety matters, where you can go to church, and go to the mall, and go to a movie theater, enjoy a concert, go to a nightclub here in Orlando, or a nightclub anywhere in the nation, where our children can go to school and not worry about being gunned down by a madman!" she said.
Nelson spent most of his speech comparing himself with Scott, seeking to rebut Scott's criticisms of him on issues, and taking shots at his Republican opponent.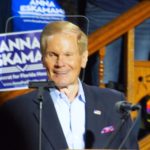 "When I'm talking about my opponent, of course I'm talking about the mess he has made, that Andrew Gillum will have to clean up," Nelson said.
He charged that Rick Scott cut public education while he supported it; that Nelson supports environmental protections while Scott "eviscerated the environmental agencies"; that Nelson always supported health care, while Scott "savaged it, and has the nerve to put an ad on the air right now saying that he's in favor of keeping the protections for pre-existing conditions.
"In the seven years that it has been in the law he has tried to kill it by repealing it and continues to do that with a suit from the state of Florida in the federal courts right now to declare the pre-existing protection as unconstitutional," Nelson charged.
Scott's criticism that Nelson had done little to support NASA apparently struck a nerve. Nelson declared that he was the reason his friend, former astronaut and retired Marine Corps Gen. Charlie Bolden was appointed NASA administrator, and that has led to the explosion of new, commercially driven activity at Kennedy Space Center.
"The cape has come alive! And we are now doing two launches a week," Nelson said. "It's back! And Kennedy is in business!"