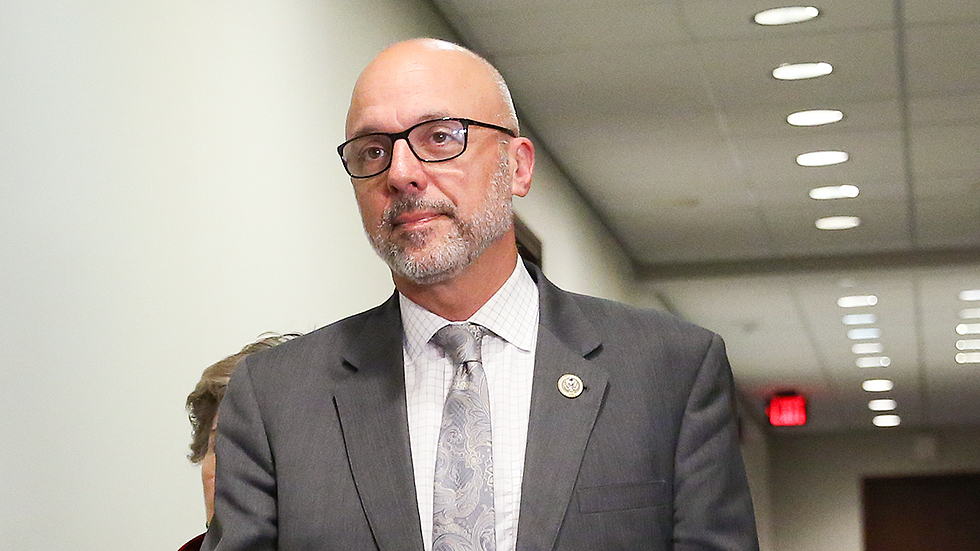 Democratic U.S. Rep. Ted Deutch talked up the importance of communication and civility Wednesday, while fielding questions from voters across the political spectrum at an event organized by the Gold Coast Tiger Bay Club.
The speech is part of a monthly series hosted by the group in order to expose members of the community to leaders' ideas. Wednesday's event was held at the City Fish Market restaurant in Boca Raton.
Deutch never directly mentioned the round of bomb threats targeting lawmakers and others earlier in the day. But intentional or not, his messaging was well trained on toning down the harsh political rhetoric often seen in the country's current discourse.
"That tone isn't helpful in our communities where we have real problems that we have to discuss with one another, where we do have difference of opinion but we've got to respect those differences of opinion if we're ever going to figure out how to address the significant challenges we have," Deutch said.
He argued the source of that rhetoric often comes from cable news networks which see these important issues as "entertainment," thus incentivizing a level of hype and hysteria which can drive people toward more extreme views.
Republican U.S. Sen. Ben Sasse made similar points in his recent book, taking particular aim at Sean Hannity, whose show appeals to members of the GOP. Hannity has repeatedly fired back at Sasse for those critiques.
Deutch also explained how he sees partisanship impacting the effectiveness of government. Deutch used the example of the House Judiciary Committee, on which he sits.
"It's the role of the Judiciary Committee, for example, to examine what it means when (President Donald Trump's) personal lawyer goes into court and says … that the President instructed him to violate federal law," Deutch said.
"I'm not jumping to conclusions about what that means. But I'm suggesting that the Judiciary Committee historically would have followed up with some hearings to try to understand what Michael Cohen was talking about, whether there's more there, how it impacts decision-making."
However, he argued congressional representatives, particularly on the judiciary committee, at times attempt to shield presidents of their own party, even at the expense of serving as a check on the Executive Branch as the Founders intended.
Deutch also brought up the caravan of migrants moving toward the U.S. border, arguing that proper governance is being shirked in favor of riling people up ahead of the Midterms.
"There is no reason to try to scare people into thinking that a few thousand people, many children with their mothers, that are in Latin America right now, that are in Mexico right now, pose a threat to our country," Deutch said.
"That said, of course we don't accept the idea of thousands of people flooding across our border outside of our legal system. Those two things are not inconsistent."
He argued President Trump should be directing the Secretary of State to convene a meeting of Latin American countries in order to identify the problems leading to these migrants fleeing.
He says such a meeting would allow leaders "to figure out how to address this so that there aren't thousands of people who show up at our people trying to stream across our border. That's what leadership is.
"Demonizing (the migrants) and trying to scare the American people into thinking there's this army of children and babies that are getting ready to flood across our border, with some terrorists that have snuck in from the Middle East, that's not the way to approach this."
Several conservative members in the crowd voiced their outright disagreement with Deutch's arguments or policy proposals. The talk was certainly not a Democratic kumbaya session.
But those same participants also often pointed out where they agreed with Deutch. That's a notion Deutch said he was thankful for.
"It's unheard of these days for someone to say, 'I agree with some of what you say, I disagree with some of what you say,' " Deutch noted.
"That's the way things always worked in our country. It's OK. I don't expect people to agree with everything I have to say. But I absolutely welcome the opportunity to have conversations and hear other opinions. That's how we reach the ability to get things done.
"That's what has always propelled us forward as a country. And that's why I, frankly, feel so privileged to live in this community."