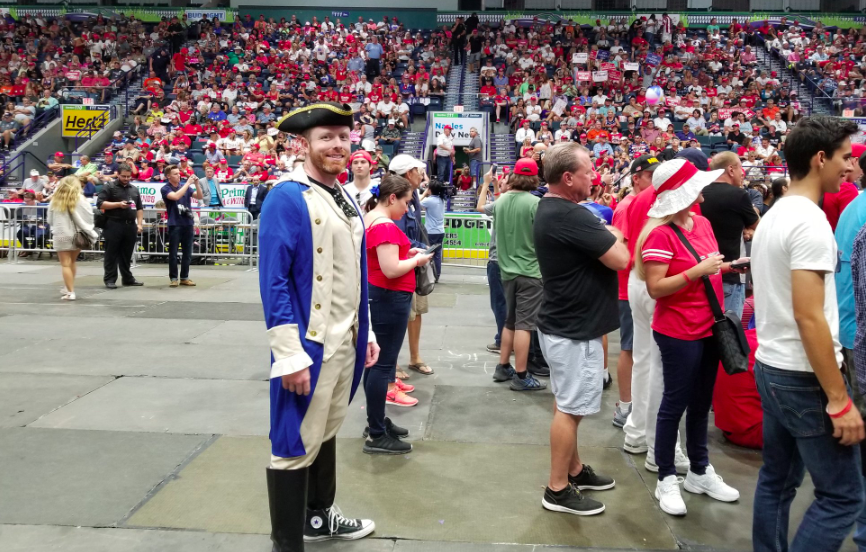 When President Donald Trump announced he'd host an Oct. 31 rally in Florida, the real question wasn't what he'd say but what the crowd would wear. 
Would there be vacuform masks of The Donald? Would witches cast some unholy spell to life Rick Scott's Senatorial ambitions, or could some sexy version of a children's cartoon show pass out "Make America Great Again" signs?
Well, the short answer is no.
Secret Service clamped down on masks and elaborate costumes, and for the pols who speak at such rallies, not staring into a crowd of people in monster masks is just fine.
Yet, the event did include a few folks that weren't in street clothes.
You could find a Tea Party-loving patriot in a tri-cornered hat, for example.
"This isn't a costume," explained the Trump fan. "It's my tuxedo."
Granted, such historic costumes show up at Republican rallies during all times of the year, so Secret Serve may be used to the revolutionary garb.
And then there was a Trump look-alike. Quite a few of them, actually.
One of them got into a shouting match with CNN's Jim Acosta, and the costume surely helped catch the attention of the crowd, which cheered the altercation on.
But then a suit and a red tie is just a suit and a red tie. And can dye their hair strawberry blond. Red hats topped an expectedly high percentage of heads in Hertz Arena Wednesday night. So really, it's just clothes.
But then there was the Elvis costume.
How did this get past security? Hard to say.
Could be work clothes, and it makes some sense that Elvis impersonators would gravitate from Vegas to the Immokalee casino as a certain generation of retires calls Southwest Florida home.
But when it comes right to it, the raucous gathering of folks at a #MAGA rally can be a spectacle to behold any day of the year.
And for an arena full of people in Fort Myers, that level of festivity was enough to give up a night of trick or treating.