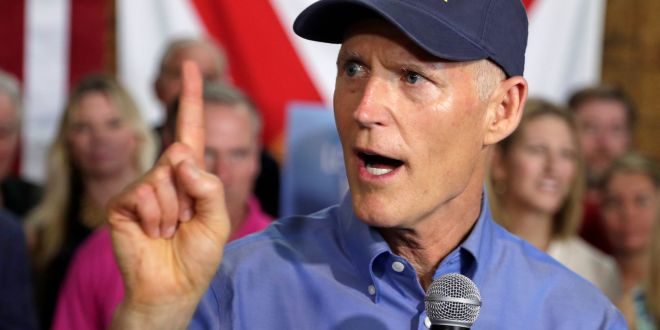 Gov. Rick Scott will sit out next Tuesday's meeting of the state's Elections Canvassing Commission, his attorney told a federal judge on Wednesday.
The news came during a conference call with Chief U.S. District Judge Mark Walker in a case brought by the League of Women Voters of Florida and Common Cause Florida. They wanted Scott to recuse himself because he ran for U.S. Senate this election cycle.
General counsel Daniel Nordby told Walker that Scott would name an alternate to sit in for him at the meeting where the Nov. 6 election results will be certified.
State law says the commission "shall consist of the Governor and two members of the Cabinet selected by the Governor, all of whom shall serve ex officio.
"If a member of the commission is unable to serve for any reason, the Governor shall appoint a remaining member of the Cabinet," the law says. "If there is a further vacancy, the remaining members of the commission shall agree on another elected official to fill the vacancy."
Currently, the other members are Attorney General Pam Bondi and Agriculture Commissioner Adam Putnam, both term-limited.
The other Cabinet member who could step in is CFO Jimmy Patronis, who just won his first full term in this year's election.
He's also a Scott political ally, appointed by the Governor to serve the remainder of former CFO Jeff Atwater's second term. Atwater left office early to work for Florida Atlantic University.
Scott previously recused himself in 2014 when he won re-election against Democrat Charlie Crist, now a Congressman.
The Governor's challenge of incumbent Democrat Bill Nelson is in a machine recount; initial returns had him leading by a little more than 12,500 votes.