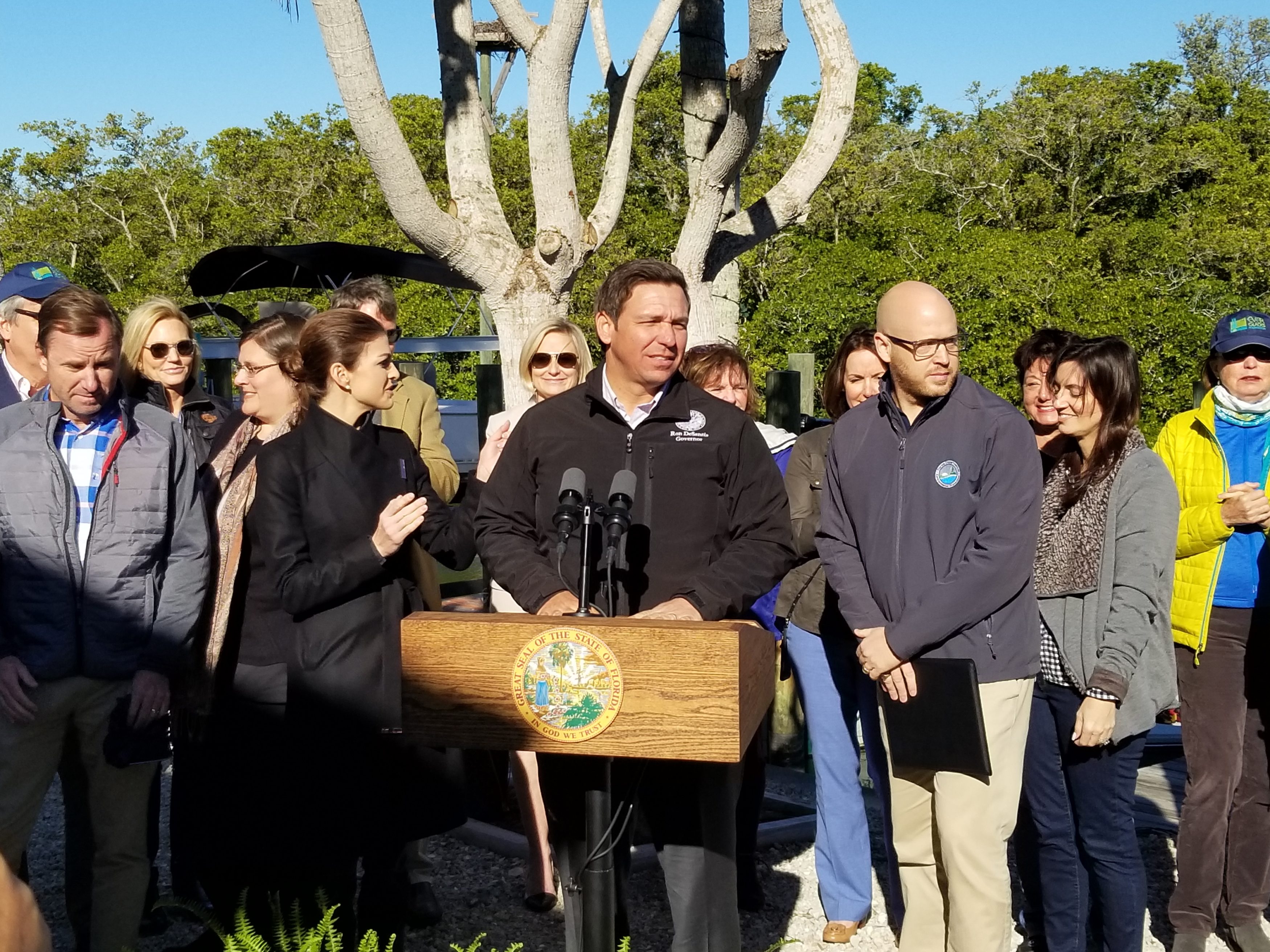 Gov. Ron DeSantis on Thursday called for the resignations of every board member of the South Florida Water Management District.
"We really needed to have a fresh start," DeSantis said during a stop in Stuart.
The new Governor said he sent letters to each member thanking them for their services and asking them to step down.
DeSantis' own dissatisfaction with the board has been well-documented: Immediately after the general election, which DeSantis narrowly won by a 0.4 percent margin, he demanded the district put off a land lease vote that could delay construction of a reservoir south of Lake Okeechobee.
They did not.
The letter sent to board members — all of whom were appointed by former Gov. Rick Scott — made clear DeSantis wanted the board to move in a new direction, and he felt that could not happen with its current makeup. The request came as DeSantis also announced plans to pull back appointments to boards and committees that Scott made in his final days of office. That announcement dealt with appointments requiring Senate confirmation.
"I can announce today that for all the midnight appointments that required Senate confirmation, I'm going to be pulling back," DeSantis said in a quote from the Governor's office. "Now, some of the people in that batch were people that I know and respect. You may see me reappoint some of them back. But we're pulling all of them back. We're going to take a fresh look at it and we'll move forward from there."
"It is time for a clean reset of the leadership of the Board to focus the appropriate attention on this bold vision," DeSantis wrote to members of the water management board.
He asked that resignations become effective immediately.
The move comes after years of criticism that the board put the interests of sugar companies ahead of the environment, concerns that only grew as South Florida dealt with blue-green algae blooms in the Caloosahatchee and St. Johns rivers, and as Florida's coasts were besmirched with red tide.
"For far too long, the South Florida Water Management District has been more accountable to special interests than to the people of Florida," said U.S. Rep. Brian Mast, a strong DeSantis ally.
"That changes today, and I look forward to continuing to work with Gov. DeSantis to find replacements who make our waterways and environment the number one priority."
The district also riled DeSantis' predecessor a few years ago.
The Palm Beach Post reported that former executive director Blake Guillory was forced out after the district decided to hold its tax rate steady instead of reducing it, as then-Gov. Scott wanted. The decision was later reversed.
Pete Antonacci, formerly Scott's general counsel, was then installed as the new head in October 2015, serving till 2017. That's when current director Ernie Marks took over. 
Earlier, DeSantis issued executive orders calling for $2.5 billion to be spent on Everglades restoration and water resources.
He will form a Blue-Green Algae Task Force and appoint a Chief Science Officer, and do everything in state power to expedite construction of the reservoir, he told reporters earlier Wednesday in Bonita Springs.
During a visit to Mote Marine Laboratory, DeSantis also said he wanted science leading policy again in Tallahassee.
"My folks are going to be listening for what comes over the horizon," DeSantis said. "They will be making or applying policy in the most scientifically efficient way possible."
Later Thursday, the managing director of Earthjustice's Florida office said her organization was "glad to see Gov. DeSantis ask for these resignations." Earthjustice is a national, nonprofit environmental law firm.
Tania Galloni added DeSantis' move was especially significant "given the board's recent reckless actions against the Everglades, including an attack on federal protections under a long-standing consent decree."
___
Some material from the News Service of Florida was used in this post.