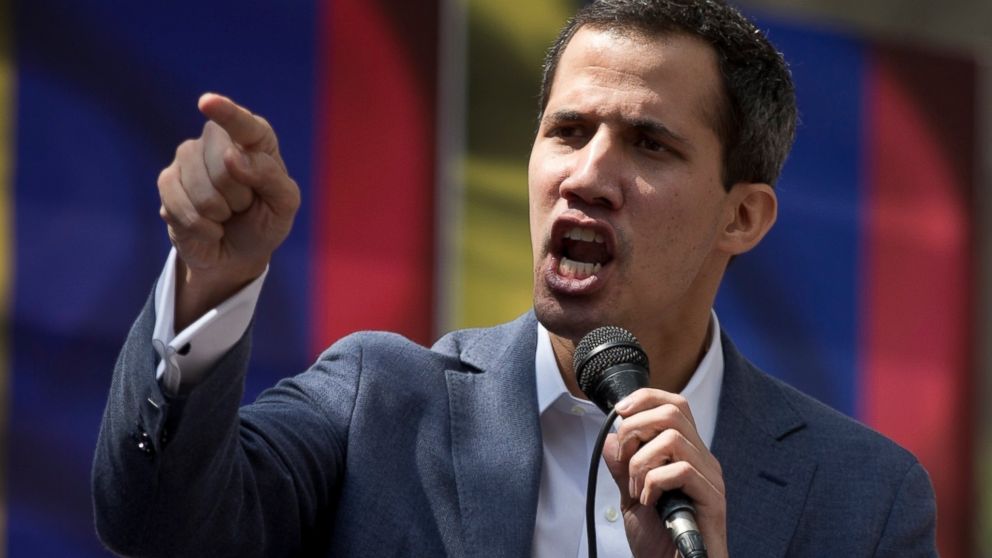 Several South Florida lawmakers urged President Trump to act.
President Donald Trump says the U.S. will recognize Venezuelan opposition leader Juan Guaidó as the country's Interim President.
The move brings into focus a high-stakes battle for power within the troubled country.
Several South Florida lawmakers have urged Trump to back Guaidó amid concerns that last year's re-election of Nicolás Maduro was tainted by corruption.
Guaidó, the leader of the country's National Assembly, declared Wednesday that he is the legitimate President of Venezuela. That announcement was followed by a statement from Trump where he echoed Guaidó's comments.
"The people of Venezuela have courageously spoken out against Maduro and his regime and demanded freedom and the rule of law," Trump wrote.
"We encourage other Western Hemisphere governments to recognize National Assembly President Guaidó as the Interim President of Venezuela."
Last week, state Sen. Annette Taddeo called on the Florida delegation in Congress to push Trump to formally back Guaidó. The move builds off of comments from Secretary of State Mike Pompeo, where he declared the Maduro government illegitimate.
Many of those lawmakers have signaled their support for a rebuke against the Maduro government. On Wednesday, several of Florida's state and congressional legislators took to Twitter to endorse Trump's decision to support Guaidó.
The people of Venezuela deserve to live in peace where human and civil rights are respected and democracy can flourish. #Venezuela Interim President Juan Guaidó has won the support of the people of Venezuela and mine as well.

— Ron DeSantis (@GovRonDeSantis) January 23, 2019
I have urged @StateDept to expel all Maduro diplomats in the United States & recognize new diplomats & ambassadors appointed by legitimate President @jguaido

— Marco Rubio (@marcorubio) January 23, 2019
.@NicolasMaduro, your time is up. #Venezuela has a new legitimate President elected by the people! The United States will continue to stand with you in the fight for freedom and democracy. I applaud @realDonaldTrump for officially recognizing Interim President @jguaido!

— Rick Scott (@SenRickScott) January 23, 2019
This is a significant milestone for the #VZ people and their pursuit for democracy. I commend the Trump admin for taking a strong stand in support of democratic aspirations of the VZ people by recognizing the legitimacy of @jguaido as democratically elected interim leader of VZ.

— Mario Diaz-Balart (@MarioDB) January 23, 2019
Desde Washington, estoy con el pueblo venezolano. No dejaremos de luchar hasta que Venezuela sea libre, un país democrático y que el dictador y usurpador no sea más el líder de Venezuela.#23Ene #23DeEnero #23EneroYoSalgo pic.twitter.com/6aw3OlD4cU

— Rep. Debbie Mucarsel-Powell (@RepDMP) January 23, 2019
In solidarity with the millions of Venezuelans protesting today against Maduro's dictatorship, on the #23Ene anniversary. Freedom & Democracy will be restored in #Venezuela! Unidos ✊🏾🇻🇪@jguaido pic.twitter.com/YdipxnNWeT

— Rep. Darren Soto (@RepDarrenSoto) January 23, 2019
This is the right call. Thank you, Mr. President. https://t.co/z8kXsrmvxB

— Jeb Bush (@JebBush) January 23, 2019
As per the constitution of Venezuela, @JuanGuaido has accepted the interim & legitimate Presidency #Venezuela. #23Ene pic.twitter.com/0yU4Ivh2bR

— Annette Taddeo (She/Her/Ella) (@Annette_Taddeo) January 23, 2019
Thank you for standing with the people of #Venezuela @realDonaldTrump , Thank you for all your hard work on this @marcorubio https://t.co/jag1myKewO

— Manny Diaz Jr. (@SenMannyDiazJr) January 23, 2019
Proud to join the Miami-Dade Legislative Delegation and the growing number of voices in support of a free #Venezuela. I stand against the tyranny of an oppressive regime, and advocate for true democracy under Juan Guaidó. pic.twitter.com/vMV4wScOuE

— Sen. Anitere Flores (@anitere_flores) January 23, 2019
___
Image via The Associated Press