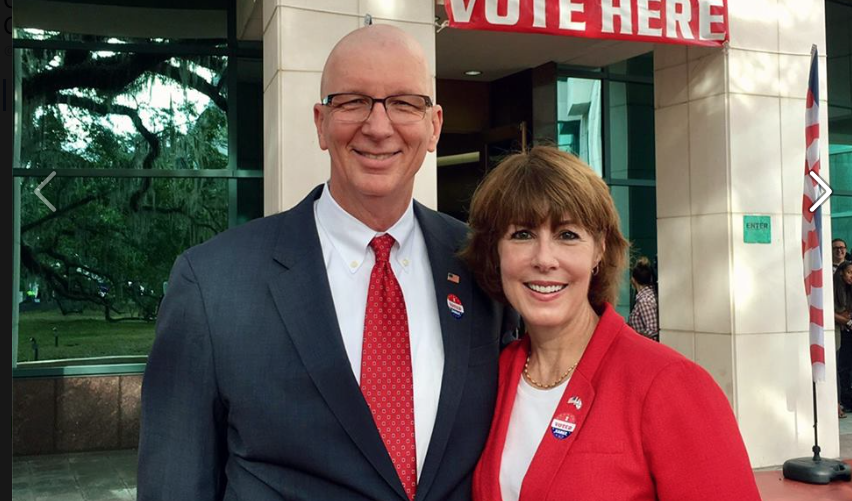 The NRA has kind words to say.
Democratic Agriculture Commissioner Nikki Fried is hiring Stephen Hurm to lead the state's concealed-carry permitting process, signaling that she wants to keep the program under her watch despite Democratic legislation suggesting the opposite.
Hurm is the husband of former U.S. Rep. Gwen Graham, who competed in the Democratic primary for Governor last year. He will serve as the director of the Division of Licensing at the Florida Department of Agriculture and Consumer Services. The division, among other things, screens for and doles out concealed-carry permits.
"When someone applies for a concealed weapons permit in our state, we will ensure they receive the full and complete background check required by law — anything less is a disservice to public safety and a failure to uphold our responsibility to the people of Florida," Hurm said in a news release announcing the hire.
Fried, sworn into office earlier this year, has promised to improve the state's troubled permitting process. The Tampa Bay Times reported last summer that an employee failed to conduct one of the national background checks for concealed-weapons licenses. The story prompted an internal review that resulted in the revocation of 291 previously issued licenses.
"One of my top priorities is to adequately screen applicants for concealed weapons permits and correct the previous administration's serious failures in oversight," Fried said. "This is a responsibility that prior deficiencies have proven belongs under the purview of law enforcement professionals."
Fried's latest hire, however, runs counter to a bolder legislative proposal to shift the entire program to the Florida Department of Law Enforcement.
Democratic state Sen. Lauren Book, of Plantation, is sponsoring that bill (SB 108). A spokesperson for Fried said that their office is working together with Book about the legislation.
Meanwhile, House Democrats have identified Book's bill as a priority in their anti-gun violence agenda.
A lawyer, Hurm boasts more than 30 years of experience working with or advising law enforcement, including stints at the Okaloosa County Sheriff's Office and the Florida Department of Law Enforcement. 
Hurm most recently worked as director and researcher at the Florida State University Institute for Law Enforcement Research and Policy.
"[Hurm's] experience implementing successful risk management strategies makes him the careful, competent, and qualified leader the Division needs as we move forward to remedy the past failures," Fried said.
Marion Hammer, a lobbyist with the National Rifle Association, appears to agree.
The NRA recently came out in support of keeping the program under Fried's purview, despite not being politically aligned with Fried.
Hammer called Hurm a "particularly good choice."
"The law governing the concealed weapons and firearms licensing law is very clear and it specifically denies the agency any regulatory authority so they have to adhere strictly to the law," Hammer wrote. "I would not expect any abusive of authority from [Hurm], nor do I think he would tolerate any."
Joining Hurm at the division is Jordan Anderson, who had worked for Graham's 2014 campaign for Congress and most recently acted as the deputy field director for For Our Future, a left-leaning organization financed by progressive billionaire Tom Steyer. Anderson will serve as assistant director.