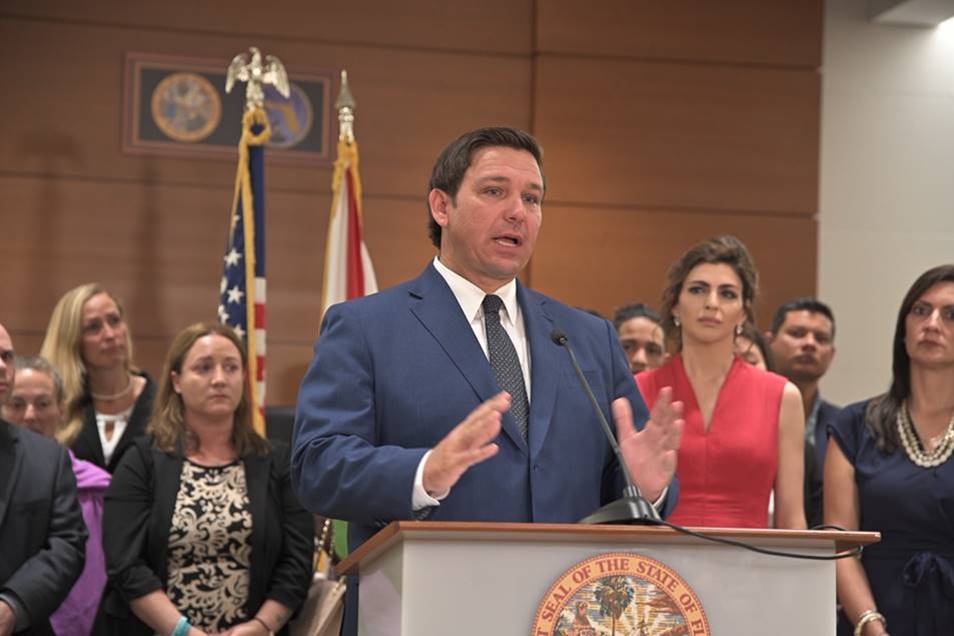 DeSantis made the announcement on the eve of anniversary of the Parkland shooting
Gov. Ron DeSantis says he has petitioned the state Supreme Court to impanel a grand jury to investigate school districts throughout the state regarding their school safety practices.
DeSantis made the announcement Wednesday afternoon just a day before the anniversary of the Parkland shooting. DeSantis was flanked by the families of Parkland victims along with several members of his staff.
"The best tool that we have to bring accountability but also move forward in a better way is a petition that I filed today with the Florida Supreme Court for a statewide grand jury."
DeSantis says he made the move to go beyond the scope granted to the Marjory Stoneman Douglas High School Public Safety Commission.
That body was tasked primarily with analyzing the causes of the shooting at that school last year. The commission also made recommendations for improving school safety measures statewide.
The commission also had subpoena power, though that power became the subject of a lawsuit. Deputy Scot Peterson, the former Stoneman Douglas School Resource Officer, defied a subpoena to appear before the commission before filing a lawsuit challenging that authority.
The Governor says he hopes in addition to the statewide scope of the grand jury, the panel's subpoena power will have more teeth.
DeSantis said he was also asked by some Parkland family members to suspend Broward County's Superintendent and School Board members.
"I've been asked to potentially suspend the Superintendent, just as I did the Sheriff, [Scott Israel]," DeSantis noted.
"The problem is that I don't have the authority to do that for an official that was appointed."
Unlike the Superintendent, the Broward County School Board members are elected. But DeSantis said suspending those members would still be improper.
"I looked at that, and yes they are elected, but it's not clear to me that having policy disputes would be a reason to exercise that power. And I'm also mindful of the fact that there was just an election last year where many of these issues were the foremost issues in the campaign. And the voters in this county chose to return some of those School Board members."
DeSantis hinted that depending on what the grand jury finds regarding the School Board's priorities on school safety before the shooting, he could revisit possible suspensions in the future.
Some of the Parkland family members also spoke Wednesday, thanking the Governor for the actions he was taking.
"The School Board and the Superintendent, they've had a year to fix Broward County and make our schools safe," Max Schachter said.
"This is ground zero and they continue to fail us. So I want to thank Gov. DeSantis for instituting this action of accountability. And finally, I think that we're going to be able to make our schools safe."
"We don't need [Feb. 14] to remind us of what happened," Andrew Pollack added.
"We live it every day and we've been fighting for justice for our murdered loved ones. And this is just the beginning."
___
Image via Gov. Ron DeSantis Press Office