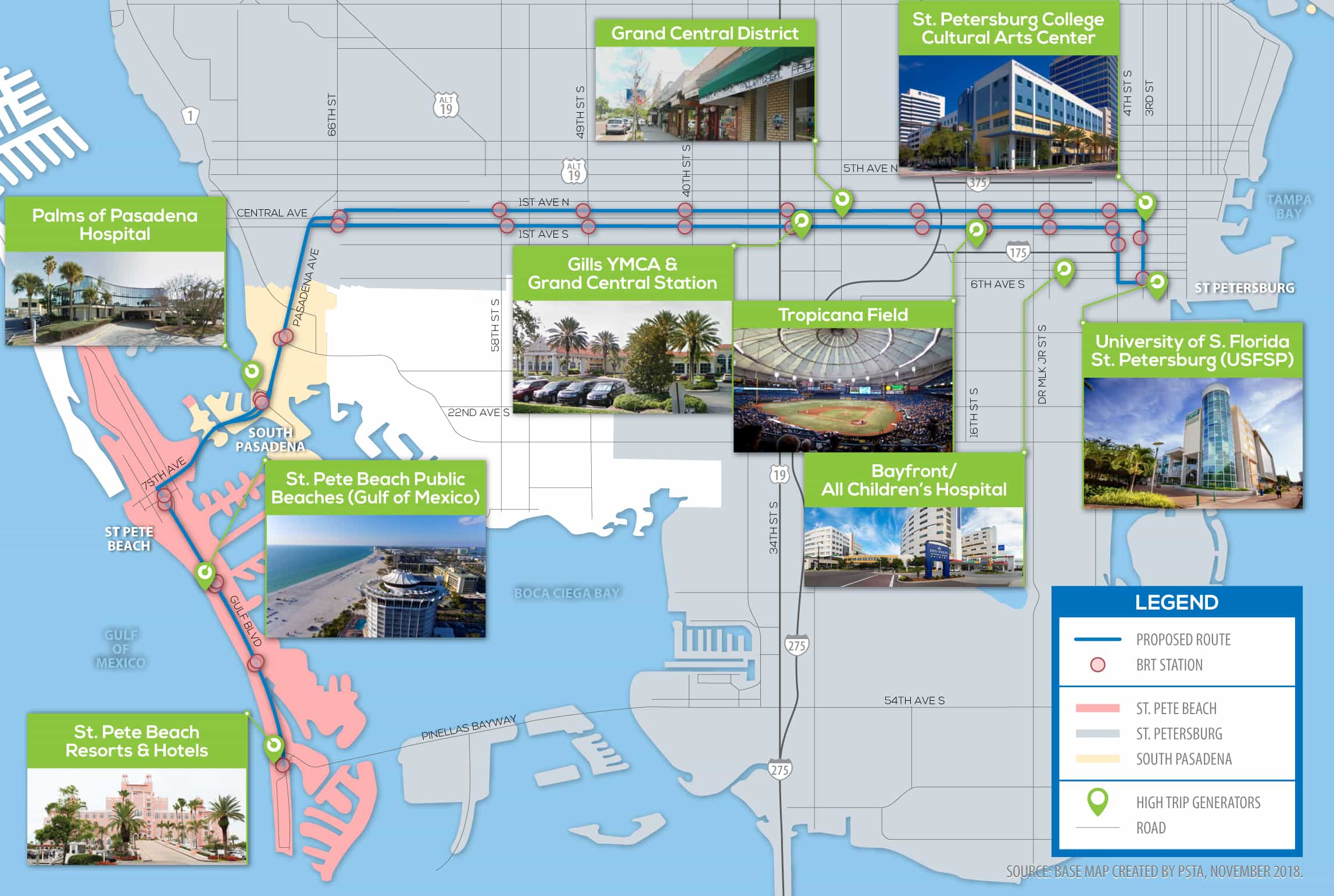 "BRT is being shoved down our throats," they claim.
There's an opposition campaign brewing against the Central Avenue Bus Rapid Transit route planned in St. Petersburg.
During a meeting of the Pinellas County legislative delegation Wednesday, one familiar face — and another new one — spoke out against the project.
The proposed BRT route would connect downtown St. Pete to St. Pete Beach and other south county Gulf beaches along First Avenues North and South.
St. Pete resident Ed Carlson is leading a new opposition group called Citizens Against Lane Loss and Parking Loss that is fighting to kill the project.
"BRT is being shoved down our throats," Carlson said. "This is the greatest outrage in this community that I've seen in 25 years since [St. Pete became] strong Mayor."
Carlson claims he represents opponents from 15 neighborhoods along and near the planned route, as well as 1,500 condominium units.
A website promoting the group and its opposition is just one page with a mashup of data about projects, which they say lead to lane and parking loss and contains only limited citations for its information. The website even contains a disclaimer cautioning visitors on trusting its information.
"This website's content and the products for sale are based upon the programmer's intuition and the operator's research and knowledge. You should do your own research and confirm the information with other sources when searching for information regarding statistical data," the disclaimer reads. 
There doesn't appear to be "products for sale" on the website.
Despite the effort, the group's opposition might be too late.
Of the entire $42 million project, about half has either been already secured or pledged. That includes $10 million from the Florida Department of Transportation which included the project in its work program,
Another $4 million was pledged from the city of St. Pete and $6 million from the Pinellas Suncoast Transit Authority.
The federal government would fund the remaining $22 million through its New Starts program in which officials have already positioned the city for the money by ranking the project the second highest possible rank — medium-high.
Still, Carlson worries the route would increase congestion along First Avenues North and South and on Gulf Boulevard by eliminating lanes along much of the route. He's also concerned about parking losses along the route where residents and businesses rely on on-street parking, though, much of the parking along that route is underutilized.
A familiar face in the fight against certain types of mass transit joined Carlson's fight. Barbara Haseldon, who led efforts to squash the 2014 Greenlight Pinellas transit tax initiative through the group No Tax for Tracks, said the project is duplicative.
The Central Avenue Beach Trolley runs along a similar route, but officials say that route is best for short local trips because of its frequent stops. The BRT route would be faster by providing limited stops.
"Once again what we see is a PSTA project is trying to crop up and trying to take legs with no demand and no need from the public," Haseldon said.
Haseldon's anti-PSTA activism has historically centered on plans for passenger rail or fiscal mismanagement. During opposition to Greenlight Pinellas, she called for the agency to live within its means and focus on existing bus service, rather than expanding to include light rail.
She frequently insisted she was not against transit.
Carlson's comments suggest he was taking that activism a step further, condemning bus service in general.
"The time for buses is beginning to decline. PSTA is $100 million boondoggle," Carlson said. "For that, we could give [riders] a couple of thousand dollars for Uber. There are other ways to transport people other than buses."
The pair urged Legislators to cancel any state payments for the project.
Legislators did not respond to either speakers' comments.
The BRT project is already in the project development phase. Late last year, PSTA won a $1.2 million grant to fund transit-oriented development-related features along the route, further signaling that the route is likely to move forward undeterred.