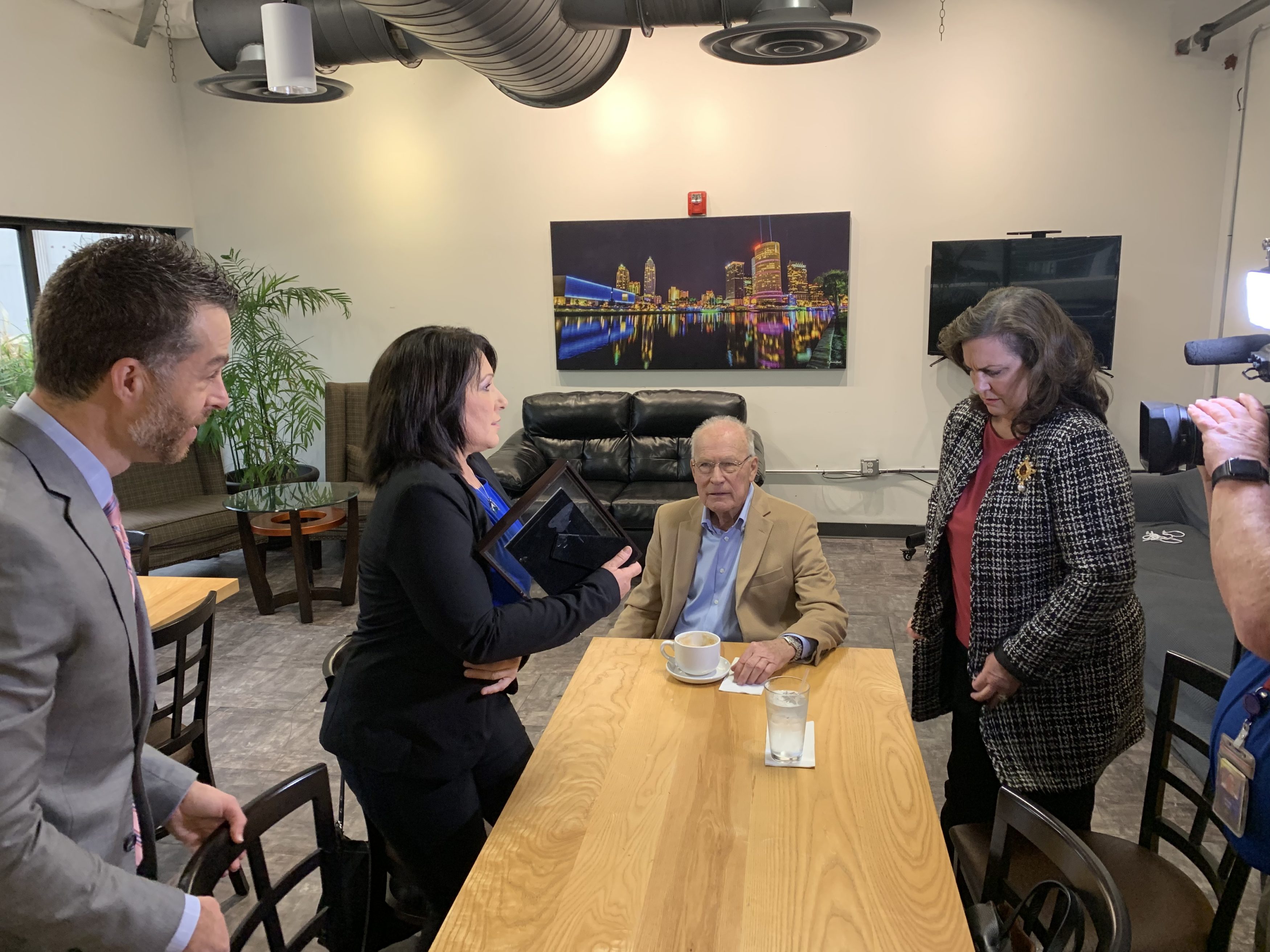 "There's been an injustice here and, who knows, maybe even a cover-up."
Tampa Mayoral candidate David Straz met with a mother Tuesday who lost her son in a police raid in 2014.
His opponent, Jane Castor, was Tampa's Chief of Police at the time.
Jason Westcott was shot and killed during a drug raid in which just $2 worth of marijuana was found in the home, according to a Tampa Bay Times report from the time. Police reportedly entered the home based on a tip that Westcott and his partner, Israel Reyes who survived the incident, were selling drugs.
Westcott's mother, Patti Silliman, is suing the city of Tampa over her son's death arguing, among other things, that police should not have been in the home at all the night her son was killed. She argues the police acted on faulty information and further alleges officers might have coerced a criminal informant to make the claim that Westcott and Reyes were dealing drugs out of their home.
Silliman called the entire incident a cover-up and specifically named Castor as a major player. After meeting with Silliman, Straz might agree.
"This is a grave tragedy in many respects and I'm very proud of her and I share the pain of her," Straz said during a news conference. "I'm pleased that she's willing to stand up and talk about these things for the good of Tampa. There's been an injustice here and, who knows, maybe even a cover-up."
Asked why he said it might be a cover up Straz simply responded "read the newspaper" and reiterated that it was a tragedy that should not have happened. He then left the news conference after just a minute and a half.
Silliman spoke to reporters with her attorney, TJ Grimaldi.
"My whole point is that people, before you vote, you should look into what you're voting for because there's a lot more to Jane Castor than just being the chief of police," Silliman said.
Her attorney said, and the family's lawsuit also states, that no one from the city of Tampa or the Tampa Police Department contacted Silliman about her son's death. They say she learned of his death from another family member and, in the months following, still never heard from a police representative or victim's advocate.

Asked whether she felt like Straz was exploiting her son's death for political gain, Silliman said it was she who first reached out to Straz about her son's case.
"He was literally the first person in this coming five years that would take the time to hear what I have to say about the murder of my son that was covered up by Jane Castor," Silliman said.
Straz is lagging far behind Castor in polls. The most recent poll put Straz more than 30 points behind.
It's a staggering deficit, by any measure and Straz admits he has a lot of ground to cover.
During the past several weeks of his campaign, Straz has used a newly formed Electioneering Communications Organization he is self-funding — he's put $250,000 into the ECO to date — to launch negative ads against Castor over the controversial policy during her administration that disproportionately issued civil citations to African American cyclists for minor biking infractions.
The Westcott case and the family's lawsuit provides additional ammunition for Straz's campaign to try to earn back some of the former police chief's support.
The news conference comes less than three weeks after the Castor campaign put Straz on notice for offending a different victim. In a news conference March 1, Kelly Curtis-Stout blasted Straz for using an image of Castor taken wearing the "thin blue line" mourning badge officers wear to honor a fallen officer allegedly taken in the immediate aftermath of Curtis-Stout's husband's death.
David Curtis and his partner, Jeffrey Kocab were shot and killed during a traffic stop in 2010.
The latest Straz media event shows the philanthropist was serious when he said he would not promise to avoid negative campaigning tactics.
As Straz and his wife sat at a table in The Attic in downtown Tampa, Straz's campaign consultant Bill Fletcher circled the group with a video camera. Another campaign staffer took video of Silliman's statements to the press.
"Mr. Straz has an unfortunate habit of casually accusing city leaders of graft or unethical behavior with zero evidence," said Castor's campaign manager Tim Wagner.
Wagner was referring to a statement Straz previously made about a letter alleging "graft and corruption" in city government. The letter outlined a series of complaints about the city's waste management department, but the allegations did not rise to the level Straz implied.
"We hope in this case Mr. Straz is not exploiting a grieving mother to create another TV ad or score political points," Wagner continued in a statement. "Jane cannot comment on this case specifically due to ongoing litigation. However, when someone points a gun at a police officer, they are forced to take action to protect themselves and others."
Police reports indicate Westcott had a gun when he was shot. The Tampa Bay Times later reported he had the gun because he had recently filed a complaint with the police department over a threat he received that someone planned to rob him.