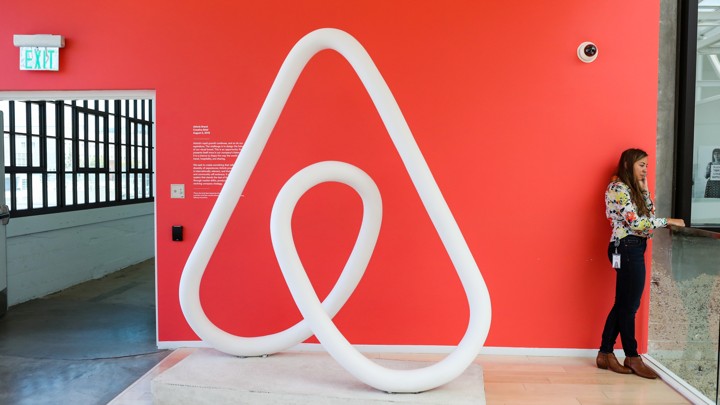 The vacation rental site said it "never boycotted Israel (or) Israeli businesses."
Vacation rental website Airbnb announced Tuesday it is dropping its ban on listing properties owned by Jews in the West Bank territories, a policy that had brought international criticism and legal backlash from Florida.
The ban brought intense international responses, including sanctions from Florida and several of its cities, since the company announced in November that, in recognition of the disputed nature of the West Bank, it would no longer do business with Jewish-owned properties there.
No longer. The company announced Tuesday it is dropping that policy.
However, in announcing the reversal, Airbnb cited its settlement of lawsuits — not the political pressures or criticism that the company had received.
Critics charged the company engaged in activities perceived as part of the anti-Israel "boycott, divestiture and sanctions" movement, or BDS. That movement has been declared illegal in Florida and other states, and by some cities, which have determined the movement to be anti-Semitic.
From the start, Airbnb has vigorously denied any such engagement. Yet the company, which lists vacation rental properties owned by independent hosts, was sanctioned in January by the Florida State Board of Administration as being on Florida's anti-BDS "scrutinized" list.
And in voting for that action, Gov. Ron DeSantis denounced Airbnb.
He had done so while expressing hope that Airbnb would drop its policy, which now has happened. The Governor's Office did not immediately respond to a request for comment despite the high profile DeSantis had put on his position.
DeSantis, however, later tweeted he was "encouraged to hear that @Airbnb will not move forward with its policy that would eliminate the listings of Israeli properties. Florida will never support companies that discriminate against Israel."
However, GOP state Rep. Randy Fine of Brevard County, a leader of anti-BDS efforts in Florida and harsh critic of Airbnb, called the policy decision a "huge victory for those of us who have worked tirelessly to fight the anti-Semitic BDS movement."
In a news release issued Tuesday afternoon, the company said that under the litigation settlement terms, "Airbnb will not move forward with implementing the removal of listings in the West Bank from the platform."
The company also pledged that it would donate all profits from listings of host homes in the West Bank to non-profit organizations dedicated to humanitarian aid that serve people in different parts of the world. The policy is similar to what the company already is doing in other disputed territories.
"Airbnb has always opposed the BDS movement," the company said in the release. "Airbnb has never boycotted Israel, Israeli businesses, or the more than 20,000 Israeli hosts who are active on the Airbnb platform. We have always sought to bring people together and will continue to work with our community to achieve this goal."
That was not the finding of the state Board of Administration, which had placed Airbnb on the list of companies with which the state would not do business.
Among immediate results of that, DeSantis instructed state employees that if they travel for business on the state's dime, they would not be reimbursed for any Airbnb stays.
Fine had urged the DeSantis administration and local officials to go further and rescind contracts the state and at least 40 counties and cities have that provide for Airbnb to collect taxes from host properties and remit them to the government.
That was based on a bill he had sponsored in 2017 that made it illegal for state and local governments to do any business with companies engaged in the BDS movement.
"It was a sad day when Airbnb joined that cause," Fine said of BDS. "But their decision to capitulate under withering pressure from states like Florida validates the legislation we have passed and the commitment of our leaders.
"… Let this be a reminder to anyone considering joining this anti-Semitic movement — if you boycott Israel, we will boycott you," he added.