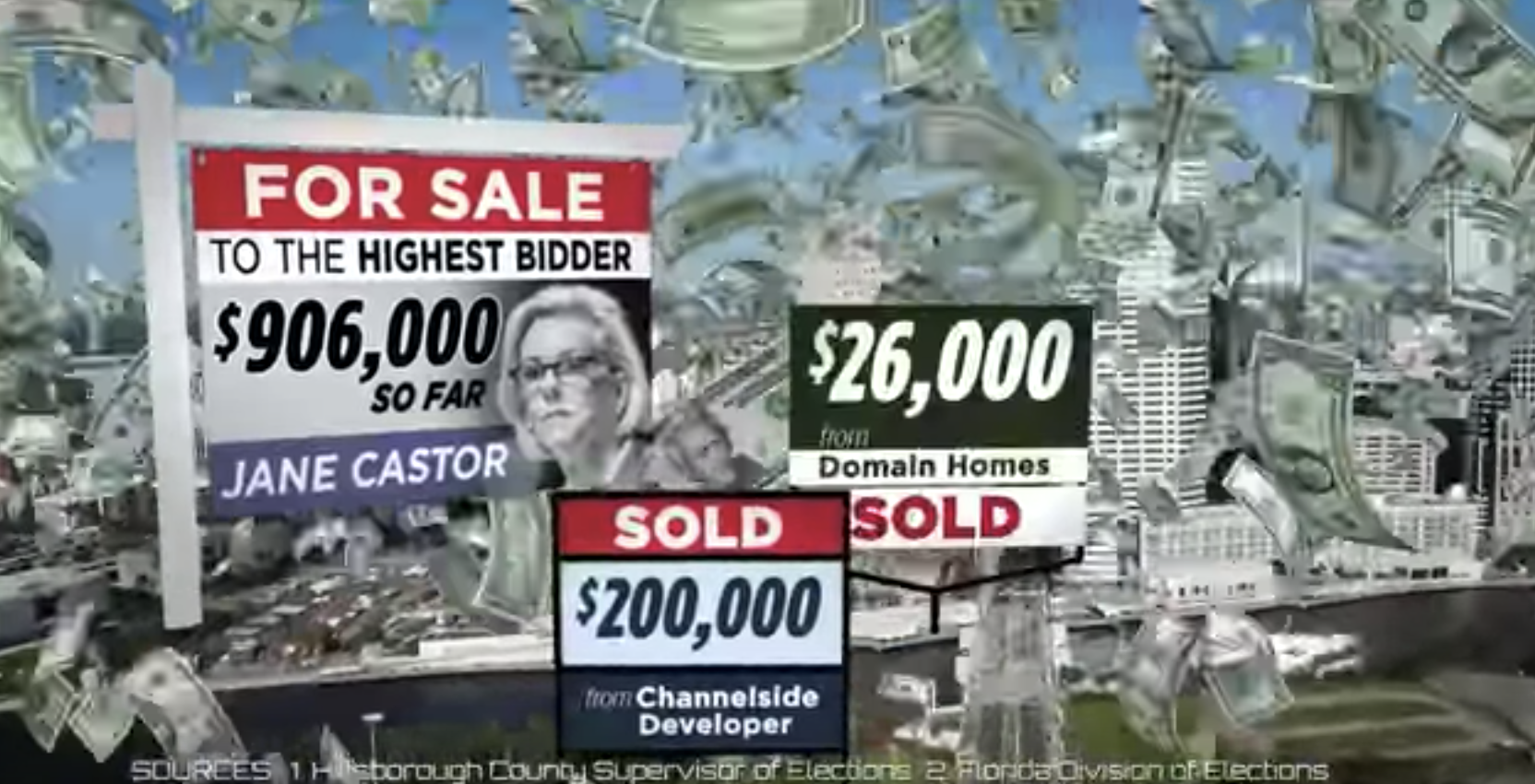 "Jane Castor sold us out."
David Straz launched another television ad Wednesday attacking his opponent in the Tampa mayoral race.
In the latest 30-second spot, the Straz campaign takes aim at Jane Castor for accepting "hundreds of thousands from city contractors."
The ad specifically references $200,000 from the "Channelside developer" and $26,000 from Domain Homes.
"Jane Castor sold us out. $906K from the 'good old boys,'" a female narrator says in the ad.
The spot then shifts to a male announcer.
"We can trust David Straz. No contributions over $500," he says.
That's not true. Over the course of his campaign Straz has accepted at least a dozen campaign contributions that exceeded $500, according to campaign finance records first reported by the Tampa Bay Times.
Straz has since said the campaign will issue refunds to donors who contributed more than $500, but the most recent campaign finance filings don't reflect those refunds.
The Straz ad claim that Castor accepted $200,000 from "the Channelside developer" is true. But it's curious as to why the campaign labeled those contributions so vaguely. That developer is Tampa Bay Lightning owner Jeff Vinik for whom Straz has publicly criticized for his cozy relationship with the Buckhorn administration and Castor's inner circle. He's lumped Vinik into his "good old boys" lamentations.
Vinik, through his American Investment Holdings and various affiliated entities, contributed $194,000 to Castor's Tampa Strong political committee. He and affiliated groups donated another $6,000 to Castors campaign since the March 5 municipal election.
While Vinik is sometimes criticized for his influence in the city and accused of being given an unfair advantage in city development, he's broadly popular in the region.
At the time the latest ad would have been produced, the Tampa Bay Lightning, who got knocked out of the Stanley Cup playoffs Tuesday night in an upsetting 0-4 sweep, would have likely still been favored to win the Cup, or at least still had a chance. Criticizing the team's owner while Tampa residents were fired up over the playoffs might not have played into his strategy as well as a loaded term like "developer."
The Straz campaign provided a comprehensive list of its own campaign finance analysis highlighting the "hundreds of thousands" of dollars the latest ad references. That includes $50,000 from Jonathan Stanton, president of LEMA Construction and $37,000 from the DeBartolo family, another local developer. It also points to $15,000 from HNTB, a city vendor that often oversees road projects. The analysis includes several other local and state contractors who have cut checks to the Castor campaign.
Its analysis also includes contributions from people like Tampa Mayor Bob Buckhorn, Richard Gonzmart and Chuck Sykes' families. They contributed $10,000, $21,500 and $29,500, respectively.
A cursory fact check of the Straz campaign's analysis found its numbers were accurate.
The Castor campaign declined to comment on the latest ad, but Castor has made previous comments publicly lamenting the amount of spending in the race. Paraphrasing from several campaign forums, Castor has said she wishes she didn't have to raise so much, but has to remain competitive against Straz's well-funded campaign. He's pumped almost $5 million of his own money into the race.
Further, Castor has said she wouldn't let campaign contributions play into her decisions as mayor. Voters can only take her at her word on that.
Still, there is at least some system of checks and balances in city government to protect taxpayers from pay to play politics.
City Council has broad control over land use projects and, for real estate deals, council has to approve contracts. Still, Castor would be the one deciding what contracts to send to council. It would be up to them to determine whether or not they were fairly procured.
Straz's new ad is the latest in a long string of attacks against the former Tampa Police Chief. It came just 24-hours after the campaign produced another ad targeting Castor over claims she had manipulated crime stats to make crime rates look lower than they actually were. An expert and a state audit debunked that claim, but the Straz campaign continues to push narratives from former police officers making those allegations.
Two of the three retired officers making allegations had serious disciplinary records including one over a paternity scandal and workplace affair and another for domestic abuse.
With less than one-week before the election and with Straz running at a serious deficit – one recent poll puts him 36 points behind Castor while another puts him more than 20 points behind – it's not likely the Straz's attacks will slow down before voters take to the ballot box next Tuesday.