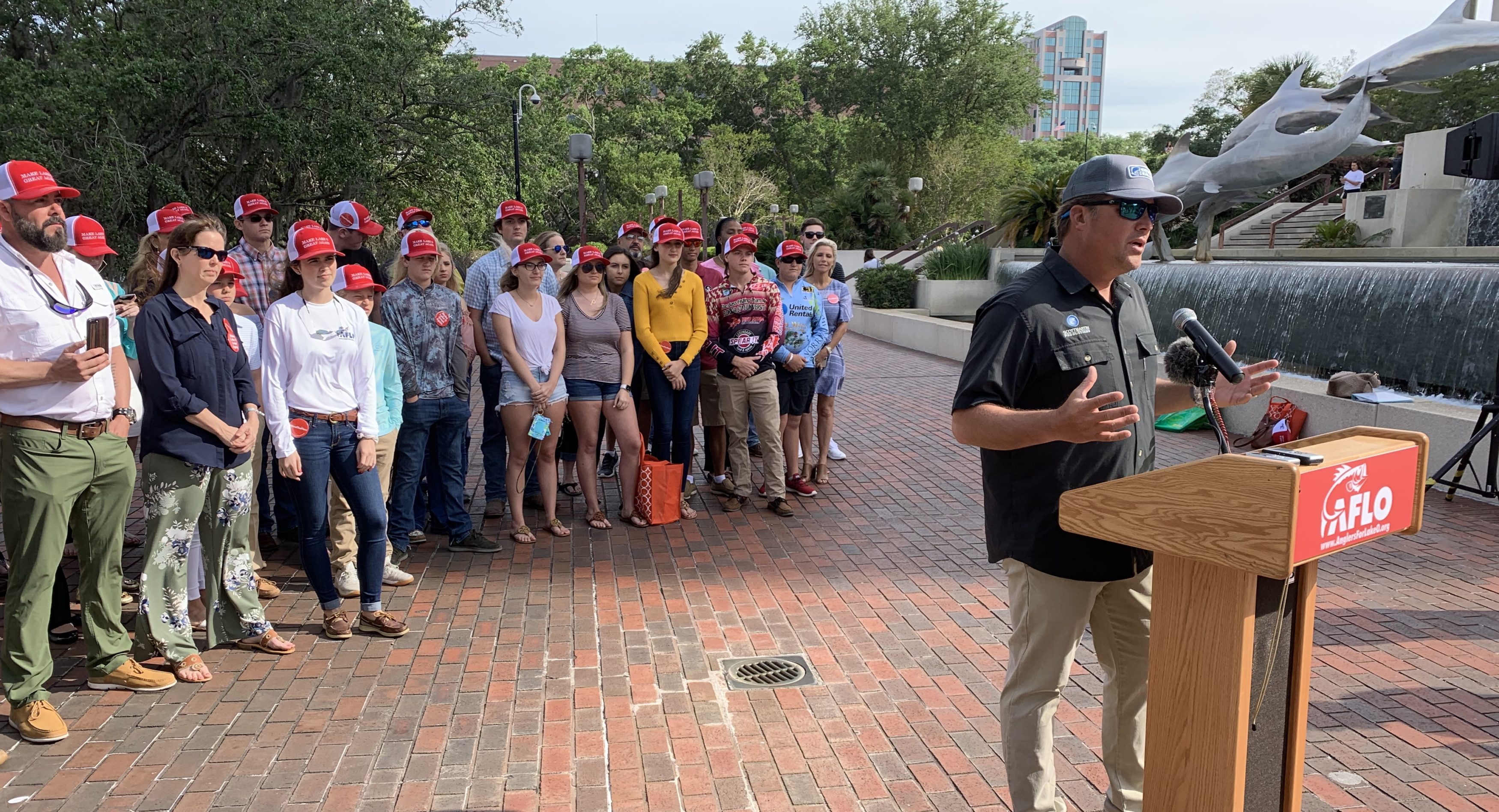 The key, advocates say, is funding a northern storage project first.
Dozens of people representing Lake Okeechobee's fishing industry came to the Capitol Wednesday, asking the House to go along with the Senate's $50 million appropriation for the troubled lake's Watershed Restoration project.
Wearing red and white "Make Lake O Great Again" ball caps as a nod to President Donald Trump's "Make America Great Again" theme, members of Anglers for Lake Okeechobee held a press conference, then went inside to speak with lawmakers.
"The high water is coming into the lake; it's completely drowning out all the aquatic vegetation in the lake," professional angler Scott Martin said. "That is our very important, our vital filter in Lake Okeechobee that cleans the water … If we can slow the flow and store the water north, it's going to make Lake Okeechobee great again."
"I stand here today because fishermen around the world love this lake … one of the greatest fisheries in the entire world," he added. "Being able to store the water north and slowing the flow will help alleviate discharges. When all the projects are done, we'll help alleviate the discharges to the east and the west, up to 80 percent.
"It is the key to fixing the big problem in the state of Florida with water. Lake Okeechobee … was not intended to be a reservoir, to hold muddy water."
Infrastructure work has been a high priority for Gov. Ron DeSantis, who wants to reduce discharges into the Caloosahatchee and St. Lucie rivers. Discharges last summer led to blue-green algal blooms on both rivers.
Also, President Trump visited Lake Okeechobee last month to discuss a reservoir south of the water body, tout work on repairs to the Herbert Hoover Dike and push a long-planned rehabilitation project.
Trump has signed off on $6 billion for the U.S. Army Corps of Engineers to begin work on the Everglades Agricultural Area Reservoir project. That moved up planned completion of the project three years.
But those in attendance Wednesday pushed for a northern storage project first. Lawmakers in the House and Senate have approved separate budgets for 2019-20 and will likely go into conference after Easter to hammer out a compromise spending plan to send to DeSantis' desk.
"In fact, 95% of the water that's coming into the lake is coming from the north," said Clewiston Mayor Mali Gardner. "The water quality and the water quantity are killing the lake ….
"The Senate has said (it would) put in $50 million to get approved projects finished north of Lake Okeechobee, and that's why I'm here today. I'm here to ask the House to do the same.
"Let's get this done … We've waited long enough. For communities around the lake, Lake Okeechobee is the heartbeat of our towns.
"We need a healthy lake not only for fishing, but for everything that we love around the lake and we know that the northern water storage projects will help us. We need that funding to get these projects done."