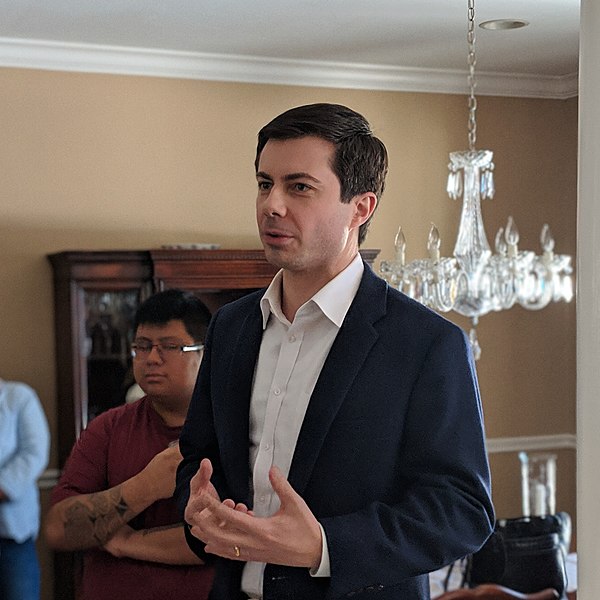 If voters are wary of same ol' cookie-cutter Democrats, Buttigieg would be something new.
Democratic presidential candidate Pete Buttigieg seems like an engaging person. He is bright, has youth and energy on his side, and he attracts positive attention. He is raising decent amounts of money for someone who virtually was unknown just a few months ago.
Buttigieg also spent six years as a Naval Intelligence officer, including a tour in Afghanistan.
That checks a lot of boxes that Democrats need to have if they hope to win the White House next year.
But as the Pete Buttigieg bandwagon rolled into South Florida this week, does he check enough of them to become the person Democrats send to battle against Donald Trump?
It is, of course, way too soon to tell.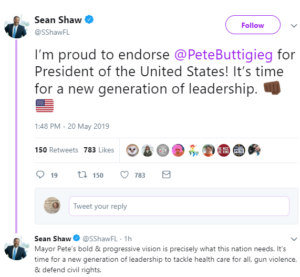 He did pick up a nice endorsement Monday from Tampa's Sean Shaw, who lost to Ashley Moody last November in the race for state Attorney General.
That was significant because the successful candidate will need African-American support. Buttigieg was polling at zero, zip, nada percent in South Carolina, a critical early primary state.
Shaw hailed Buttigieg's "bold and progressive vision" and called for a new generation of Democratic leaders. That seems like a great jumping-on spot to see if the Mayor of South Bend, Ind. can convince the nation to hand him the nuclear launch codes.
If voters are wary of the same ol' cookie-cutter Democrats, Pete Buttigieg definitely would be something new. Openly gay, idealistic, and, as he points out on his campaign website, part of the generation that grew up with many of today's ills.
His generation lived with school shootings. They made up much of the combat force in the wars that followed 9/11. Climate change isn't a hoax to them; it threatens their long-term future.
Here's something else, too.
Much was made in 2016 how Trump created a new coalition of disaffected factory workers, coal miners, and struggling farmers. Buttigieg can call upon millennials with college degrees who work the morning shift at Starbucks to pay off their student debt.
He can paint Trump as someone with his boot on their throats while enriching his Wall Street buddies. Buttigieg might be able to rally women who feel places like Alabama and Ohio have put them under attack.
It's tricky, though. Can Buttigieg satisfy old-line party regulars while attracting a new crowd of voters who may never have cared about politics?
He will need to if he has any hope of winning.
He also will have to convince enough primary voters not to play it safe. Joe Biden is the runaway poll leader now among Democrats because millions know and like him. But four years ago, Hillary Clinton was the "safe" choice over Bernie Sanders.
How did that work out?
Buttigieg declares, "We cannot find greatness in the past."
Go on.
"There is no honest politics that revolves around the word again. In the era of automation and globalization, major changes are going to happen whether we're ready or not," he said. "The question isn't: "Can we stop these changes and go back to the past?" The question needs to be: "How can we make sure these changes work for us?"
Sounds good, but how will that play with Trump supporters?
Trump told unemployed coal miners and steelworkers that their jobs were coming back, and it helped him win the White House. That message resonated better than, "Hey guys, try to learn new skills."
But maybe, Buttigieg's best chance can be summed up by his appearance in the lion's den, known as Fox News.
At a town hall meeting Sunday in Claremont, N.H., he was asked by Fox moderator Chris Wallace how he would respond to Trump's tweets, which insult opponents and reduces them to caricatures.
With perfect timing, Buttigieg shrugged and memorably said, "The tweets … I don't care."
Loud applause followed.
He will join the other 2,825 candidates — ok, only 23 others — on the stage late next month in Miami when Democrats hold their first debate. If the loud applause continues for affable, intriguing Mayor Pete Buttigieg after that is over, all bets are off.