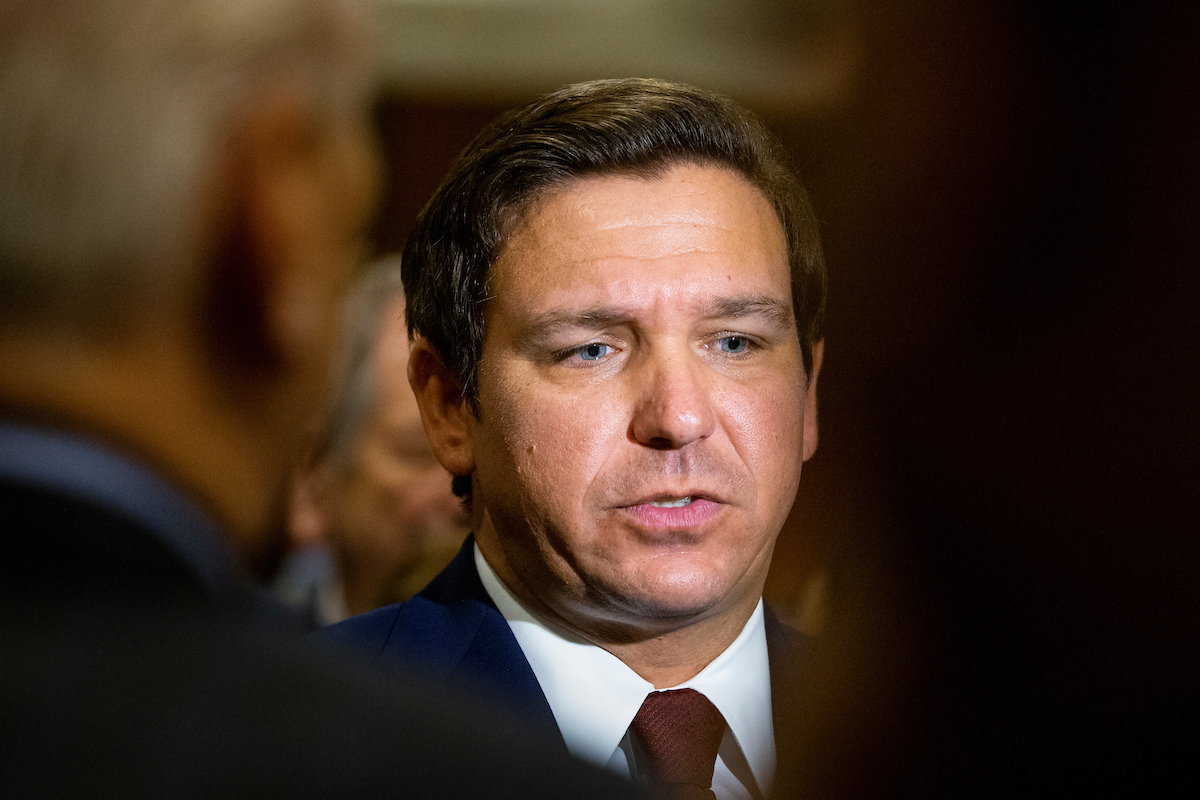 'I was not involved in the proclamation,' DeSantis told reporters of the first version.
Stung by criticism that he issued a proclamation supporting Pulse remembrances Tuesday that had deleted any reference to the LGBTQ and Hispanic communities at the heart of the tragedy, Gov. Ron DeSantis re-issued the proclamation Wednesday with a correction adding the references.
And he blamed staff.
"I was not involved in the proclamation," he told journalists Wednesday.
The new proclamation not only adds references to those communities who made up the vast majority of the victims of the June 12, 2016, massacre at Orlando's popular gay nightclub on a night for Latinx, but it also adds the word "hate" alongside the word "terrorism" as things Florida will not tolerate.
The proclamation DeSantis signed and issued on Tuesday referenced only terrorism as the horror of Pulse, where 49 people were murdered and 53 others wounded three years ago Wednesday.
DeSantis also released his schedule that shows he will be visiting Pulse to pay his respects at 5 p.m. Wednesday.
The Orlando community's centerpiece ceremony in remembrance of the victims and in celebration of unity is set to begin at 7 p.m. Wednesday at the Pulse Interim Memorial, 1912 S. Orange Ave. in Orlando.
"WHEREAS, the State of Florida will not tolerate hatred towards the LGBTQ and Hispanic communities and we will stand boldly with Orlando and the Central Florida community against terrorism and hate," the new and revised proclamation reads.
"Staff made an error in the previous version. The Governor has directed that the proclamation be re-issued, including a direct reference to our LGBTQ and Hispanic communities," states a release issued by DeSantis's communications office Wednesday afternoon. "As his earlier statement today on Twitter indicated, the Governor stands in solidarity with the LGBTQ and Hispanic communities who were attacked during this horrific act of violence at Pulse three years ago today."
In meeting with journalists after a bill-signing ceremony Wednesday in Jacksonville, DeSantis suggested his only role in the proclamation was adding his signature. However, he noted he would be at Pulse Wednesday evening to pay his respects.
"I was not involved in the proclamation. When someone said this wasn't in there, I said, 'Well, put it in there.' We fixed it," he said.
"Sometimes these things happen and you've just got to correct it," he added.
The proclamation correction, unheard of in recent memory, comes after DeSantis received considerable backlash from the LGBTQ community, the Florida Democratic Party, and, in particular, from Democratic state Rep. Anna Eskamani, for having issued the original proclamation. That first proclamation deleted the reference that had been included in nearly identical proclamations that had been issued in the past two years by DeSantis' predecessor, former Gov. Rick Scott.
"Advocacy works," said Eskamani, whose House District 47 includes Pulse. "I think the key is when there are moments when the LGBTQ community is erased from history, or when any group is erased from history, especially in moments of tragedy like Pulse, that we are bold in standing up against those acts.
"I embrace the new proclamation and am looking forward to continuing the dialogue with the governor to ensure that this proclamation translates into policies," she said.
A.G. Gancarski of Florida Politics contributed to this report.