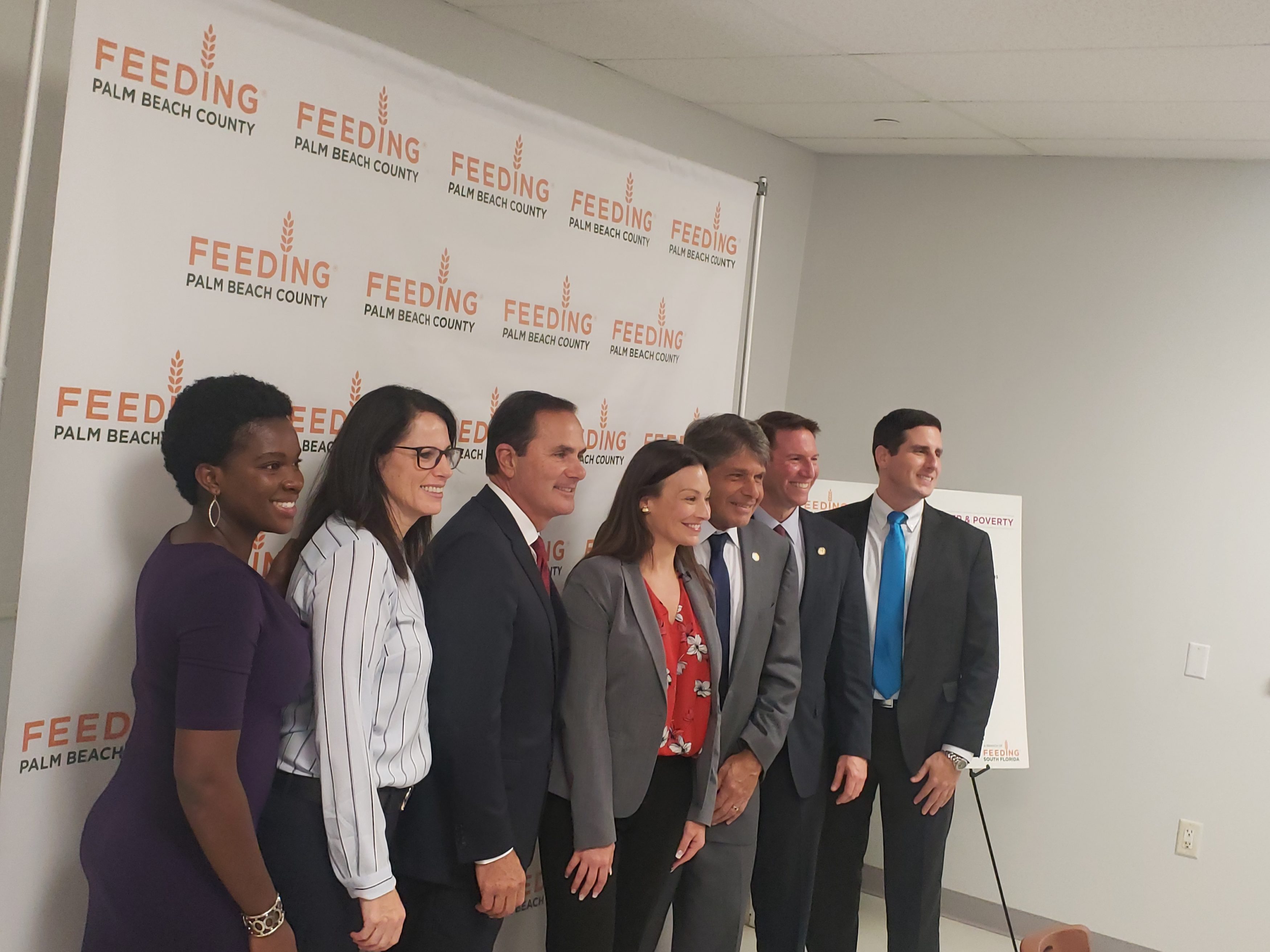 "Fighting food insecurity is one of my top priorities."
Agriculture Commissioner Nikki Fried visited Palm Beach County Monday afternoon to discuss efforts to combat food insecurity.
Fried held a roundtable with several lawmakers at a facility owned by Feeding Palm Beach County, a branch of Feeding South Florida located in Boynton Beach.
"This is bipartisan," Fried said of the efforts to fight food insecurity.
Feeding South Florida works as a food bank for Palm Beach, Broward, Miami-Dade and Monroe counties.
In 2012, the group provided 6 million pounds of food and 5 million meals. By 2019, the group was serving more than 21 million pounds and 17.5 million meals.
And those numbers are just from Palm Beach County.
"There's room at the table for everyone and anyone who wants to get involved," said Paco Velez, the group's president and CEO.
"Our communities, our families have a huge advocate in Commissioner Fried."
Representatives from Feeding South Florida touted the group's "Feed, Lead, Strengthen" approach to tackling food insecurity issues.
It's a variant of the old saying, "Give a man a fish, and you feed him for a day. Teach a man to fish, and you feed him for a lifetime."
Of course, the group aims to feed those who need it. But to try and further fix the food insecurity issue, the group aims to teach leaders who can launch their own efforts to tackle the problem.
Feeding South Florida also works to improve local infrastructure and pair needy individuals or families with assistance programs and even job training.
Fried also discussed what she says is a common misconception: that those who seek out these food banks are homeless or destitute.
"What I have learned is that it's families that may just need a little bit of extra help, that aren't qualifying for the SNAP programs," Fried said.
Velez echoed that sentiment. "Most of the people we serve are working families," he confirmed.
Also on hand Monday were state Reps. Mike Caruso, Joe Casello, Tina Polsky and David Silvers, Boynton Beach Vice Mayor Justin Katz, and staff members for U.S. Rep. Alcee Hastings and Palm Beach County Commissioners Melissa McKinlay and Robert Weinroth.
Fried also discussed efforts to combat the problem legislatively.
"We are actually putting together, over the summer, a task force on food insecurity to look at what other counties and other cities across the state are doing as far as ideas," Fried said.
She added her agency would then look to push those ideas into legislation to make sure the state adequately funds programs that work. Her goal is to have those suggestions ready for the upcoming 2020 Session.
"Fighting food insecurity is one of my top priorities because the cost of doing nothing is too great. Food insecurity affects all of us — it increases our state's health care costs, undermines our workforce, and keeps our children from reaching their full potential," Fried said.
"I'm grateful for our Department's food bank partners like Feeding South Florida, which provides millions of meals to hungry children. Together, we're expanding access to nutritious food, improving peoples' lives, and keeping Florida growing."
On Tuesday, Fried will continue her efforts by visiting Broward County.
At 11 a.m., Fried will attend an event hosted by Summer BreakSpot, which aims to provide summer meals for children. That will be followed by a 2 p.m. food safety inspection at a Davie Walmart.