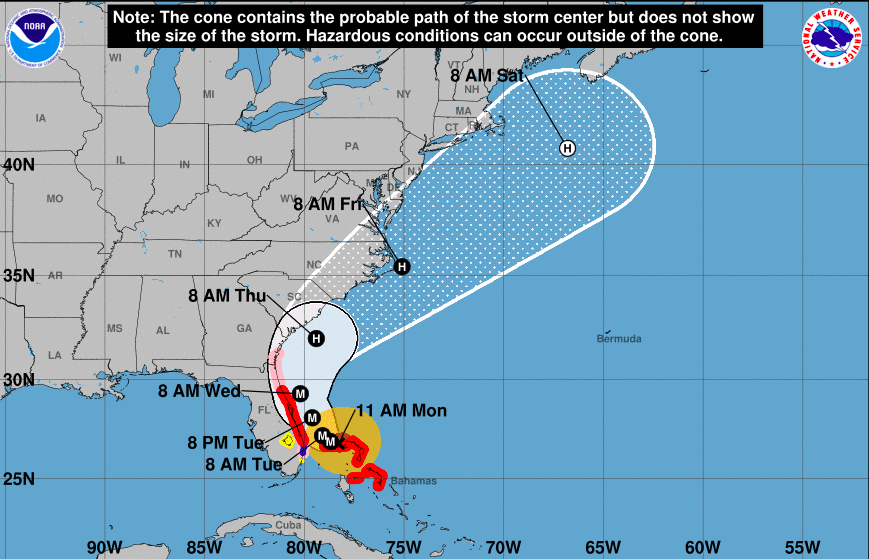 "If you're ordered to evacuate, you need to do that."
Hurricane Dorian is trudging north after a weekend beatdown of the Bahamas, and the most of the east coast of Florida is now within its forecast cone, Gov. Ron DeSantis told reporters at a Labor Day morning storm briefing.
"People need to remain vigilant," he said at the state's Emergency Operations Center in Tallahassee. "If you're ordered to evacuate, you need to do that, from Palm Beach County all the way up to …  the Florida-Georgia border."
All coastal counties in the cone "have issued evacuation orders and it's important that residents heed those calls," he added. "Get out now while you have time, while there's fuel available. You'll be safe on the roads."
Preparations already have begun to restore power if needed in areas affected by the now Category 4 storm, with utilities mustering 17,000 workers "that are pre-staged and ready to respond."
DeSantis said 72 nursing homes and assisted living facilities along the coast have already evacuated residents, and many hospitals are "evacuating or making plans to evacuate."
The Governor wants to avoid a repeat of the Rehabilitation Center at Hollywood Hills tragedy during Hurricane Irma in 2017, when a total of 14 people died from sweltering conditions after the facility's air conditioning system was knocked out. The facility's emergency generator hadn't been maintained, officials said.
"In the coastal counties, the facilities either have confirmed generator availability or that they plan to evacuate," DeSantis said Monday morning. "Since (then), not every one of them has continued to give us updates."
To facility managers, he said, "If you have a generator and something's wrong with the generator, you need to tell us."
As of early Monday, Dorian "continues to have devastating impacts on Grand Bahama Island," according to Windy.com, and was  about 40 miles easy of Freeport, Grand Bahama island, and roughly 115 miles east of West Palm Beach.
Maximum sustained winds were 165 mph, and storm's overall movement had slowed to 1 mph.
"… We are in a situation where the storm is stalling very close to our coast," DeSantis said. "It is going to make a movement and the movement that it makes is going to have a lot of impact on Floridians.
"Please listen to the instructions (from authorities). Heed the instructions and do what you need to do to keep you and your family safe."