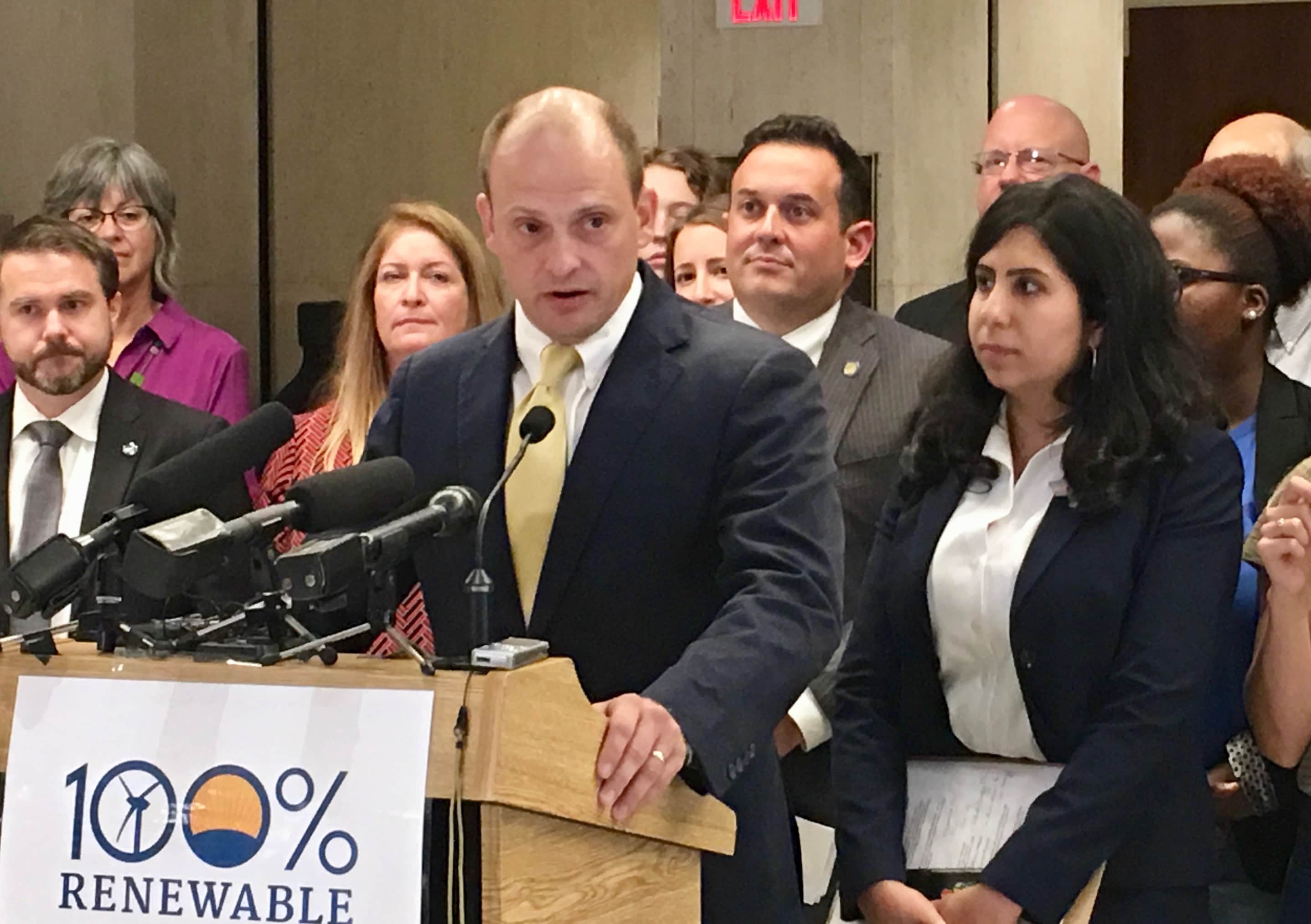 'We need action this year, significant action on climate change'
Democratic state Sen. José Javier Rodríguez and Democratic state Rep. Anna Eskamani rolled out their latest renewable energy bills Wednesday expressing optimism that new acceptance of climate change challenges among Republican leaders presents the Florida Legislature with fresh responsibility and opportunity.
The Democratic lawmakers unveiled Rodríguez's Senate Bill 256 and Eskamani's House Bill 97 at a press conference Wednesday in the Capitol. Both bill set the goal of Florida having fully renewable energy for electric power by 2050, and authorize various programs at the state level to begin working toward that.
Their introductions come at a time when Rodríguez, Eskamani and their allies in seeking urgency to address climate change find hope and optimism in actions and statements of new Gov. Ron DeSantis, who hired Julia Nesheiwat will serve as the state's first Chief Resilience Officer this summer, and Speaker-designate Chris Sprowls, a Clearwater Republican who addressed his climate change concerns in his acceptance address Tuesday.
Rodríguez filed his bill recently along with a flurry of other climate change bills. Eskamani filed hers in late August.
"The ingredients are here," Rodríguez said Wednesday. "We need action this year, significant action on climate change."
Eskamani contended Florida has not only the opportunity but the urgency, considering it is at ground zero for effects of sea level rise due to climate change, and already is suffering from impacts of increasingly powerful and common hurricanes, algae blooms, and other related effects.
"Florida should be a leader in climate change not just because we have the best potential for solar energy, but also because we are feeling that impact in an extreme way," she said.
Connecting the dots between those impacts and Florida making hardened commitments to renewable energy led by solar energy is the political challenge.
Rodríguez said the bills he and Eskamani introduced are "very aggressive" but contended the opposition, which he said lays largely with electric utilities in Florida, should not be so daunting.
"This is not Houston. This is not West Virginia. There are not jobs in oil and gas. This is a solar state," Rodríguez said. "If we break the stranglehold that the utilities have on energy policy here in Tallahassee, we will unleash jobs in renewable energy. I will tell you the solar installers in my district: it is a booming business.
"It is a responsibility for us but it is also a huge opportunity," he said.
Among numerous supporters who spoke at the news conference, Florida State University Geology Professor Munir Humayun noted that the carbon emissions causing climate change are a global issue but that Florida can, and should only, focus on what Florida can do.
"If this bill, when this bill is passed, it will allow us to seize the moral high ground. And we better do that soon because if not we all will be heading for physical high ground," Humayun said.
A.G. Gancarski of Florida Politics contributed to this report.