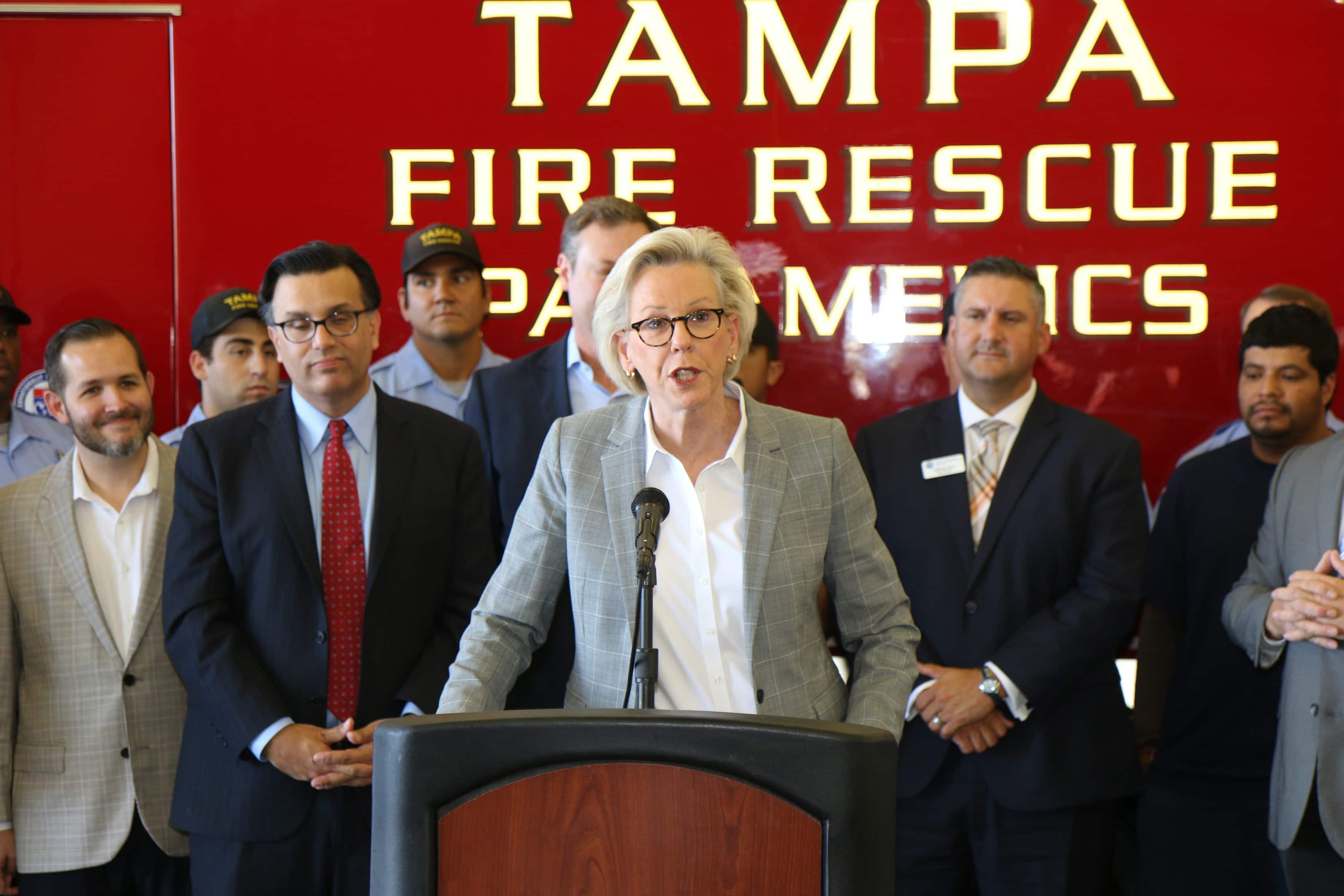 The budget emphasizes neighborhoods and public safety.
Tampa Mayor Jane Castor and members of City Council took a victory lap Wednesday morning at a fire station in east Tampa. It was less than 24 hours after approving a more than $1 billion budget.
The location of Castor's news conference celebrating her first budget as Mayor was relevant.
Included in the city's massive budget is funding for one new ambulance at each of the city's fire stations. The budget also pays for increased service during peak times in east Tampa where service has historically been lacking.
Castor said her administration is going to be immediately launching inquiries into the city's neighborhoods and needs for public safety to continue ensuring those needs are adequately funded.
That service was a priority for new Council member Orlando Gudes whose district includes east Tampa.
"The budget process contains many tough choices as projects and programs are prioritized based on our community's needs," Castor said, flanked by Gudes and other members of the Council.
The 2020 fiscal year budget, which takes effect October 1, is the city's first to start in the black since the beginning of the Great Recession, Castor said.
"And thanks to the foresight of former city leaders, we ended 2019 with both a surplus and a great credit rating.," Castor said. "While some would like to spend the surplus on pet projects, I am fully committed to rebuilding our reserves. This will ensure that we're able to provide adequate city services during future economic downturns and will also save taxpayers millions in interest payments by protecting the city's credit rating."
Learning from her first budget process, Castor called it something that was not "for the faint of heart."
Based on Castor's set priorities hot off the campaign trail last year, the budget includes funding to help the city catch up on deferred maintenance including at city parks, road resurfacing, new sidewalks and crosswalks and affordable housing programs.
It also includes funding for body cameras for Tampa Police officers.
"That's something that I started a pilot program when I was a chief of police," Castor said. "It's never been something that the Tampa Police Department didn't want to implement. It was just a matter of funding."
Castor hopes to have body cameras in place on most Tampa officers within a year. The city is seeking a federal grant to help cover costs.