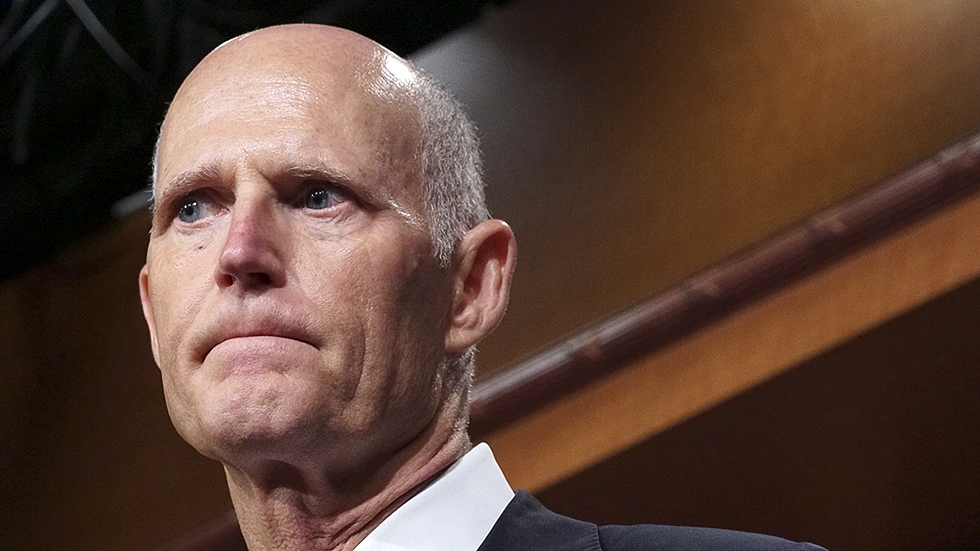 Earlier, Scott expressed offense over NBA and Peace Corps snubs of his China demands
Fresh off the snub he took from NBA Commissioner Adam Silver after a similar request, Florida's U.S. Sen. Rick Scott is asking the International Olympic Committee to consider pulling the 2022 Winter Olympics out of China.
In recent months Scott has emerged as a harsh and frequent critic of China, urging various government and business interests and public figures to stop doing business with China and to denounce its communism and its oppression of Hong Kong.
On Thursday, Florida's junior Senator wrote to International Olympic Committee President Thomas Bach, requesting that the committee pressure China into ending oppression of Hong Kong and other issues, or, if China refuses, to rescind the selection of Beijing to host the 2022 Olympics.
"The Olympic Games are an incredible opportunity to allow the world's best athletes to represent their countries, and should not be hosted by Communist China and President Xi, who does not value human rights. I ask this committee to stand up for freedom and urge Communist China to do the right thing, or find a new home for the 2022 Olympic Games," Scott wrote.
Scott visited Hong Kong three weeks ago, denouncing the leadership and brutal crackdown on street protests, and pledging support for the protesters.
On Wednesday he also signed on as a cosponsor of U.S. Sen. Marco Rubio's Hong Kong Human Rights & Democracy Act of 2019. A House version of that measure was approved by the U.S. House of Representatives on Tuesday. Rubio's bill was reported out of the Senate Foreign Relations Committee last month, but its floor fate is uncertain.
Last week Scott demanded a meeting with Silver over the NBA's investments in China and the league's reaction to a tweet from a Houston Rockets official that had been critical about Hong Kong. Silver did not respond. Scott expressed offense to the snub, tweeting, "Silver has time to kowtow to Chinese officials but refuses to meet with me."
Since mid-summer, Scott has made similar calls to, or sharp criticisms of, the Peace Corps, Michael Bloomberg, Microsoft, Apple, Tim Cook, LeBron James, Steve Kerr, ESPN, the Walt Disney Co., an American tear gas manufacturer, and American universities, regarding  their involvements in China.
The Peace Corps told him no, a response to which Scott also expressed offense. The others appear to have offered little if any response.
The International Olympic Committee selected Beijing in 2015 to host the 2022 Winter Olympics. Beijing also hosted the Summer Olympics in 2008.
In his letter to Bach, who is based in Lausanne, Switzerland, Scott raises numerous concerns beyond Hong Kong and the fact that China remains a communist country.
"President Xi is a human rights violator and suppressor of free speech. President Xi's China has set up a surveillance infrastructure masked as technology "businesses" like ZTE and Huawei. The United States has already stopped the sale of these state-sponsored products to prevent the Chinese from stealing data of residents and visitors in the United States. I implore you to look closely at the global security threat these Communist Chinese companies pose. The 2022 Olympic Games in Beijing will provide the Chinese government full access to a global array of dignitaries, athletes, corporations, and governments when someone simply turns on their phone, or connects to the Wi-Fi in the hotel. That sort of totalitarian surveillance must be avoided at all costs," Scott wrote.
"Time after time, Communist China has made and broken its promises. Communist China is stealing our technology, and refuses to open their markets to foreign goods as required by their agreement to be part of the WTO. They are militarizing the South China Sea, even after they promised President Obama they would not. They continue to attack religious freedom by detaining more than one million Uyghurs, a Muslim ethnic minority group in Communist China, in internment and re-education camps, and have not lived up to the agreement to give Hong Kong autonomy and freedom," he added.