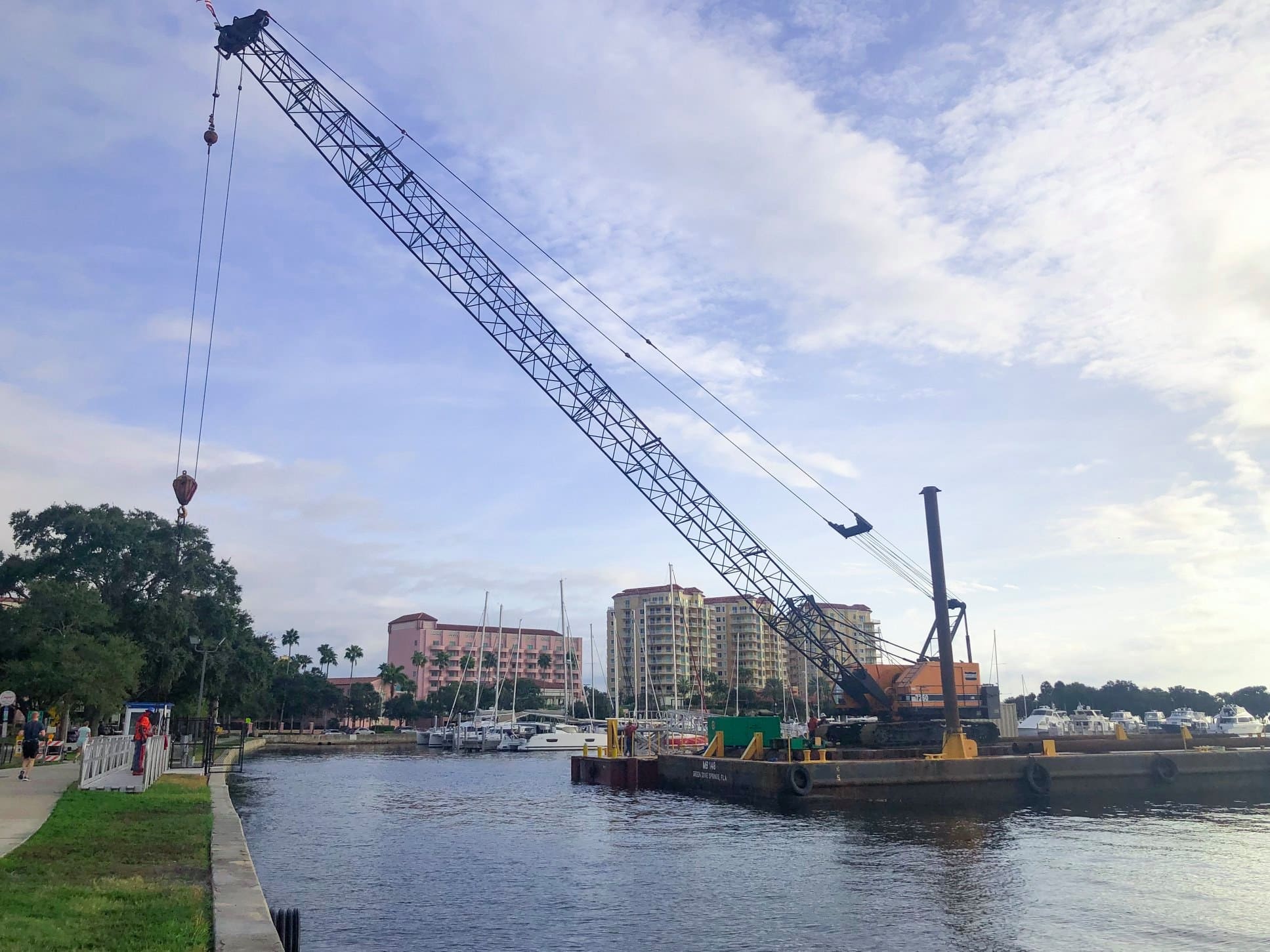 Tickets are also now on sale.
The dock where the Cross Bay Ferry will receive passengers beginning Nov. 1 is now in place in the Vinoy Basin in downtown St. Pete. Crews completed the temporary dock behind the Museum of Fine Arts Thursday.
It will be in place for service through April 2020.
The same day, tickets also went on sale for rides during the six-month season.
Tickets are $8 for adults. Discounted tickets are available for seniors, active or retired military members, college students and children.
Service will run Wednesday through Sunday. Ridership on Mondays and Tuesdays during the second season of ferry service that concluded this spring was too low to support regular service in the third season. However, the ferry will run for Tampa Bay Lightning games if they are played on a Monday or Tuesday as more people are expected to use the service for a special event.
The ferry had originally been staged near the St. Petersburg History Museum, but had to move because of ongoing construction on the new pier.
The ferry will dock in Tampa at the Tampa Convention Center, where it docked during the first season.
The ferry was forced to find another docking location for the second season because of construction at the Convention Center that is now complete. That location is better for service because the ferry will not have to compete with cruise ships coming in and out and can offer more frequent service on Sundays, which should boost ridership.
During the Cross Bay Ferry's inaugural season two years ago, the four partnering governments each received about $44,000 in revenue sharing refunds after the service concluded. None of the governments received revenue sharing after last season, and St. Petersburg Mayor Rick Kriseman doesn't expect that to happen this year either.
The cities and governments helping to fund the service are entitled to equal portions of any revenue exceeding $400,000. That threshold was lower during the pilot season, but each government contributed $300,000 for that service. This year partnering governments, which include St. Pete, Tampa, Pinellas County and Hillsborough County, paid $150,000 for the service.
HMS Ferries has assumed more risk for the service, meaning the city and government investment was cut in half. Kriseman said that decrease saves the city more money than it would gain if they received revenue sharing under the previous model that came with a higher initial investment.
Ridership on the service is on the rise. About 38,000 passengers boarded the HMS Ferries vessel in its first season in 2017-2018. Last year 53,000 people rode.