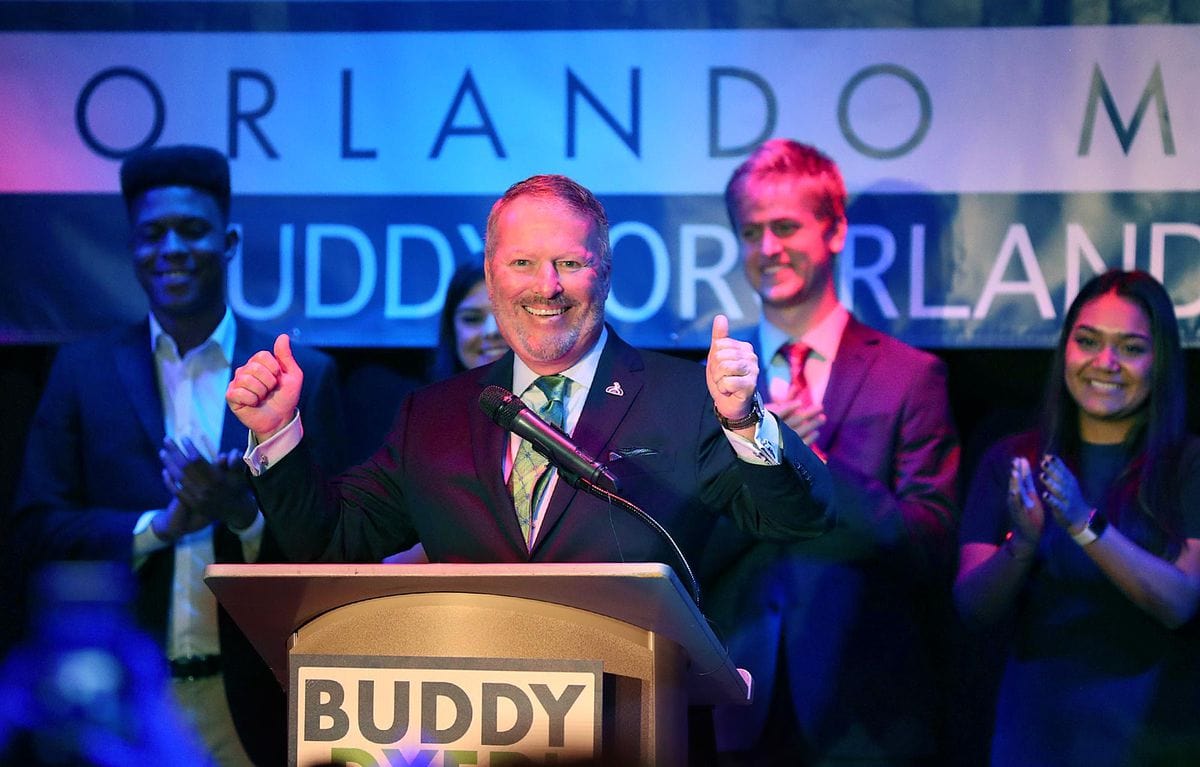 Dyer's sixth election as Orlando mayor
It's beginning to look like Buddy Dyer owns Orlando.
The Democratic former state Senator cruised Tuesday to a sixth election victory and a fifth full term, easily defeating Orlando City Commissioner Sam Ings and businesswoman Aretha Simons. Dyer claimed 72 percent of the vote.
Ings collected 17 percent with Simmons trailing with just 11 percent.
Dyer, 61, who was first elected in 2003 in a special election to finish the term of Glenda Hood, has won all of his reelections by more than 20 points. This year was no different as the Mayor pointed to a thriving city with big developments downtown and in suburban areas, sports and arts venues that either were built or overhauled in his tenure, while Ings and Simons tried to press that he has been in office long enough and was losing touch with parts of the community.
In a nonpartisan election for a nonpartisan office, all three candidates are Democrats. Ings openly wooed Republican votes, even buying a campaign table at the Orange County Republican Party's big gala last month. Yet Dyer has insisted that his tenure has been largely nonpartisan toward promoting business growth, and his campaign drew much of the Republican establishment's backing to go along with a Democratic base that has misgivings about him on the far left, but found little to rally around with either Simons or Ings on that wing.
"We love Orlando, we believe in Orlando, we're going to shape the future for anyone that wants to live, work and play in Orlando….I am humbled beyond measure," Dyer told supporters at The Abbey. "I'm the happiest mayor in America."
Dyer won despite raising and spending less than he has in previous campaigns. He did raise more than $600,000 and spent more than $500,000 of that, according to reports through the end of October. That included some television commercials and full-city mailings.
Last time out, in 2015, Dyer's campaign spent just under $700,000 while Republican Paul Paulson spent nearly $900,000, almost all of it his own money. In a heavily Democratic city, Dyer won 62-33, with a few votes going to a third candidate. The time before, against an established Democrat, Phil Diamond, Dyer won 58-27.
Ings, a retired Orlando Police captain, gave up a safe seat on the Orlando City Council to run against Dyer, whom he considers a friend. From the start, he found campaign money hard to raise in a city that Dyer has dominated for 16 years, though Ings did eventually raise more than $100,000.
Simons, who founded and runs Multiplying Talents, which helps non-profit organizations get started and apply for grants, got off to a relatively strong start for a longshot candidate, raising $20,000 in short order. But her fundraising slowed after Ings entered the race, and she wound up raising and spending around $50,000.
What Simons and Ings lacked more than money, however, was any clear message about how either could do better, at least one that could convince a large number of Orlando voters. In campaign statements and debates they focused on the fact that Dyer has been in office too long, and they both believed he had lost touch with neighborhoods, especially the lower-income, predominantly African-American neighborhoods on the city's west side. They each pointed out the city's problems with homelessness, low wages, transportation efficiency, and lack of affordable housing. But neither offered compelling alternatives to Dyer's message of partnerships.
It also apparently was hard for voters to turn from a Mayor who had overseen great expansions of sports, arts, and culture in a city where business also is booming, the population increasing rapidly, and crime statistics generally falling.