If the future of transportation is automated vehicles, bicycles, pedestrians, cars, and trains all coming together, the federal government is making those investments now in Orlando's Lake Nona community, Jacksonville, and Miami.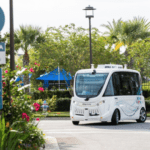 U.S. Transportation Secretary Elaine Chao joined Gov. Ron DeSantis and Florida Transportation Secretary Kevin Thibault Tuesday to announce $20 million federal BUILD grants for those three communities, focusing on multimodal projects. Orlando gets $20 million, Jacksonville, $20 million, and Miami, $22 million in a round of 55 U.S. Department of Transportation grants announced Tuesday totaling $883 million nationally.
In Lake Nona, the rising live-work-study-play, business, technology, sports health care and life sciences community on Orlando's far southeast side, the grant will support a multi-use mobility hub that will create a nexus for driverless autonomous vehicles now being introduced, bike and pedestrian paths and a bridge, as well as car traffic.
The proposal was put together by Orange County and Lake Nona developer Tavistock Group for its Local Alternative Mobility Network.
"This is an incredible win for the region and yet another example of how the right public-private partnerships can distinguish themselves and win big when we collaborate together," said Rasesh Thakkar, senior managing director of Tavistock. "The Local Alternative Mobility Network is a forward-thinking project within the Lake Nona living lab environment that will better position Orange County and Orlando for a new wave of multi-modal transportation solutions, all with a view toward scaling the learnings from this innovation to the rest of the region, the state and the country."
He said the emphasis of the project is on "first mile and last mile" transportation within Lake Nona.
Chao called the BUILD program a "reimagining mobility project" and said it is an investment in multimodal transportation for commuters and recreational users."
The Lake Nona project will include a hub with car parking, public restrooms and storage, a fleet of autonomous vehicles, bike and pedestrian trails and lanes including a pedestrian, bicycle and autonomous vehicle bridge over the six-lane Lake Nona Boulevard, and storm water projects.
"This project will reduce congestion, improve air quality and improve road safety," Chao said.
The Jacksonville project is for the modernization of the Blount Island Marine Cargo Terminal and the Miami project will enhance a 10-mile mass transit corridor.
DeSantis said Florida is receiving the most grants, three, and the most total money, $62 million, in this round of the U.S. Department of Transportation's Better Utilizing Investments to Leverage Development grants program.
"Today's announcement will highlight innovative transportation projects that will help support Florida's growing infrastructure needs and help lay the groundwork for the future of our transportation system. Today's announcement also emphasizes our efforts to modernize this infrastructure system to keep up with Florida's rapid growth," DeSantis said.