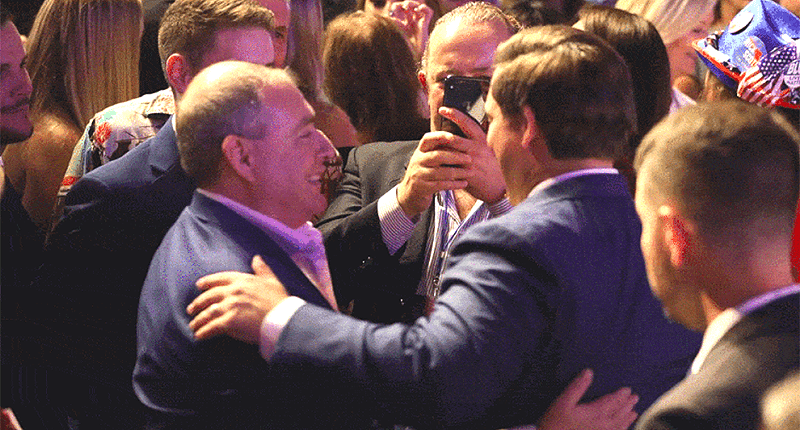 They met at least six times.
Gov. Ron DeSantis met with one of the Ukrainian-Americans arrested last month amid allegations of scheming to violate campaign finance laws.
Lev Parnas met with DeSantis at least six times, according to the Orlando Sentinel. That's more meetings than had previously been reported.
Both Parnas and his business partner, Igor Fruman, had ties to President Donald Trump's personal attorney Rudy Giuliani and were allegedly involved in the pressure campaign to get the Ukrainian government to dig up dirt on former Vice President Joe Biden and his son, Hunter Biden.
Parnas reportedly also had several other encounters with DeSantis in addition to the four more formal meetings and he contacted DeSantis' campaign before he was elected several times.
DeSantis has so far been mum on his relationship with the two businessmen and, following their arrest last month, returned $50,000 in donations stemming from the two men and immediately claimed he had no knowledge of any alleged criminal dealings.
Parnas and Fruman were arrested at Dulles International Airport in Washington D.C. where they both were holding one-way tickets to Frankfurt.
It's still unclear what Parnas hoped to gain from a relationship or conversations with DeSantis. Previous reporting by the Miami Herald suggested it may have been a medical cannabis license, but DeSantis claims that was not discussed.
According to the Sentinel, Parnas first met with DeSantis on May 9, 2018 at a pro-Israel event while DeSantis was still a member of Congress and running for Florida Governor. The Sentinel reports that the day after that meeting, DeSantis' campaign reached out to Parnas' assistant about donating to the campaign.
Another meeting reportedly occurred on May 29, 2018 when DeSantis, Parnas and South Florida construction tycoon Rob Pereira met for lunch to discuss campaign funding.
Parnas later served on a host committee for a July 18, 2018 fundraiser in Longwood at which Donald Trump Jr. was present.
Parnas and DeSantis met again on Oct. 3, 2018 at a private fundraiser in Broward County where Parnas was expected to donate another $25,000, he contributed the returned $50,000 to DeSantis in June, but never cut that check.
Another meeting was supposed to occur five days before last year's election, but Parnas was reportedly a no-show.
Parnas was then seen at two different DeSantis rallies in Daytona Beach and Boca Raton on election day. Unconfirmed rumors are still swirling that DeSantis traveled by plane between the two events with Parnas based on a photo showing Parnas and Fruman on Guiliani's plane.
However, DeSantis claims he traveled with Giuliani and former Florida Attorney General Pam Bondi on a different plane while Parnas and Fruman used Guiliani's.
Numerous photos show the two men with DeSantis on election night.
Another meeting between DeSantis and Parnas occurred on Jan. 3 just days before DeSantis' swearing in ceremony during a dinner for high-roller campaign donors. But Parnas and Fruman were seated far from DeSantis, limiting the duo's access to the incoming Governor.
Parnas and Fruman were also spotted in VIP seating at DeSantis' swearing in ceremony.
Parnas had sought a spot on DeSantis' transition team, but got passed over.
Another brief encounter occurred at the West Palm Beach Airport on Jan. 18, but DeSantis' team said there was nothing substantive and was instead more of a meet and greet, according to the Sentinel.
While the cozy appearance might look bad to some, it's unlikely the connections will hurt DeSantis in Florida unless evidence is found to debunk DeSantis' claim that he was ignorant of any wrongdoing.
Otherwise, the encounters are just another example of how high-profile campaigns target deep-pocketed donors, which, while frustrating to some, does not represent any illegal activity.