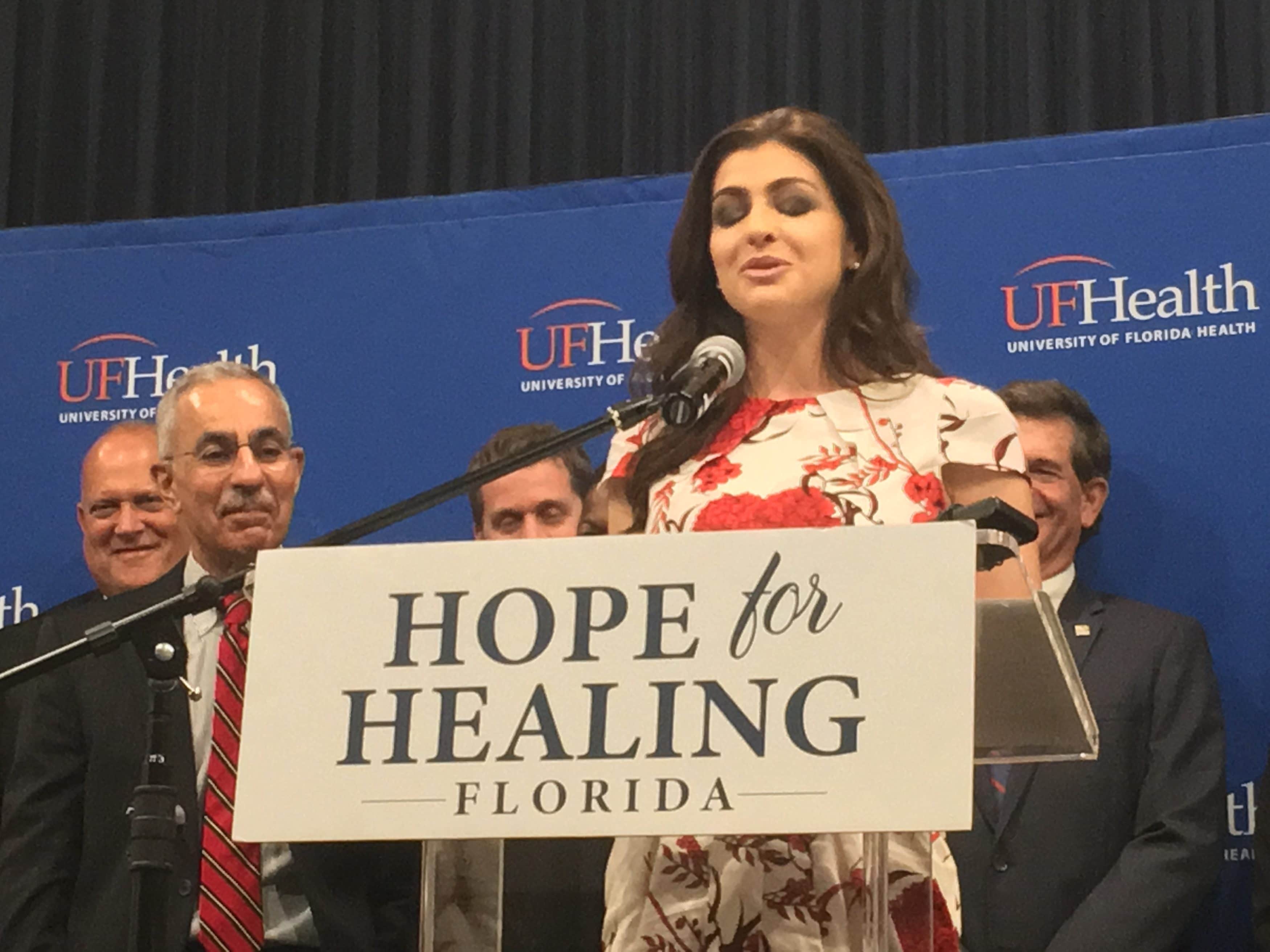 The campaign is a part of the First Lady's Hope for Healing Florida initiative.
First Lady Casey DeSantis launched an anti-substance abuse program on Wednesday to educate youth about the effects of drugs.
The campaign, dubbed "The Facts. Your Future.", is a part of the First Lady's Hope for Healing Florida initiative.
"Too many children are losing sight of their dreams and goals — and even losing their lives — because of drug abuse and addiction," DeSantis said. "It is imperative that students get the facts about drug abuse and how it can infiltrate and compromise every aspect of their lives."
Attorney General Ashley Moody, Education Commissioner Richard Corcoran, Florida Surgeon General Dr. Scott Rivkees, Florida Department of Children and Families (DCF) Secretary Chad Poppell and Seminole County Sheriff Dennis Lemma joined the First Lady in Lake Mary for the announcement.
"My hope is that students will hear the message and understand they have the power to educate and help one another and their community to fully grasp the hazards of substance abuse," DeSantis said.
The program will include middle and high school video contests, each doling out $5,000, $2,500 and $1,000 to the top three students and schools.
"From vaping to the opioid crisis we must protect our vulnerable children from the dangers of addiction," Moody said. "As Chair of the Statewide Task Force on Opioid Abuse, I am proud to stand with First Lady Casey DeSantis to announce the launch of 'The Facts. Your Future.' to prevent addiction and save the lives of Florida's most precious resource — our kids."
The Florida Department of Education, the Florida Department of Health and DCF developed the campaign. Lemma leads the team of community leaders, educators, parents and students to create a template program in Seminole County schools.
"The Florida Department of Education is proud to join First Lady Casey DeSantis as she announces 'The Facts. Your Future.' campaign," Corcoran said. "We're so thankful for the First Lady's vision and leadership for this new initiative to raise awareness around substance abuse."
Poppell called the drug abuse rate among Florida's youth "alarming."
"It's an issue that transcends county lines and impacts the work of all state agencies … which is why it's so important that we harness our collective resources and collaborate to reduce the number of children and teens who are choosing to walk down this dangerous, life-altering path," Poppell said.
On Tuesday, Gov. Ron DeSantis said he would wait until the U.S. Centers for Disease Control and Prevention (CDC) releases its findings on recent vaping deaths before prohibiting some flavored cartridges.
"One thing we may consider doing, regardless of the CDC — particularly with underage — is making sure that these shops know that their business licenses are on the line if they're going to allow this stuff to be sold to people who are underage."