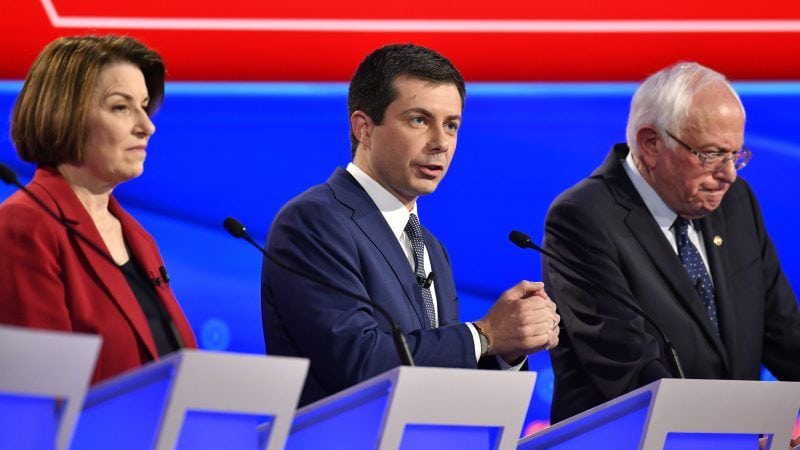 It will be the smallest debate field of the Democratic primary thus far.
The Democratic debate scheduled for next Thursday night is set to be the smallest field yet, as just seven Democrats qualified for the Los Angeles event.
The candidates attending the Dec. 19 debate are former Vice President Joe Biden, U.S. Sens. Bernie Sanders of Vermont, Elizabeth Warren of Massachusetts and Amy Klobuchar of Minnesota, South Bend Mayor Pete Buttigieg, billionaire hedge fund manager Tom Steyer and former tech executive Andrew Yang.
Candidates faced a deadline of Thursday, Dec. 12 at 11: 59 p.m. to qualify. Yang was the last candidate to qualify, doing so this past Tuesday.
To appear at the December debate, candidates must meet polling and fundraising requirements set by the Democratic National Committee (DNC).
To meet the polling threshold, candidates could either earn 4% support in four national or early-state polls or garner 6% support in two early-state polls. Those polls must be surveys approved by the DNC.
The fundraising requirement mandates candidates receive donations from 200,000 unique donors. Candidates must also have a somewhat diverse donor base. They're required to have 800 donors or more from 20 distinct states or territories.
That donor requirement was met by U.S. Sen. Cory Booker of New Jersey, U.S. Rep. Tulsi Gabbard of Hawaii and former Secretary of Housing and Urban Development Julián Castro. However, none of the three met the polling requirement.
Previous debates have featured as many as 12 candidates on stage at once, with some being spread over two nights. That's thanks to a field that ballooned to more than 20 candidates at various times throughout the primary.
But the DNC has slowly upped the requirements to appear on the debate stage, leaving next Thursday's event the most compact yet. That would, in theory, allow for more speaking time per candidate and perhaps a more substantive discussion of the issues.
The Los Angeles debate will be hosted by PBS NewsHour and Politico.
Judy Woodruff, Amna Nawaz and Yamiche Alcindor of PBS will serve as moderators. Politico's Tim Alberta will also be on that panel.