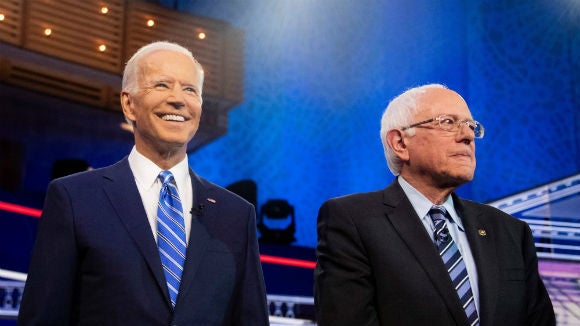 Thanks, coronavirus.
The next Democratic presidential debate set for Phoenix Sunday night will take place without a live audience, the Democratic National Committee announced.
The audience is being eliminated because of concerns about the potential spread of the new coronavirus.
The debate is a one-on-one face-off between former Vice President Joe Biden and Vermont Sen. Bernie Sanders. The third Democrat still officially in the race Tulsi Gabbard, was not invited.
The debate comes two days before the next round of primaries, including Florida's, set for next Tuesday. Primaries also are being held Tuesday in Arizona, Illinois, and Ohio.
The debate will be televised by CNN and Univision. It's set to start at 9 p.m. Eastern time. The candidates were to meet in Phoenix's Arizona Federal Theatre, which seats 5,000, but it was not announced if that still is the planned venue.
"At the request of both campaigns and out of an abundance of caution, there will be no live audience at the Arizona debate taking place on Sunday, March 15th. The DNC has been in regular communication with local health officials and the Mayor's office, which advised that we could proceed as planned. Nevertheless, our number one priority has and will continue to be the safety of our staff, campaigns, Arizonans and all those involved in the debate. We will continue to remain in daily contact with all stakeholders through Sunday," DNC Communications Director Xochitl Hinojosa stated in a news release issued Tuesday night.
Through Tuesday, there had been 647 confirmed cases of COVID-19, the disease caused by the new coronavirus, in the United States, and 25 people had died from it, according to the U.S. Centers for Disease Control and Prevention.. Arizona has reported six cases.
Officials continue to assuage fears about the virus noting that most healthy people can weather the illness with only minor to moderate effects. Those at greater risk are elderly individuals and those with underlying health conditions. Biden is 77 years old; Sanders 78.
Sunday's will be the 11th that the Democrats have held in the 2020 cycle, the fourth debate involving CNN and the second involving Univision.