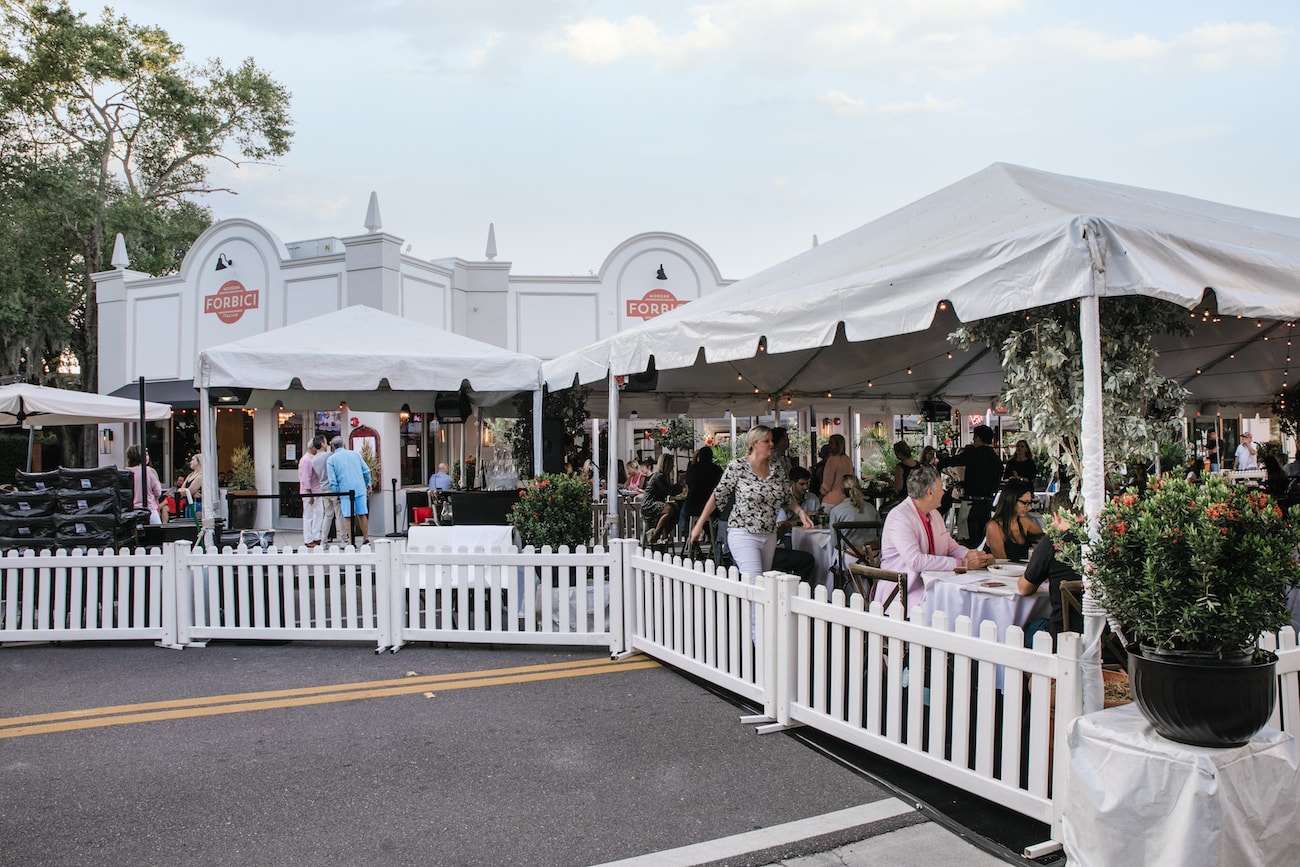 Outdoor dining gives cities a trial run on pedestrianizing commercial areas.
No industry has been so visibly dismantled by the COVID-19 pandemic as restaurants. But you couldn't tell it from seeing the al fresco dining at Forbici Modern Italian.
Since city officials in Tampa allowed an expansion of outdoor dining into the roadways, an appetite for dining has been met by the Italian eatery. The restaurant's Caffé di Strada in the streets allows tented service — six feet apart and with fresh air ensuring no virus recirculates through the indoor air conditioning.
"The energy has just been awesome," said Brooke Palmer Kuhl, a publicist for the Hyde Park eatery.
But more than just a dinner option, the experience and others around the state may show a shift in urban activity that linger past the pandemic. As cities around Florida allow restaurants to put out more diners at tables, sidewalks, parking lots and even streets, will the pedestrianizing of space alter Florida streetscapes forever?
In the Sarasota area, it's been a conversation for years. Restaurants remain a chief attractor of individuals to downtown Sarasota. A Farmer's Market that takes over city streets on Saturdays has long been cited as evidence of a Downtown Master Plan by planner Andres Duany's success. The market isn't running right now, but the efforts for a walkable downtown linger.
Mayor Jennifer Ahearn-Koch, herself a publicist for area restaurants, said the city has hoped to aid restaurants by allowing more outdoor seating.
"The city is allowing businesses to expand safely if they can, but not closing down streets," she said.
Business groups have also worked with Sarasota County to allow the use of tents in parking lots to accommodate outdoor dining.
That's not as far as Tampa has gone with closing parts of a normally drivable street to let restaurants expand their seating options.
Ashley Bauman, City of Tampa spokesperson, said the city has tried to be flexible with the varying needs of different restaurants.
And not all establishments feel such hunger for outdoor service. When the city closed streets near Siam Thai, on Franklin Street, the restaurant actually found it was a hindrance to the burst of take-out customers who wanted to drive up curbside, grab food and go. So the city readjusted to allow more car access.
"This is about the viability for our businesses to still operate and be successful," Bauman said.
But overall, the Lift Up Local initiative has been greeted anxiously.
Other communities from Jacksonville to Tallahassee to Port Charlotte have made allowances for restaurants at least during the pandemic to put more tabletops under the sun.
But will it become permanent? Ahearn-Koch said the desire of restaurants varies. She represents some in Downtown Sarasota like C'est La Vie in Sarasota that have always had some outside seating. But it's an open question whether anyone who doesn't already have al fresco dining will want to incorporate it in the future.
And when it comes to completely pedestrianizing Main Street in Sarasota, an ambition of some walkable streets advocates for years, she noted many retailers get squeamish easily.
"Some of the downtown merchants are in favor of that approach and some are not," she said. "A variety have issues that have to do with parking and with quick-and-easy access to businesses."
And with Sarasota's older shopping demographic there's concern how many would rule out a trip to downtown if it requires parking in a garage and walking a city block to get to their destination.
Palmer Kuhl said she hopes Tampa makes allowances long-term for restaurants that at the moment are making significant investments into outdoor service. But she acknowledge the beating Florida sun may make streetside lunches less attractive in August than April.