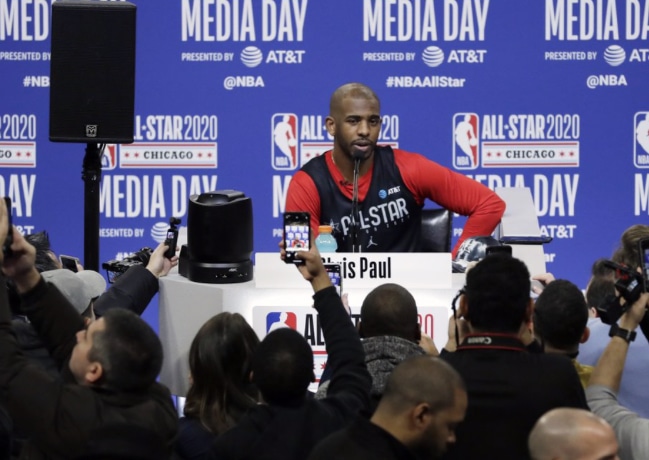 As NBA prepares to resume season at Walt Disney World, 3 players have COVID-19
The NBA and the National Basketball Players Association said Wednesday that dealing with racial matters will be a shared goal during the resumed season.
The league and union announced they will "take collective action to combat systemic racism and promote social justice" when the season restarts at the Disney complex near Orlando, Florida next month.
Specific plans have not been finalized.
NBA Commissioner Adam Silver and NBPA executive director Michele Roberts led a meeting that included league officials and players Tuesday to go over plans, including how best to ensure greater inclusion of Black-owned and operated businesses in league matters and forming an NBA foundation "to expand educational and economic development opportunities" in the Black community.
"The issues of systemic racism and police brutality in our country need to end," union president Chris Paul of the Oklahoma City Thunder said.
He added, "there is much work ahead both in Orlando and long-term to continue the momentum and bring about real, long-lasting change to our society."
The NBA plans to resume its season in July at Walt Disney World's ESPN Wide World of Sports. The teams hope to maintain COVID-19 free "bubbles" as they house in Disney resort hotels.
However, COVID-19 is present among players. Three players revealed Wednesday they are dealing with COVID-19.
All 22 NBA teams that will be part of the resumed season began mandated testing Tuesday. League officials have expected that positive tests would be inevitable, and believed that starting a testing regimen now — roughly five weeks before games begin at Disney — will give players with positive results time to recover and get back with their teams before those contests start July 30.
Indiana Pacers guard Malcolm Brogdon and Sacramento Kings players Jabari Parker and Alex Len all said they have tested positive for the coronavirus.
Brogdon and Parker made announcements in the form of statements released by their teams. Len announced his status in an Instagram post. All three said they expect to be with their teams when the NBA season resumes.
____
Republished by permission from The Associated Press.