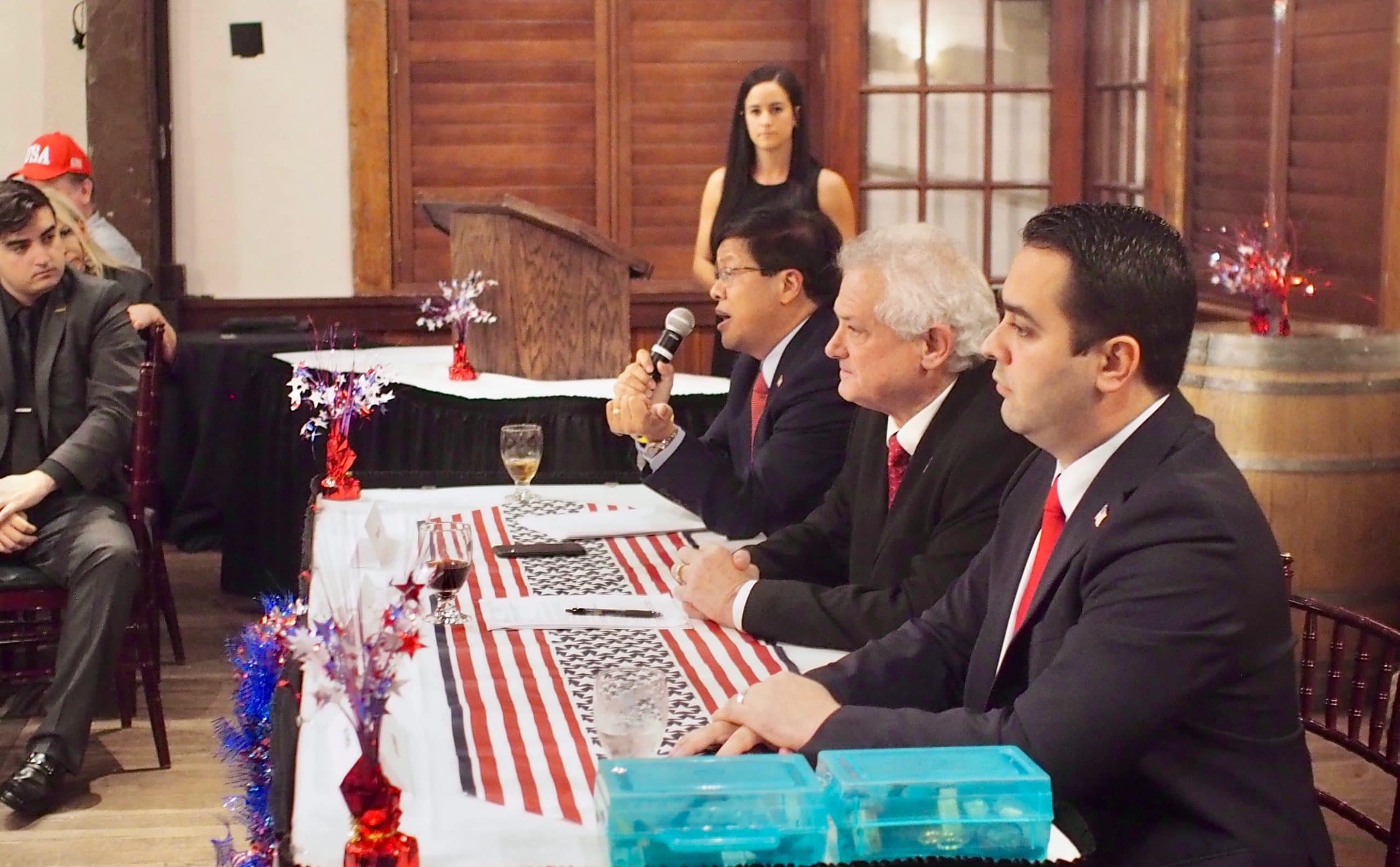 Yukong Zhao, Richard Goble, Leo Valentin vie for the conservative lane.
Republicans in Florida's 7th Congressional District have a distinct choice Tuesday between three candidates vying to be the most supportive of President Donald Trump and most opposed to socialism.
Despite similar platforms, each candidate offers a starkly different personality.
There does not appear to be a front-runner as Republicans consider what matters most: choosing a candidate who has the best shot at toppling the very formidable two-term Democratic Rep. Stephanie Murphy.
Should it be Yukong Zhao, the passionate Chinese-American immigrant businessman and activist who espouses a very personal opposition to socialism and liberal values?
Or Richard Goble, the confident and brash Wall Street gadfly and financier who wants to take his career crusade for freer capitalist markets into Congress?
Maybe the warm and reassuring doctor and businessman from Puerto Rico, Leo Valentin, who presses his commitment to free-market economics as the answer to the nation's affordable health care problems?
The three have battled for the far-right lane heading into Tuesday's CD 7 Republican primary. Yet the winner may have to switch lanes to challenge Murphy, a former Defense Department analyst who is an avowed moderate Democrat on fiscal and national security issues, and who's been able to draw support both from business and military groups.
CD 7 covers Seminole County and a large swath of northern, eastern, and central Orange County.
Seminole County has gone purple in the past decade. And, with little rural or small-town area left, it has all the mixed-culture suburban demographics that tend to trend away from staunch conservative politics. Trump won the county in 2016, but Seminole went for Democrats Bill Nelson and Andrew Gillum in the 2018 U.S. Senate and gubernatorial elections. Republicans now have only an 800-voter advantage there, out of 324,000 registered voters.
Orange is another story. The district's swath includes upscale suburbs such as Winter Park, Maitland, and Belle Isle, but also consists of the much more liberal hipster areas in and around downtown Orlando and around the University of Central Florida, the kinds of places that sent progressive lions Carlos Guillermo Smith and Anna Eskamani to Tallahassee. Overall, the Orange portion of CD 7 is pretty solidly blue, with 27,000 more Democrats than Republicans among 191,000 voters.
Zhao, of Orlando, fashions himself as a small-government, pro-freedom, anti-socialism Republican espousing lower taxes for the middle class and small businesses, fair and reciprocal international trade deals, and a merit-based, tighter-controlled immigration system, focusing on opening the doors to immigrants who bring education and skillsets, as he did.
He pushes for infrastructure investment, and investment in science, technology, engineering, and mathematics education, and full meritocracy for college admissions. He also advocates for the Second Amendment "for law-abiding citizens," support for law enforcement, and opposition to late-term abortion and federal funding for abortion.
Goble, of Longwood, fashions himself as a free-market capitalist who's determined to bring about reforms, not just of federal regulation, but of controls by the nation's biggest banks and brokerages, with whom he's fought for years to free up the flow of money.
He takes much stronger positions than Zhao on the Second Amendment and abortion, offering no caveats on his support for gun rights and opposition to abortion under any circumstances. Goble is a critic of "red flag laws" that allow courts to confiscate weapons from people temporarily deemed dangers to themselves or others, and advocates 50-state reciprocity for concealed weapons permits.
Valentin, of Orlando, has pressed his career as a physician, including a stint as the chief executive of a hospital in Puerto Rico before, during, and after Hurricane Maria, to impress that he's as familiar with the challenges of the health care market as anyone who could run. He presses for more economic freedom in the health care market, reduced red tape, and increased transparency with health insurance companies.
Beyond that, he pushes for a low-tax, low-regulation environment for small businesses, occupational licensing reform, a stop to illegal immigration, and, like Goble, unwavering support for the Second Amendment and opposition to abortion.