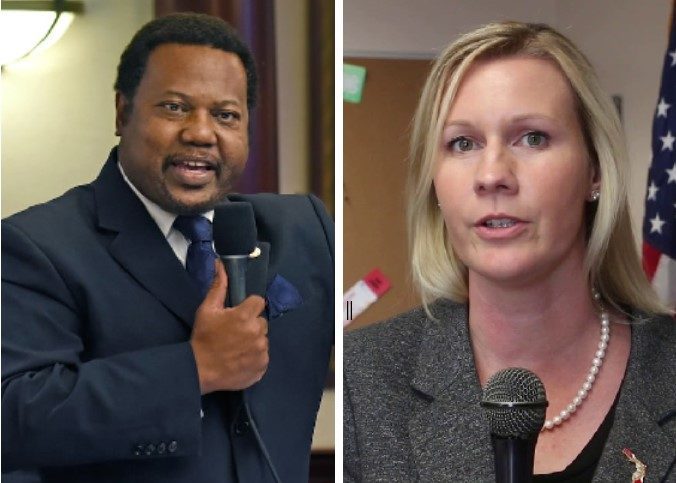 The Republican won this seat by just 61 votes two years ago.
With a month until Election Day, Rep. Elizabeth Fetterhoff holds twice the cash of her Democratic challenger. But, so far, former Rep. Patrick Henry has outspent her in his quest to retake House District 26.
Fetterhoff, who avoided any Republican primary challenge this cycle, continues to build up resources. Between Sept. 19 and Oct. 2, she raised $27,250, her strongest two-week intake since just before the Legislative Session. On top of that, the Republican Party of Florida provided $19,900 in polling in-kind.
But she has continued to keep her powder dry. She started the final month of her campaign with $161,571 in cash on hand. There are only three other House incumbents with more saved for their campaign's final stretch: Reps. Vance Aloupis, Jackie Toledo and Jennifer Webb.
She has a need for it, too. Fetterhoff won her seat in 2018 by just a 61-vote margin, unseating Henry two years after he won the seat.
Henry wants his old job back. He's sitting on just $84,132 heading into the last month of campaigning. That's lifted by $55,122 raised in the last period alone, along with $5,436 worth of in-kind support from the Florida Democratic Party.
He's also buoyed some other intangibles. This is his third consecutive election on the ballot, and he may see a lift from Democratic Presidential candidate Joe Biden, who is leading all polling models to take Florida, whereas 2018 saw Republicans narrowly win the Governor's Mansion and a U.S. Senate seat.
A St. Pete Polls survey commissioned by Florida Politics recently showed Henry winning by 2 percentage points, well within the margin of error.
Despite trailing in total cash, Henry has spent more than Fetterhoff so far this cycle, in part by having to win a Democratic primary over Evans Smith. Regardless, the Daytona Beach Democrat has pumped $91,581 already into boosting his name recognition and energizing his supporters in the Central Florida district.
That includes a significant $48,951 spent in the last two-week reporting period alone. That included a $33,598 investment in marketing through Midlantic Marketing in Daytona Beach, beyond specific payments to campaign staff. The campaign also recently dropped $1,200 with Harbor Dashery Productions on video work and $2,000 on Facebook ads.
By comparison, Fetterhoff has spent $75,930 so far, including $29,706.47 since the August primaries wrapped up. Most recently, she spent $5,200 with Mentzer Media on advertising, along with $1,500 with Consensus Media on other media and $825 with The Stoneridge Group on door hangers.
And campaign accounts only tell part of the story in the race. Henry's political committee, Florida's 99 United, also reported another $30,000 in contributions between Sept. 26 and Oct. 9. It has $48,776 ready to spend.
Fetterhoff's United For Florida's Future committee only raised $2,000 in that time and has $19,368 in the bank.