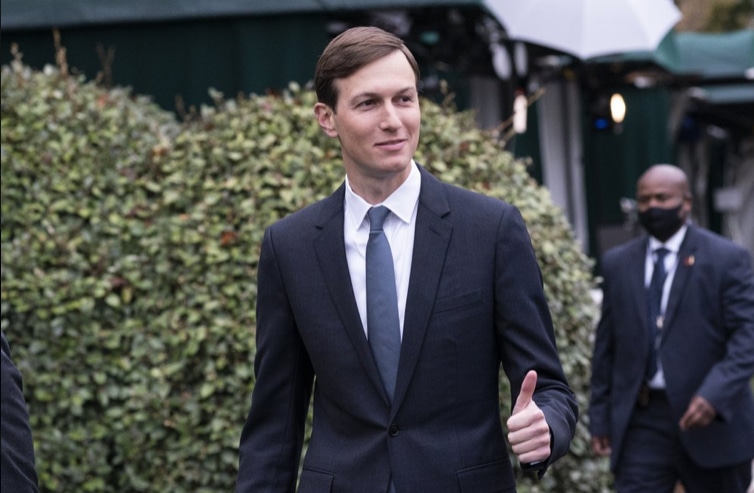 Kushner also said racial justice protests did more to polarize the country.
President Donald Trump's son-in-law and senior adviser Jared Kushner says the president wants to help Black people succeed but that they have to want to be successful for the policies to work.
"But he can't want them to be successful more than they want to be successful," Kushner said on "Fox & Friends" on Monday.
He said Black people are mostly Democrats, but are starting to see that Trump's policies can help them solve problems they have complained about for years.
Kushner also criticized people who raised their voices after the death of George Floyd, a Black man who died in police custody, but then didn't follow through and work to find ways to improve the lives of Black people in America.
"You saw a lot of people who were just virtue signaling — they go on Instagram and cry, or they would, you know, put a slogan on their jersey or write something on a basketball court," Kushner said. "Quite frankly, that was doing more to polarize the country than it was to bring people forward. You solve problems with solutions."
Kushner's comments came as his father in law began the first of three campaign rallies in Pennsylvania by saying he wants to discuss an issue of "existential importance" as he focuses on former Vice President Joe Biden's policies on energy.
Meanwhile, First Lady Melania Trump is set to make her first solo campaign-trail appearance.
Trump's reelection campaign says the first lady will appear at an event Tuesday in Atglen, Pennsylvania, that will be moderated by former White House counselor Kellyanne Conway.
The campaign says she will share the president's agenda with Pennsylvanians.
The first lady has not appeared at one of the president's campaign events since June 2019 in Orlando, Florida, where the president formally announced his bid for a second term.
She had been scheduled to headline campaign fundraisers back in March, but those events were canceled due to the coronavirus outbreak. Mrs. Trump recently recovered from a bout with COVID-19, the disease caused by the novel coronavirus.
____
Republished with permission from The Associated Press.