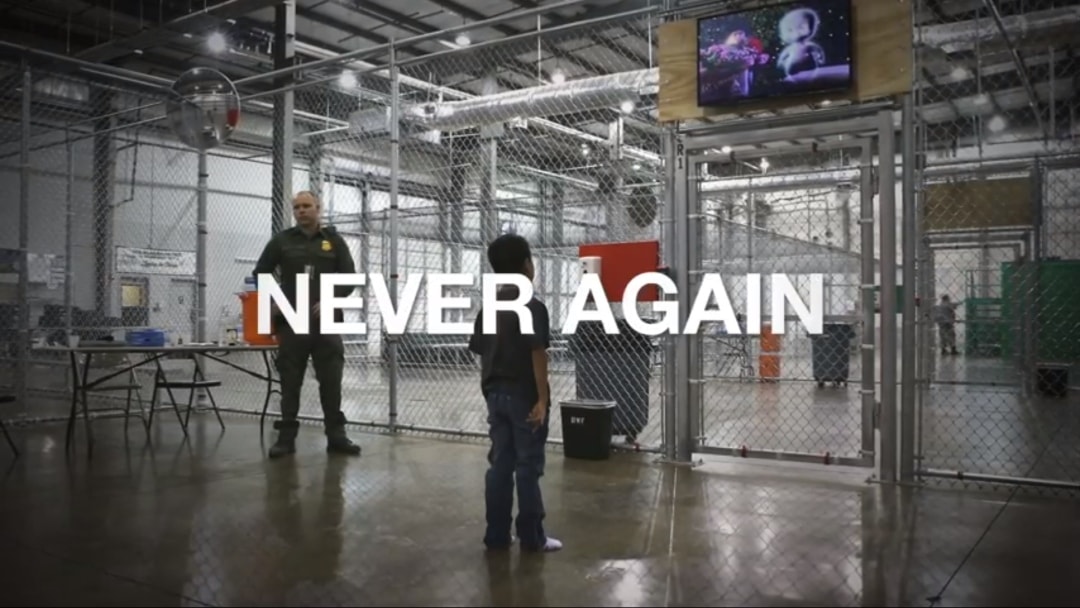 The new ad hopes to paint President Donald Trump as cruel to children and parents.
With reports that the federal government can't find the parents of 545 children split from their families at the southern border, a new ad from The Lincoln Project and People For the American Way are targeting President Donald Trump as intentionally cruel.
Law enforcement have separated thousands of families at the U.S.-Mexico border, and court documents show the Trump administration lost track of those children's parents, two-thirds of whom were deported to Central America.
Over the tune of "Rock-a-bye Baby" as the gears of a music box stop turning, a voice questions what trauma those children face and what will become of them.
"It's inhuman, it's sick. It's un-American," the ad says over images of children sleeping with space blankets and enclosed behind an indoor fence.
The ad, titled "Cruel," also features Trump's response to questions about the policy during the final 2020 presidential debate this month.
"They are so well taken care of," the President says before the ad asks viewers to vote for Democratic presidential nominee Joe Biden.
People For the American Way, a progressive advocacy group, partnered with prominent "Never Trump" Republicans at The Lincoln Project to release the ad with less than a week until Election Day.
The Trump administration began separating children from families in 2017 in a pilot program at parts of the border. In 2018, the administration launched that policy in full.
People For the American Way President Ben Jealous called the administration's treatment of children at the border disgusting and cruel and "proof that he is unfit to lead this nation."
"Donald Trump's hateful and racist anti-child, anti-immigrant, and anti-family policies have left hundreds of children vulnerable to horrific abuses, exposure to illness, the unbearable pain and terror of being separated from the protection of mothers and fathers who were seeking to give them a better life," he said.
Between September 2018 and May 2019, at least six minors died in U.S. border patrol custody, according to ProPublica.
The group's founder, Norman Lear, noted the United States general stands to protect children and parents.
"It is deeply appalling to me that a United States President and his administration would sink to this level of inhumanity," he said.
Lincoln Project co-founder  Reed Galen called separating families an "unfathomable cruelty."
"We now know there is no limit to the cruelty of the Trump administration," he said. "This is not this America any of us recognize or want to be a part of. We are not a nation that rips children from the arms of parents whose only wish is to provide them a safe and prosperous future."