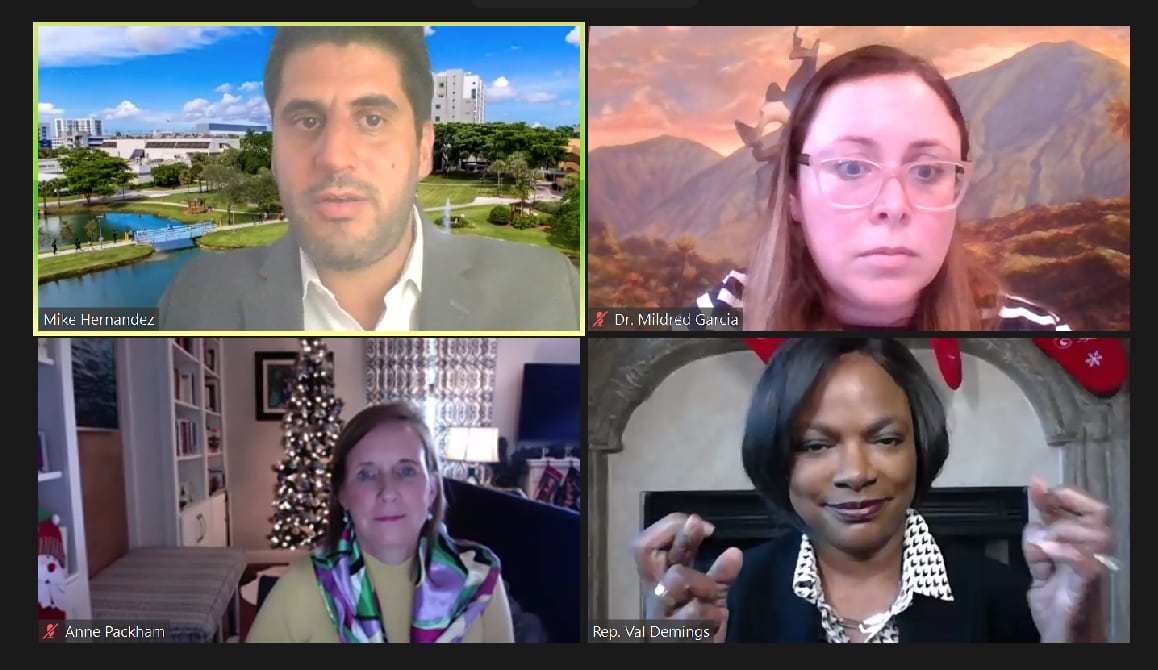 The enrollment period ends Tuesday.
With the pandemic surging and the Supreme Court mulling striking down provisions of Obamacare, it's now even more important that Floridians who don't have health care coverage sign up before Tuesday's deadline, Rep. Val Demings implored Friday.
"During this pandemic, we see the numbers in Florida. They aren't getting better. They're getting worse. It is so critical that everybody signs up now, before what the Supreme Court is going to do," Demings said Friday during a Zoom-carried news briefing organized by Protect Our Care Florida to remind people that the open enrollment window is closing soon.
She and others on the call, including Anne Packham, Affordable Care Act marketplace director for the Primary Care Access Network in Orlando, and Dr. Mildred Garcia, an Orlando gastroenterologist, warned of a potential double whammy.
Due to the coronavirus crisis economic downturn, tens of thousands of Floridians have lost their health care insurance along with their jobs, Packham said. If the U.S. Supreme Court strikes down the Affordable Care Act, people who've lost health care insurance and haven't signed up are going to have trouble finding new insurance, Garcia said.
Tuesday is the federal deadline for people to enroll in Affordable Care Act plans, or to renew their existing ACA plans, or to switch plans, Packham noted.
The Primary Care Access Network is among organizations in Florida that offer federal health care navigators, paid by the federal government to assist people interested in signing up for Obamacare plans. She encouraged people to make appointments with navigators to help, by going to the CoveringFlorida.org website, or calling 877-813-9115.
She insisted there is a lot more choice and a lot more affordable plans than many people think.
"More than 90% of the people in the state do qualify for financial help. A lot of people can get a plan for zero, or $10 a month or $20 a month, depending on what their needs are," Packham said.
"I'd especially like to talk to people who have lost their coverage during the pandemic," she enjoined. "We have a lot of workers here in Central Florida that have been furloughed or maybe lost their jobs permanently, and have lost their health care coverage. Imagine being in the middle of a pandemic and not having information about what the options are."
Garcia, whose own health care coverage was made possible by the Affordable Care Act's pre-existing conditions coverage guarantee, said the pandemic is a reminder to everyone about the importance of health care coverage.
"I think if 2020 has taught us anything it is to expect the unexpected," she said. "We should be prepared to face whatever the future holds for us. I think if anyone had told any of us in December 2019 that 2020 was going to be this way, that there would (be) almost 60 million Americans infected with a novel infection, including more than 1 million Floridians, no one would have believed it.
"I just want to remind people of the cost of things if you don't have health care," coverage, Garcia added. "A colonoscopy is around, ballpark, $10,000. An ambulance ride is over $1,000. A visit to an ER in which you get some blood work and maybe an ultrasound, and you get sent home, that could be $10,000. Same for a vaginal delivery, $10,000."