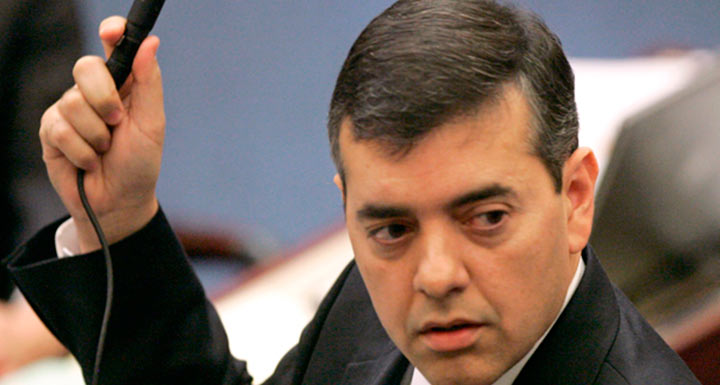 The FEC said Rivera funneled at least $69K to another candidate as part of the scheme.
A U.S. District Court says former GOP Rep. David Rivera must pay a $456,000 fine after the Federal Election Commission accused him of engaging in an illegal campaign contribution scheme during his 2012 congressional bid.
That cycle, Rivera was defending his seat against Democratic candidate Joe Garcia. The FEC alleged Rivera funneled at least $69,000 to Justin Lamar Sternad, a Democratic primary opponent challenging Garcia for the nomination. Sternad attempted to pass off the donations as loans from his personal bankroll.
While those donations may have been made in an effort to weaken Garcia ahead of the General Election, it failed. Garcia went on to oust Rivera in November 2012.
Rivera has denied breaking the law and he avoided criminal charges. The FEC alleged Rivera worked with an associate, Ana Sol Alliegro, to funnel the cash to Sternad.
The FEC attempted to reach an agreement with Rivera. When that failed, the group filed a lawsuit. Rivera filed to dismiss that suit in November 2017, and the court agreed in early 2018. But the FEC returned with an amended complaint in January 2019. Judge Marcia G. Cooke found that complaint persuasive in her order entered Tuesday.
Cooke also issued a permanent injunction barring Rivera from breaking the law that bans contributions in the name of another — which remains in effect. That command was essentially done simply to drive home the message to Rivera, according to the judge.
"Rivera continues to refuse to take responsibility for his illegal conduct," Cooke wrote in her order.
Cooke conceded an injunction may seem unnecessary, but stated, "nonetheless, based upon Rivera's past conduct it is necessary for this Court to also bar him from violating the statute. Perhaps by virtue of the Court barring Rivera from engaging in similar unlawful conduct in the future, "that will do the trick" in convincing Rivera — a former U.S. Congressman — "to stop violating the law."
Rivera has mounted several failed comeback attempts since his ouster from Congress. He finally earned a spot on the Miami GOP executive committee last summer.
But Rivera has also taken plenty of heat over an arrangement with the Venezuelan government. Rivera's consulting firm, Interamerican Consulting, agreed to a $50 million deal in 2017 with Petróleos de Venezuela, S.A. (PDVSA), a Venezuelan oil company the Nicolás Maduro government controlled at the time. Democrats have called for an investigation into that deal.