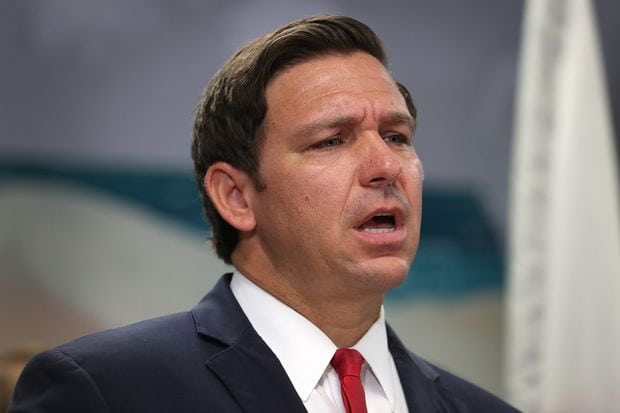 2024 Presidential candidate? Don't rule it out.
Florida's Governor kicked off Friday's proceedings at the Conservative Political Action Conference with a rousing speech that demonstrated that, should the former President not run again in 2024, the activists on the right could rally behind him.
Gov. Ron DeSantis delighted attendees in Orlando with tough talk on conservative priorities, while offering an uncompromising vision, as he urged those on the right not to back down to the corporate media and the left.
For those looking for an implacable conservative candidate, the Governor did nothing Friday to dispel that impression, with strong rhetoric that tied Florida issues and a national vision.
"Florida's leading on the issues that matter to conservatives. We don't spout hollow rhetoric. We take decisive action. And what's true in Florida is what's true for conservatives across this nation," DeSantis said, offering comments that sounded like the premise for a presidential run.
"We cannot, we will not go back to the days of the failed Republican establishment of yesteryear," DeSantis thundered, to thunderous applause in the hall.
"We reject open borders and instead support American sovereignty and the American worker. Building a movement on the foundation of amnesty and cheap foreign labor is like building a house on quicksand," DeSantis added.
"We reject weakness in the face of the threat posed by China," DeSantis added. "We reject military adventurism and instead support a strong defense solely for the purpose of protecting this nation and its people."
The Governor, like so many conservative politicians before him, noted that for those on the right, "standing for the right things comes at a cost."
Invoking the fallen Rush Limbaugh in saying "conservatism devoid of backbone is doomed to fail," DeSantis spoke to the realities of "cancel culture" and the contemporary right.
"At this moment in our history, standing for the right things comes at a cost. You will be attacked. You will be smeared. You may even be canceled by the major organs of the political left."
"Now, anyone can spout conservative rhetoric. We can sit around and have academic debates about conservative policy. I'm not saying you don't do any of that."
"But the question is, when the Klieg lights get hot, when the left comes after you, will you stay strong, or will you fold?"