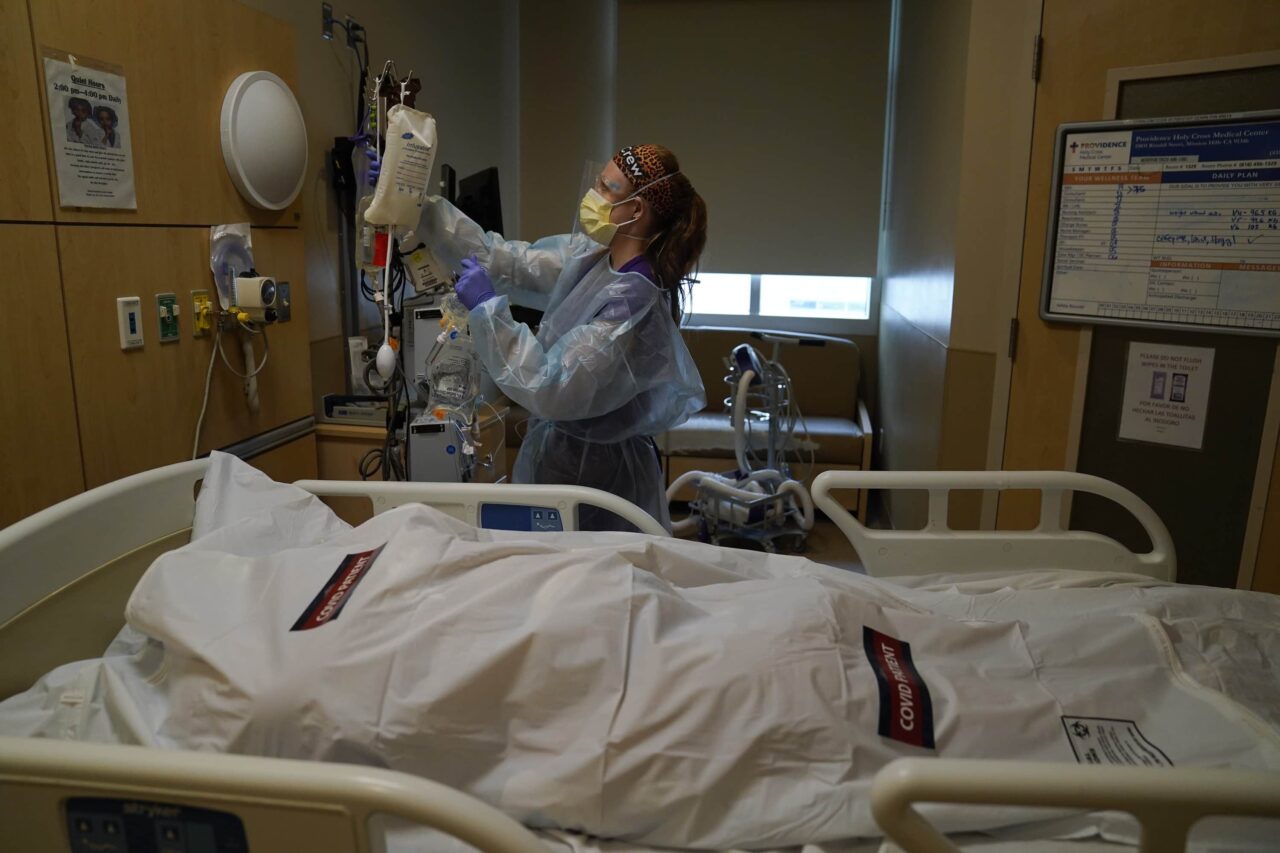 Vaccines are surging in Miami-Dade County, but deaths are still piling up.
South Florida's tri-county area recorded 52 COVID-19 deaths in Monday's report.
Those reports record when new deaths are identified by the state, not necessarily when they occurred. But Monday's total is the highest single-day total since Feb. 18, halting a 10-day span where that number mostly appeared to be falling. The region has now seen 10,328 people die after contracting the virus.
All three major counties are showing signs the virus is spreading more slowly. Monday's report saw just 593 new cases across the region, the lowest total seen since the fall. But that low number is misleading, as Monday's report featured a severe drop in overall test results reported. Still, the overall case trend — even excluding Monday's testing dip — is downward.
Monday's death spike could just be a one-day aberration. But while cases have been falling for weeks, the death toll has yet to drop consistently, even as more vaccines flood into the region.
Miami-Dade is experiencing a notable spike in vaccine shots distributed. Last week, Gov. Ron DeSantis announced nearly 70 pharmacy locations in the state's most populous county would be able to administer the vaccine.
After registration for those sites opened Wednesday, the county saw a clear rise in new shots. Nearly 16,000 shots were administered Thursday. That's the highest single-day total in Miami-Dade since the vaccine was made available. Friday saw the second-highest total so far, with more than 14,000 shots.
As is normal, those numbers dipped over the weekend. Additional data throughout this week will show just how quickly Miami-Dade can catch up to Broward and Palm Beach in terms of the share of seniors vaccinated. As of Monday, Miami-Dade has fully vaccinated 28% of seniors. In Broward that number is 33% and in Palm Beach, it's 35%.
More than 1.34 million shots have now been administered across the three counties. Nearly 490,000 people are fully vaccinated.
Here are some of the weekly numbers for the previous three weeks throughout the South Florida tri-county area:
Miami-Dade
— Feb. 8-14: 28 newly-reported hospitalizations per day, 21 newly-reported deaths per day, 1,364 new confirmed cases per day, 6.5% positivity rate, 10,900 vaccine doses administered per day, 5,358 vaccines completed per day
— Feb. 15-21: 38 newly-reported hospitalizations per day, 18 newly-reported deaths per day, 1,271 new confirmed cases per day, 6.4% positivity rate, 6,919 vaccine doses administered per day, 3,129 vaccines completed per day
— Feb. 22-28: 38 newly-reported hospitalizations per day, 19 newly-reported deaths per day, 1,133 new confirmed cases per day, 6.1% positivity rate, 9,432 vaccine doses administered per day, 2,751 vaccines completed per day
Broward
— Feb. 8-14: 22 newly-reported hospitalizations per day, 12 newly-reported deaths per day, 791 new confirmed cases per day, 6.9% positivity rate, 8,591 vaccine doses administered per day, 4,919 vaccines completed per day
— Feb. 15-21: 27 newly-reported hospitalizations per day, 12 newly-reported deaths per day, 711 new confirmed cases per day, 6.7% positivity rate, 5,791 vaccine doses administered per day, 2,765 vaccines completed per day
— Feb. 22-28: 25 newly-reported hospitalizations per day, 7 newly-reported deaths per day, 694 new confirmed cases per day, 6.5% positivity rate, 5,926 vaccine doses administered per day, 2,021 vaccines completed per day
Palm Beach
— Feb. 8-14: 21 newly-reported hospitalizations per day, 11 newly-reported deaths per day, 474 new confirmed cases per day, 7.1% positivity rate, 7,745 vaccine doses administered per day, 4,142 vaccines completed per day
— Feb. 15-21: 15 newly-reported hospitalizations per day, 9 newly-reported deaths per day, 428 new confirmed cases per day, 6.3% positivity rate, 6,104 vaccine doses administered per day, 3,904 vaccines completed per day
— Feb. 22-28: 13 newly-reported hospitalizations per day, 10 newly-reported deaths per day, 429 new confirmed cases per day, 6.1% positivity rate, 5,391 vaccine doses administered per day, 3,646 vaccines completed per day