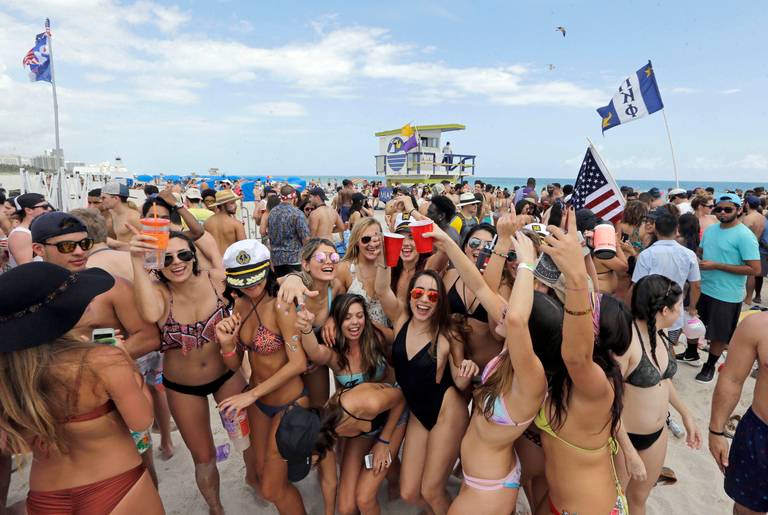 A year ago, Gov. Ron DeSantis told spring breakers, "come back next year." They did.
Last year about this time, video of Florida beaches filled with reckless and maskless young people went global. As the scope of the COVID-19 horror gripped the nation, scenes of uncontrolled revelry were the last thing this state needed.
That's when Gov. Ron DeSantis put up a statewide stop sign.
He went on "Fox & Friends" to reinforce the point.
"The message I think for spring breakers is that the party is over in Florida. You're not going to be able to congregate on any beach in the state. Many of the hot spots that people like to go to, whether it's Miami Beach, Fort Lauderdale, and Clearwater Beach, are closed entirely for the time being," he said.
"We would tell those folks maybe come back next year when things are better, but that is not what we're looking for."
Well, it's next year, and many of those spring breakers are back — not as many statewide as we would normally expect, but it's better than it has been. Even so, while the images of crowded beaches resemble last year, the message from the Governor does not. Beaches are open, and the invitation to vacationers is "come on down."
It apparently is up to local officials to keep things under control.
Good luck with that.
The South Florida Sun-Sentinel reported that Broward Mayor Steve Geller says he forwarded a video of a crowded local spot to county code enforcement.
"We're in the middle of a pandemic," Geller said. "I'm not opposed to college kids having fun — just not in the middle of a pandemic. We will take action" if Fort Lauderdale doesn't.
It's the same scene at Miami Beach, prompting this cryptic warning from City Manager Raul Aguila.
"If you want to party without restrictions, then go somewhere else. Go to Vegas," Aguila said last week. "Miami Beach is not going to tolerate anarchy for spring break 2021."
Meanwhile, DeSantis drew praise from the Wall Street Journal, which wrote, "Mr. DeSantis can claim vindication" for how he handled the pandemic.
The Journal compared how DeSantis operated compared to now-embattled New York Governor Andrew Cuomo.
"Gov. Ron DeSantis took a different approach and was pilloried. He was among the first to lift his state lockdown, adopting something resembling Sweden's strategy of protecting the vulnerable while keeping businesses and schools open," the newspaper said.
"The Sunshine State appears to have weathered the pandemic better than others like New York and California, which stayed locked down harder and longer."
Sure, COVID-19 still makes us jittery — as it should. After raucous unmasked Super Bowl celebrations in Tampa last month, I'll admit to believing the odds of a virus spike were high. It hasn't worked out that way, though — which is a good thing.
DeSantis likely is also buoyed by Monday's announcement by the Centers For Disease Control and Prevention. Officials loosened restrictions on fully vaccinated people.
New guidelines say they can visit with other fully vaccinated people indoors without wearing masks or physical distancing. They can visit unvaccinated people at low risk for the virus without wearing masks or physical distancing.
As long as they're asymptomatic, they don't have to quarantine if exposed to someone with the virus.
That is fabulous for Florida's large senior population. Visits from grandma and grandpa just got the green light. Grandkids missing hugs for a year can expect to be spoiled rotten soon.
DeSantis often says he bases decisions on data, and the numbers are on his side. Statewide, cases have declined since January, and the vaccine rollout has picked up steam. FEMA vaccine sites in Jacksonville, Tampa, Orlando, and Miami supplement state-run locations.
And on Monday, the state announced it would lower the age requirement for vaccinations to 60.
It's all good — well, not all. A suspicion that affluent and Republican-leaning locations received priority in the vaccine distribution could develop into an embarrassing investigation.
Also, those beach scenes in South Florida could turn into a new wave of infections. After all, no one is quite sure what the rapidly mutating virus could trigger.
For now, though, things are looking up. It's too soon to declare the party is back on in our state, especially with more than 30,000 Florida deaths from COVID-19. However, for now, at least, the welcome mat is out.