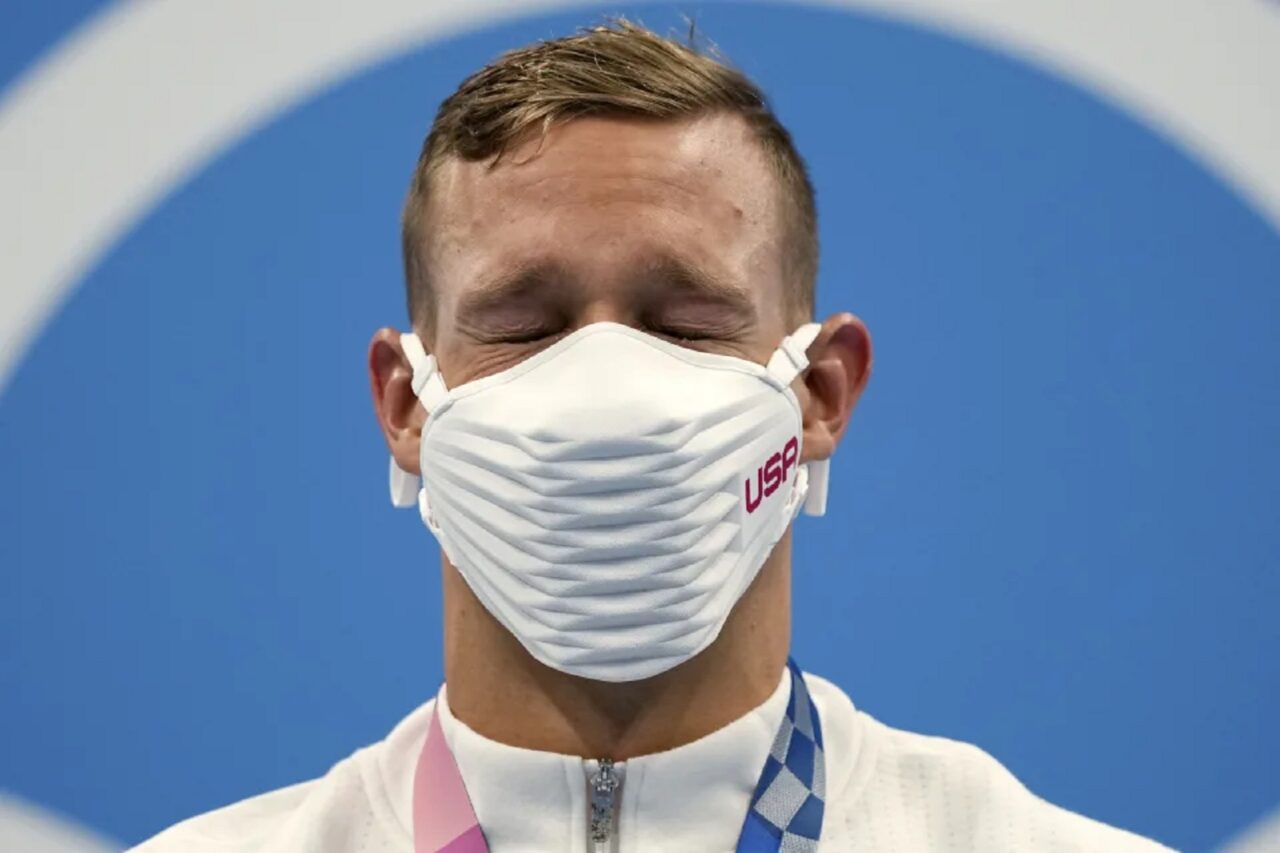 One of the all time greats.
Caeleb Dressel finished off his gold rush at the Tokyo Olympics with two more dazzling swims. The guy who dreads all the attention won't be able to escape it now.
He's one of the greatest Olympians ever.
"I'm really glad to be done," said the tattooed, 24-year-old Floridian, who captured his fourth and fifth gold medals of the Tokyo Games on Sunday.
Dressel was perfect in the events he had a chance in, capping off his stunning week in the final race at the Tokyo Aquatics Centre by putting the Americans ahead to stay in the 4×100 medley relay on their way to a world record.
He doesn't plan to savor his triumph for long — which is right on par for a guy who said a day earlier "the sport was a lot more fun when no one knew my name."
They certainly know it now.
"I give myself a pat on the back and then I just want to go home, put it away and move forward," Dressel said.
In his first race Sunday, he cruised to a relatively easy victory in the 50 freestyle. By the time Dressel was done, he had entered an elite club of swimmers who won at least five gold medals at one games.
"It's not the most enjoyable process, but it is worth it," he said. "I'm pretty over swimming at the moment."
The only event Dressel failed to win all week was the new 4×100 mixed medley relay, though that was no fault on his own.
In a race featuring two men and two women, the Americans tried a different lineup than everyone else, which left Dressel more than 8 seconds behind when he took over on the anchor leg.
Not even Dressel could make up such a daunting deficit.
Otherwise, his time in Tokyo was perfect.
A win in the 4×100 free relay. A world record in the 100 butterfly. A victory in the 100 freestyle.
The last morning at the pool started with another romp in the 50 free — Dressel's third individual title of the games.
After diving in, he used his dolphin-like underwater technique to pop out of the water with the clear lead, just as he always does. In a race usually decided by a few hundredths of a second, he touched a half-body length ahead of the field in an Olympic record of 21.07 seconds.