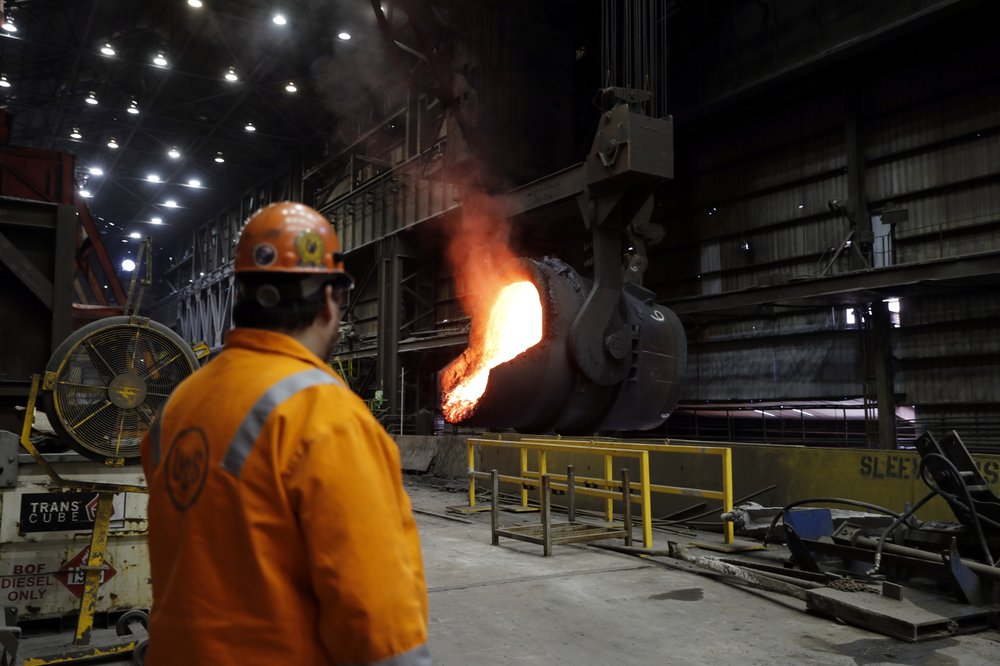 Proponents say the bill will strengthen American self-reliance. Opponents argue it's anti-capitalist.
Republican Miami Rep. Anthony Rodriguez ran into some resistance Monday while advocating for his proposal to require state and local governments in Florida to exclusively use American-made iron and steel.
His bill (HB 619) still received more than enough support Tuesday from the House State administration and Technology Appropriations Subcommittee to advance to a third and final committee hearing before heading to a floor vote.
If passed and signed by Gov. Ron DeSantis, the bill would require taxpayer-funded public works to domestically source iron and steel products. The rule would apply to various governmental entities, including county and municipal governing boards, school districts, taxing districts, colleges and universities.
"We as a state and taxpayers should not reward companies who move their operation dollars and jobs to foreign countries such as communist China," Rodriguez said, clarifying the bill does not apply to the private sector. "It's a mandate on us, on government."
Like its federal precursor, the Buy American Act of 1993, the bill's restrictions could be waived if the domestic supply of iron and steel is inadequate for a project, of unsatisfactory quality, or if the use of U.S. iron or steel would drive up the total project cost by 20% or more.
The U.S. iron and steel requirement could also be waived if the use of domestic metals "is inconsistent with the public interest." That "very broad" exception, Rodriguez said, should address most affordability and feasibility concerns.
"You can drive a truck through it," he said. "Anything that is not in the best interest of the public, you can argue a waiver for. And that public interest could be price — much less than 20%. I didn't want to come up here and say that and give any state agency ideas, but that is a fact."
Some of Rodriguez's Republican House colleagues expressed concerns over the bill's language and potential impact.
Tom Fabricio and Cyndi Stevenson argued the criteria for exceptions wasn't clear enough. Both cited a staff analysis that said the bill fails to clarify "whether all three conditions must exist, or whether the existence of any one of the three conditions alone is sufficient to create an exemption."
Stevenson also said she worried the requirement could exclude certain businesses, such as secondary steel producers whose mini-mills use lower heats than large foundries.
Mike Giallombardo of Cape Coral complained the bill would result in a loss for his district, which contains no iron or steel foundries or product plants.
Randy Maggard contended the measure would counteract the nation's capitalist, free market standards.
"When we go into a store, we have a choice to buy American or buy somewhere else. That is our option, and we take away that option with mandates," he said. "We are doing our freedom a disservice because now we are forcing somebody to buy something, whoever it might be. Right now it's pro-America still, which is great. What if it's something else tomorrow?"
Giallombardo and Maggard ultimately cast the only two "no" votes.
Other Republicans on the committee applauded the bill. Wyman Duggan of Jacksonville spoke of a steel and rebar facility in his district that employed more than 300 people before the pandemic. Most of its raw materials, he said, come from local scrapyards that serve as a revenue source for residents with meager incomes.
"The scrapyards are (often) sourced by … the working poor who go out into neighborhoods and collect consumer products that most of the rest of us put out on the curb," he said. "Oftentimes these are people who don't have bank accounts. … The scrapyard provides an important economic means of self-support for them."
Toby Overdrof, whose father and grandfather worked for Bethlehem Steel, compared Rodriguez's proposal to the United States' past effort to become oil- and gas-independent.
"That's what they said when oil and gas production were oversees, that it was just too hard to bring that here. And yet somehow we did it, somehow we brought that oil and gas production here (and passed) all the regulations," he said. "We got to a point where we were actually energy independent, (and) our gas prices — our heating prices, our overall industry — those prices dropped incredibly. Currently we're seeing an investment in overseas materials and overseas gas production, and we've cut off our U.S. production base. What's happening? Well, (our) inflation has now gone up 7.5%."
One of several Democrats to vote for the bill, Yvonne Hinson of Gainesville, said there is no better time than now — as America works to rebuild its infrastructure — to employ self-sourcing rules for construction materials, even if it costs more.
"At 20%, 30%, it's a small cost to ensure a quality American product," she said.
In 2018, former President Donald Trump placed 25% tariffs on imported steel in an effort to increase reliance on domestic metals. While American steel prices did rise for the first few months after the tariffs took effect, they plummeted soon after, leading many investors to dump their stocks.
The massive Infrastructure Investment and Jobs Act President Joe Biden signed in November includes a "Buy American" provision that earned applause from the American Iron and Steel Institute.
As they'd done in a prior meeting, Phillip Suderman of Americans for Prosperity and Rich Templin of the Florida AFL-CIO again argued this week over the bill from the committee podium.
Suderman warned the measure is "anti-fiscally conservative" and will cause project costs to skyrocket.
Templin said it was ironic that a person from a group called Americans for Prosperity would fight a bill meant to increase American prosperity.
"Any competent public administrator, any competent economist, will tell you that when you are engaged in public investment —and that's what public works are; they're investments — the responsible thing to do is maximize the bang for the buck," Templin said. "The worst thing you can do is take public dollars and invest it in another country."
Templin added he represents "tens of thousands of workers" who are "ready to make this steel … better than anyone else in the world, and they're ready to take every dollar they make and invest it back in this country."
Rodriguez's bill will next go to the House State Affairs Committee. Its Senate analogue (SB 1336) by Bradenton Republican Rep. Jim Boyd still awaits its first of three committee hearings.