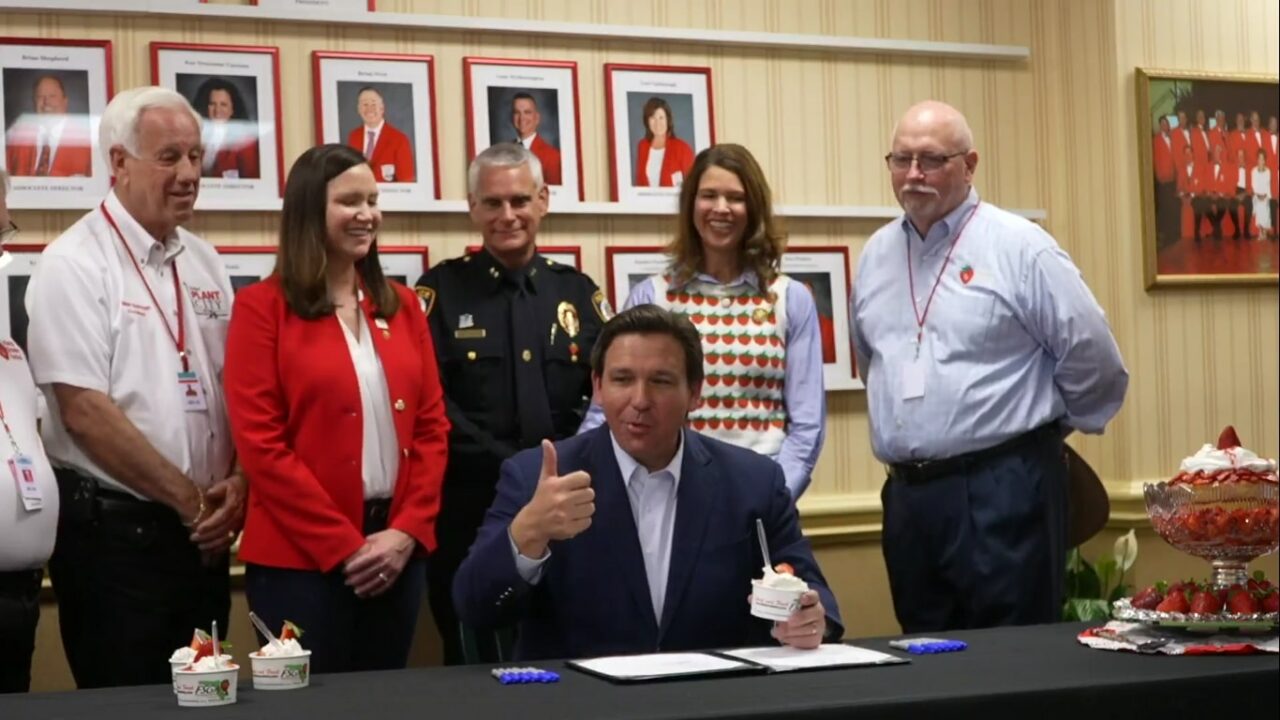 Florida stays with Old Strawberry.
In a nod to Florida's growers in Central Florida, Gov. Ron DeSantis has signed a bill naming the strawberry shortcake as the state dessert.
The legislation (SB 1006), sponsored by Zephyrhills Republican Sen. Danny Burgess and Dover Republican Rep. Lawrence McClure, designates strawberry shortcake — with natural Florida dairy topping — as the state dessert.
Before growers, reporters and strawberry queens on the fifth day of the Florida Strawberry Festival in Plant City, the Republican Governor signed the bill Monday, still smacking his lips from the shortcake and natural Florida dairy topping he sampled before giving his thumbs up.
Plant City and the surrounding area is home to more than 10,000 acres of strawberries, which make up 75% of the nation's winter strawberry crop. The festival, which began in 1930, sells 200,000 strawberry shortcakes a year.
"We have a history with citrus and orange. It's great, but this is a major, major crop not just in Florida but all over the country in terms of their reach," DeSantis said.
As an assurance to Key lime pie fans before signing the bill, DeSantis noted that the Key lime pie sticks as the state pie. He told the public they weren't "displacing anybody." However, his comments to reporters sounded as if he wanted to have his cake and eat it too, noting the absence of a state dessert.
"This was something that we needed a worthy contender to step up and claim the mantle, and I think this is obviously a great candidate for that," DeSantis said.
He also called the designation a fitting tribute and dubbed Florida as having the country's best strawberry shortcake and Key lime pie. The Sunshine State also has some of the nation's best seafood options and the world's best Cuban food, he continued.
"It's better than what they do in Cuba now, so we've got a lot of great stuff going on," DeSantis said.
DeSantis had intended to sign the bill Saturday. However, fires in the Panhandle delayed his signature.
The sweet designation will take effect July 1.