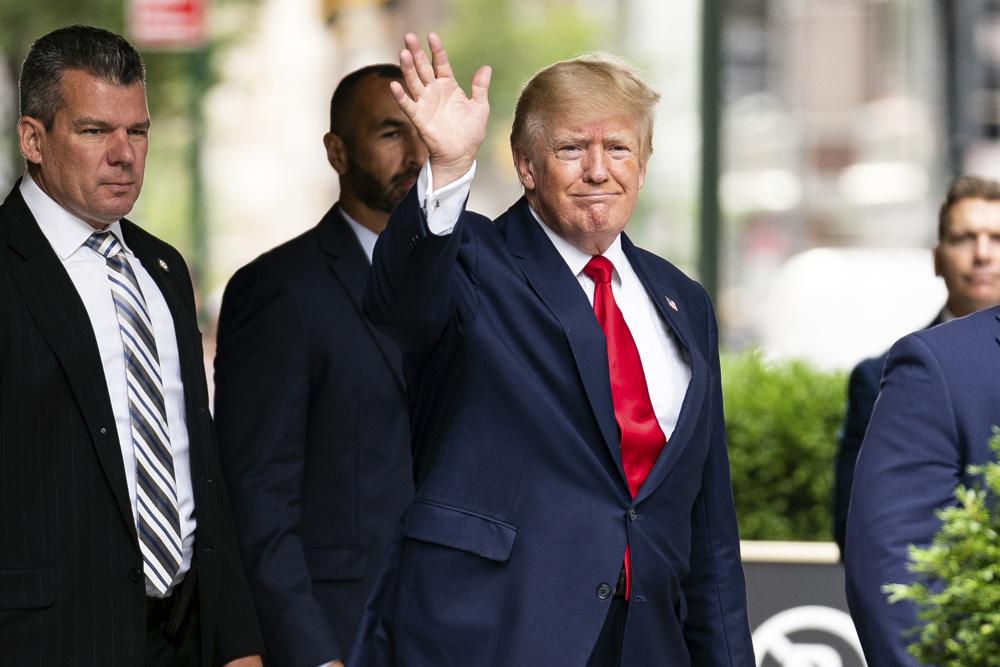 New York's investigation involves allegations that Trump's company misled lenders and tax authorities.
Donald Trump invoked his Fifth Amendment protection against self-incrimination as he testified under oath Wednesday in the New York attorney general's long-running civil investigation into his business dealings, the former president said in a statement.
Trump arrived at Attorney General Letitia James' Manhattan offices in a motorcade shortly before 9 a.m., before announcing more than an hour later that he "declined to answer the questions under the rights and privileges afforded to every citizen under the United States Constitution."
"I once asked, 'If you're innocent, why are you taking the Fifth Amendment?' Now I know the answer to that question," the statement said. "When your family, your company, and all the people in your orbit have become the targets of an unfounded politically motivated Witch Hunt supported by lawyers, prosecutors and the Fake News Media, you have no choice."
As vociferous as Trump has been in defending himself in written statements and on the rally stage, legal experts said answering questions in a deposition was risky because anything he said could potentially be used against him in a parallel criminal investigation by the Manhattan district attorney. The Fifth Amendment protects people from being compelled to be a witness against themselves in a criminal case.
Messages seeking comment were left with James' office.
Wednesday's events unfolded as a flurry of legal activity surrounds the former president. Just days before, FBI agents searched his Mar-a-Lago estate in Florida as part of an unrelated federal probe into whether he took classified records when he left the White House.
New York's investigation, led by James, involves allegations that Trump's company, the Trump Organization, misled lenders and tax authorities about the value of prized assets like golf courses and skyscrapers.
"My great company, and myself, are being attacked from all sides," Trump wrote beforehand on Truth Social, the social media platform he founded. "Banana Republic!"
In May, James' office said that it was nearing the end of an investigation against Trump, his company or both. The Republican's deposition — a legal term for sworn testimony that's not given in court — was one of the few remaining missing pieces.
___
Republished with permission of The Associated Press.