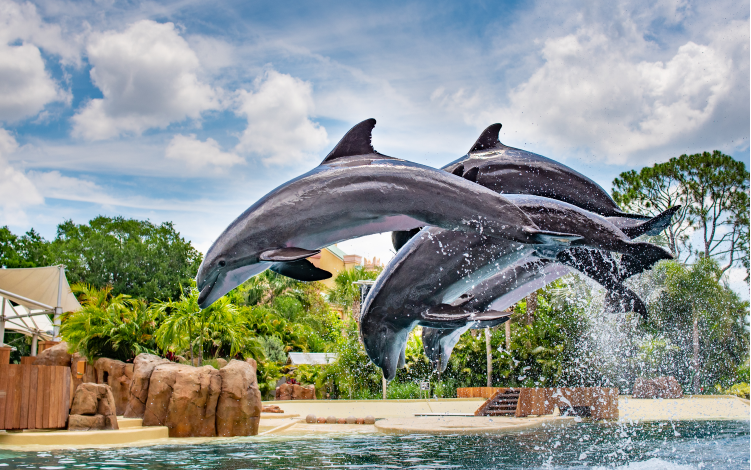 The promotions go high up the company's structure.
An enthusiastic animal rescue advocate is earning a promotion at SeaWorld Orlando as the company undergoes a series of leadership changes, including for chief financial officer.
The Orlando-headquartered SeaWorld Entertainment announced the promotions Friday. SeaWorld operates 12 parks across the country, including SeaWorld Orlando and Busch Gardens Tampa Bay.
"I am excited to announce these important leadership promotions and organizational changes that will help us better execute our plans and initiatives, capitalize on opportunities, and deliver improved operational and financial results," SeaWorld CEO Marc Swanson said in a statement.
SeaWorld Orlando's new park president will be Jon "JP" Peterson, who for many years had been the face of the Orlando park's animal rescue operations when the team saves a manatee or releases a rehabilitated sea turtle into the wild.
Peterson once told the Orlando Sentinel he was on duty 24/7 in case an animal was sick or hurt and needed to be brought to the park's emergency animal care facility. The only day he remembered asking for off was his wedding day in 2017, he said.
Since 2019, Peterson's role has been vice president of zoological operations for SeaWorld Orlando. He has worked for the company for nearly 30 years.
Peterson was not available for an interview Friday.
Peterson is getting the park president title now that the park's previous leader, Kyle Miller, has been promoted to chief parks operations officer overseeing Florida's parks, SeaWorld said.
Miller's rising in the ranks also affects Bradley Gilmour, who had previously worked as the vice president of park operations at Orlando's Discovery Cove for the past four years during his 20-year career at SeaWorld Entertainment. Now, Gilmour was named the president of both Aquatica Orlando and Discovery Cove, the company said Friday.
The promotions go high up the company's structure, too.
Michelle "Chelle" Adams took over as the company's new chief financial officer last year after working as CFO at The Cosmopolitan of Las Vegas. Adams is now moving into a different role as the company's first-ever chief transformation officer, SeaWorld said Friday.
"In this new role, Adams will be responsible for streamlining and re-engineering organizational processes and implementing high-value initiatives to ensure successful execution of our transformation strategy," the company said in a news release. "She will also be responsible for leading our business development and growth activities."
Jim Forrester, the previous vice president of finance for the Orlando parks, will replace Adams and serve as interim CFO for the company.
Forrester's annual base salary will be $285,000 a year in addition to bonus and stock incentives, the company disclosed in an SEC filing. The SEC filing did not state the salaries of Peterson, Miller, Adams and Gilmour, and the company declined to release them when asked by Florida Politics.
For SeaWorld, the company is opening new attractions and continuing to hold events, like Halloween attractions and food festivals, as it moves past the pandemic's economic crisis in the theme park industry. The company is expected to release its latest financial quarterly earnings report sometime in February.